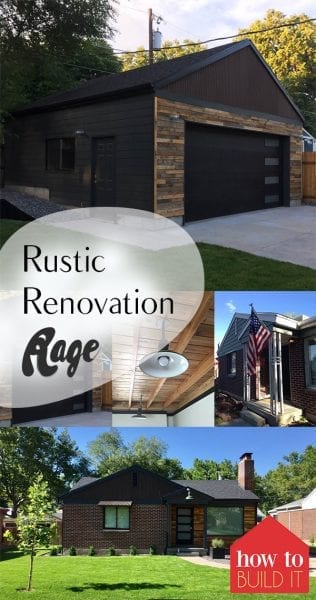 Today's post is guaranteed to awaken the rustic home renovation rage in all of us! This is a home located in the beautiful state of Utah. It was recently renovated in hopes of helping to revitalize the neighborhood where it is located. The design of the home is rustic-industrial, something the designer of this renovation is passionate about. The following pictures are guaranteed to get your creative juices flowing. Take a look!
Here is a look at the home's exterior before renovations took place, just to help you more fully appreciate the after!
Can you believe the incredible difference? Reclaimed wood siding, corrugated metal trim and industrial exterior lighting are just a few of this home's rustic industrial features. I really love the planters in front!
A closer look at the industrial exterior light and corrugated metal trim.
Stepping inside the home, one of the first rustic industrial touches that greet you is this unique mantel. It is actually a steel I-beam painted with Rustoleum spray paint in Flat Black. For tips on applying spray paint, see this post.
One of my favorite touches is this industrial-style ceiling light, which looks amazing against the wood ceiling and beams.
The interior doors in this home are custom-designed to include wood, Lucite, and corrugated metal. The black industrial-style knobs add the perfect touch.
A look at more of the amazing, custom-designed interior doors. The flooring throughout the main living areas is 5 1/4″ circular sawn Douglas Fir planks–definitely in keeping with the rustic feel of this home, yet it has a beautiful look all its own.
The new owners of this home are set to enjoy a beautifully appointed, fully functioning kitchen. The dark cabinetry, open shelving and industrial range hood work together so well. This is what a rustic industrial kitchen should look like!
The master bedroom achieves rustic perfection with its reclaimed pallet wood wall, lighting fixture, and beautifully finished ceiling.
An exposed brick wall is highlighted against a unique industrial chandelier.
Even the home's detached garage is an unforgettable part of the overall design of this amazing home!