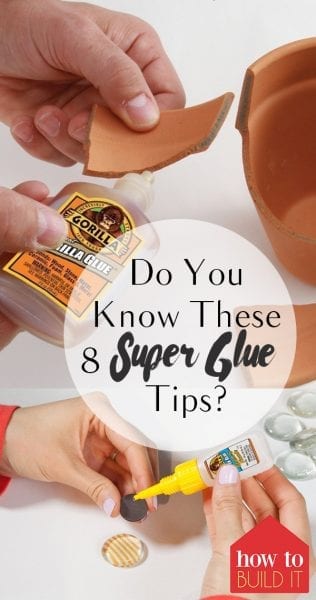 Super glue is one of the best things on the planet. When you break something around the house, the chances are good that super glue can help you fix it. However, there are some helpful tips and tricks you should know about before you need to use  your glue again. Do you know these 8 super glue tips?
1. There are different types of  glue on the market. There are differences in applicators, and differences in what they bond best. The first tip is to choose a super glue that will work best for your specific need. For example, if you need to glue a handle on a mug, choose a glue that works well for ceramics.
2. It's pretty easy to spill super glue and have it running exactly where you don't want it! Take the time to cover surrounding areas to protect them from overflow. And be careful of your finger tips.
3. Before making your repair, clean the surface you are gluing. A clean surface has a much better chance of a strong hold.
4. For better adhesion to whatever surface you are gluing, try sanding it just a little bit, just enough to rough it up so the glue can grab on better. If you do sand, be sure to thoroughly wipe away any sanding dust before applying the glue.
5. Work in a well-ventilated, completely dry area. Any moisture that comes in contact with the super glue can work against a strong, tight bond.
6. In the case of super glue, less is more. You're much better off adding a little extra than applying too much to begin with. Be conservative, and that also lessens the chance of overflow and subsequently gluing your fingers together.
7. Once you apply the super glue where you need it, work quickly to squeeze the pieces together. Hold them tightly for at least 30 seconds to help establish a strong bond.
8. Now that super glue is applied, you must wait for the bond to cure. Allow a few hours of complete dry time before using the glued item. This will help to create a long-lasting bond.