In my house, the garage isn't just the man cave! It's a DIY cave for us both! All of our tools and project plans are neatly organized for easy access whenever we need them most. Unfortunately, our garage workshop wasn't always as organized as it is today! Once upon a time, our garage workshop was as unorganized and untidy as they come and we devoted an entire day to the organization of our garage. And we've loved the results!
Are you tired of your filthy garage workshop? Transform it with these organization ideas!
Easy Shelving
One of the first elements we added to our garage workshop was a set of easy-to-assemble shelving. They make for a great place to store larger items like a toolbox, paint cans, or even that bulky case for your electric drill! There are several different kinds of utility shelves available on the market, but I highly recommend using these or these in all of your garage organizational endeavors. They work like magic.
Also, if you don't love the colors the shelving comes in, use my spray painting guide for an easy fix!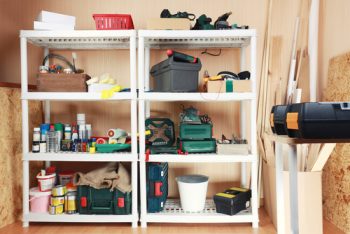 The Power Of The Pegboard
I have a pegboard both in my craft room and in our garage workshop. I truly do not know how I kept things organized before one! Purchase a sheet of pegboard (I chose this one) the size of your garage wall and secure with screws. You can frame your pegboard if desired, but I think they look just as terrific without one. Now, you just need a way to hang your tools. For that, I recommend these awesome hooks!
Organization For Oddly Shaped Items
It can be hard to effectively create storage space for bulky items like ladders, brooms, or shovels. Shelves usually aren't big enough and it can be a bummer to waste your floor space on things like these. So what is a homeowner to do? Utilize a monkey bar tool rack, of course! You can purchase one here, and installation is as easy as installing shelves.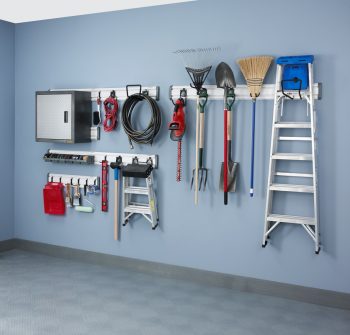 Stackable Storage Bins
We made it a point to have easy-to-access storage bins in a corner of the garage so our kids had a place to stash all of their toys! The bins we used to organize the garage are absolutely huge, so anything from jump ropes to sports balls and roller stakes have somewhere to call home. Pick them up in different colors for some design appeal should you wish, or stick with a uniform theme.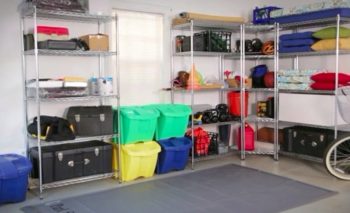 There's A Place For Cords, Too
Growing up, I didn't understand how my father had acquired so many extension cords! Now that I've gotten older, I realize that it's always a good idea to have multiple cord lengths available. You never know when you'll need to reach an outlet all the way across the yard! Keep heavy extension cords off the floor and out of the way with this handy hanging organizer. It's super affordable, too! Organizers can score it for an inexpensive $15.00 though, my cords aren't as festive as these. They're all an unfortunate color of orange!