My husband and I have had a camper for years, and it's been one of those items that is completely worth the added expense. Some summers, I feel like we spend more time away in the camper than we do at home! This summer, over our Fourth of July camp out, I was hit with a HORRIBLE realization: our camper was in desperate need of a remodel! My throw pillows were looking frayed, the paint had long since started peeling, and my curtains had definitely been more vivid at some point (its funny how you never seem to notice the things like these, until you notice them!). Right then and there I made up my mind: it was time for a serious camper remodel! Take a look at a few of the projects I completed during my camper remodel rage!
Time For A Paint Job!
First thing is first! Our cute little camper DESPERATELY needed a new coat of paint! Before the camper remodel, it was navy blue with silver accents. As much as I loved that then, I thought it was time for something new so I went with a mint blue and white accents. I used several (SEVERAL) cans of spray paint and the painting process didn't take long at all! Check out my guide for spray painting for the best results! Also, I used this incredible spray painting tool that made the project SO much easier.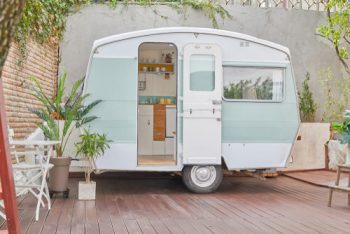 New Cushions, Throw Pillows, And Everything Else!
When the idea of a camper remodel first came to me, it was this area that needed the most attention. To spruce things up, I used this tutorial for easy throw pillows (doesn't the bright yellow make a great accent?) from Sunlit Spaces, and I reupholstered my existing benches. For the curtains, I trimmed an inexpensive storebought set and hemmed the ends! I had previously painted the entire interior of the camper white, and I think that it made the space look so much brighter. All of the sewing only took me a day of work!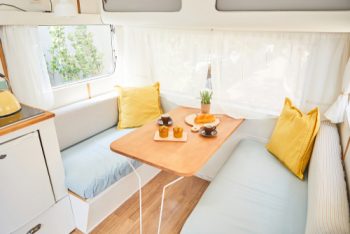 A New Kitchenette
I kept the tile backsplash the same (that was part of a project my husband and I tackled last year!) but I wanted a new countertop to work with. I recruited my adorable husband for help and together we turned an old dresser into the perfect kitchenette! To create, we removed all of the drawers and the drawer tracks. We put that side against the wall and created custom cutouts out of the backside of the dresser. It was easier than I thought it would be! There's only enough countertop space for a cutting board but when you're camping that's really all you need!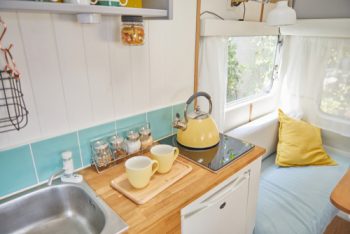 New Bedding
Now, we didn't necessarily need new bedding, but I thought it was a necessary addition, especially because the rest of the trailer was looking so beautiful! I debated on getting blue bedding, but I thought that the white created a spa-like atmosphere. I don't even mind that the bedding gets FILTHY after a camping trip, it's still one of my favorite parts of my camper. To keep with my decor scheme, I made my curtains in the back of the trailer the same yellow of the pillow (though, this lighting makes them look orange!)