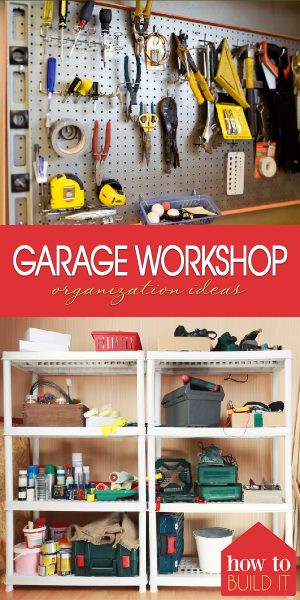 In my house, the garage isn't just the man cave! It's a DIY cave for us both! All of our tools and project plans are neatly organized for easy access whenever we need them most. Unfortunately, our garage workshop wasn't always as organized as it is today! Once upon a time, our garage workshop was as unorganized and untidy as they come and we devoted an entire day to the organization of our garage. And we've loved the results!
Are you tired of your filthy garage workshop? Transform it with these organization ideas!
Easy Shelving
One of the first elements we added to our garage workshop was a set of easy-to-assemble shelving. They make for a great place to store larger items like a toolbox, paint cans, or even that bulky case for your electric drill! There are several different kinds of utility shelves available on the market, but I highly recommend using these or these in all of your garage organizational endeavors. They work like magic.
Also, if you don't love the colors the shelving comes in, use my spray painting guide for an easy fix!