It's time to tame the office space! Here are some tips on how to transform your office from a paper product nightmare into a clean, dynamic, organized space: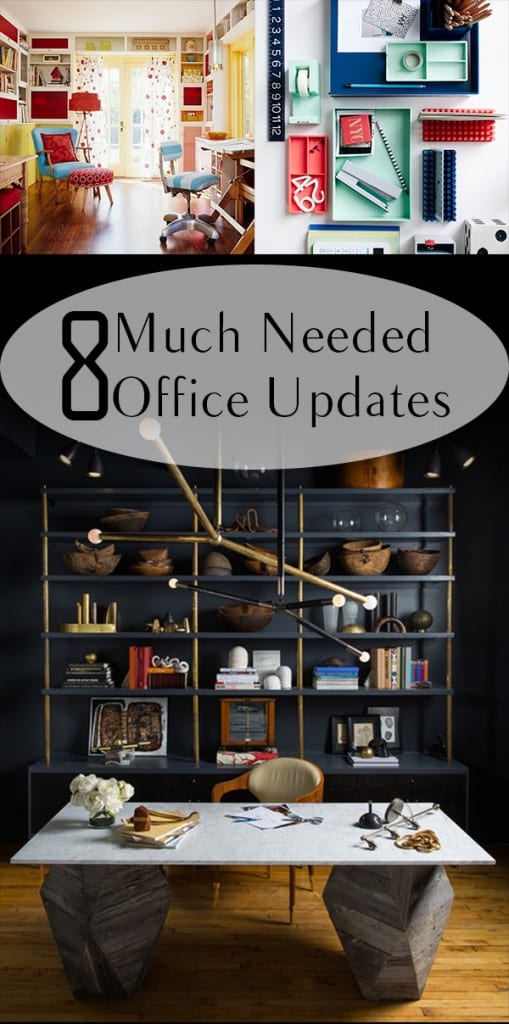 Change up Your Cork Board
Cover a large piece of corkboard with fabric you love and pin notes and reminders to it. You could even frame the corkboard for an even more decorative look. Another idea is to use a series of circular cork trivets covered in contrasting or similar fabrics. Arrange them on the wall any way you like!

Image from Pinterest
Add a Magnet Board
If you prefer magnets to push pins, upscale a magnet board the same way you would a cork board–cover it in fabric! HINT: You can make a perfect sized magnet board using a flat cookie sheet you don't use any more.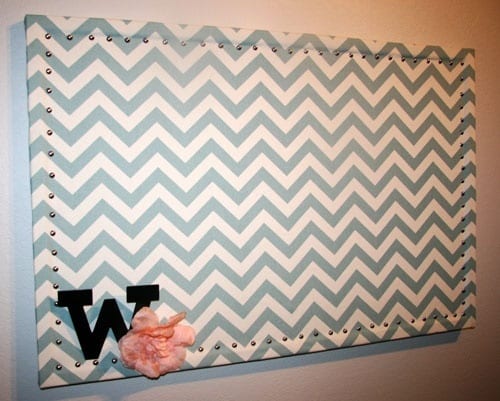 Create a Chalkboard.
Chalkboard paint is definitely one of the best inventions introduced to mankind. It's so fun and easy to write messages in chalk. You can apply chalkboard paint to many different surfaces, including magnet board. I once used it on an old painting (I didn't care for the painting, but it was a good size and the frame was awesome) and did some fun writing on it for a wedding. You could even use it directly on a wall, maybe as a backsplash behind your desk.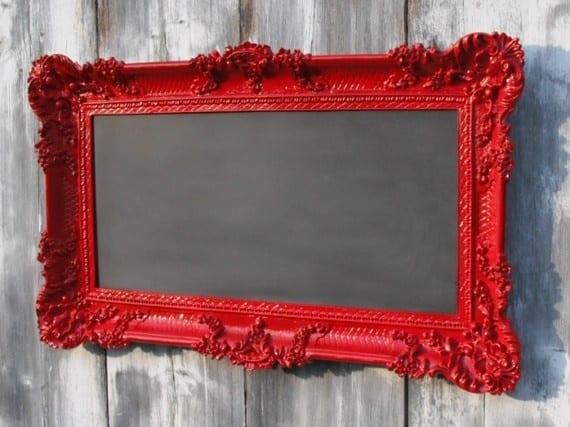 Color Code your Office Space.
When you've got a family with kids, "your" office space can quickly become an "everyone" space. If you're struggling to keep everything organized, try bringing out the paint buckets to solve the problem. Paint some drawers, desks, and shelves a certain color to signify GROWN-UP areas and storage spaces. (Tell the kids only boring adult stuff is in the red drawers, for example). Use a different yet complementary color to designate drawers and shelves with kids' craft and project stuff. Now you've got an organized office with fresh, popping color!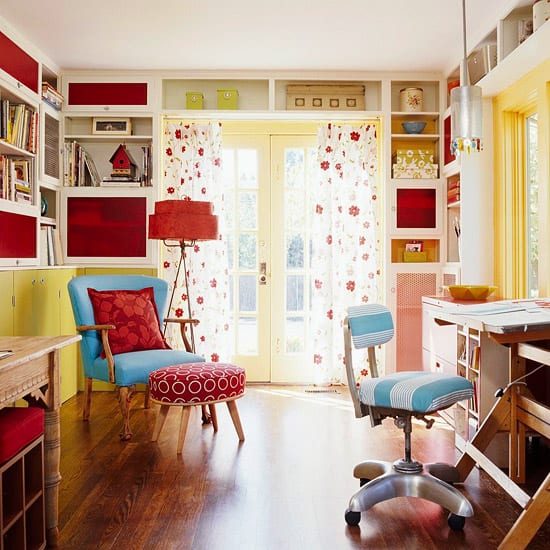 Image from Better Homes
Create a Kid Area.
If you don't want to try to integrate your area and the kids' area, design a totally separate space that is just for them to go wild with the Elmer's glue and coloring crayons. First, buy a long table (don't be too attached to it as it is likely to get beaten up a little) and get a bench or other seating to go with it. Use cups, jars, bins, shelves, whatever you can to provide a spot for all the craft items. Cover the wall behind the work station with a large piece of magnetic metal (find at hardware store)–you can even paint the metal a color you like. Now the kids' have plenty of space to create masterpieces AND display them!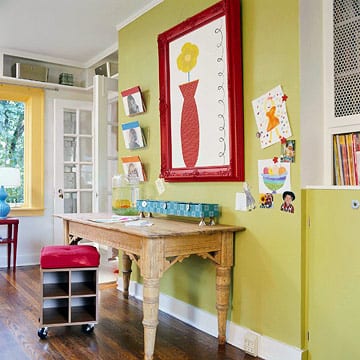 Add Plants
Bring some life into your hectic space with a plant or two. Not only do they help to keep the air fresh, but they are gorgeous to look at also!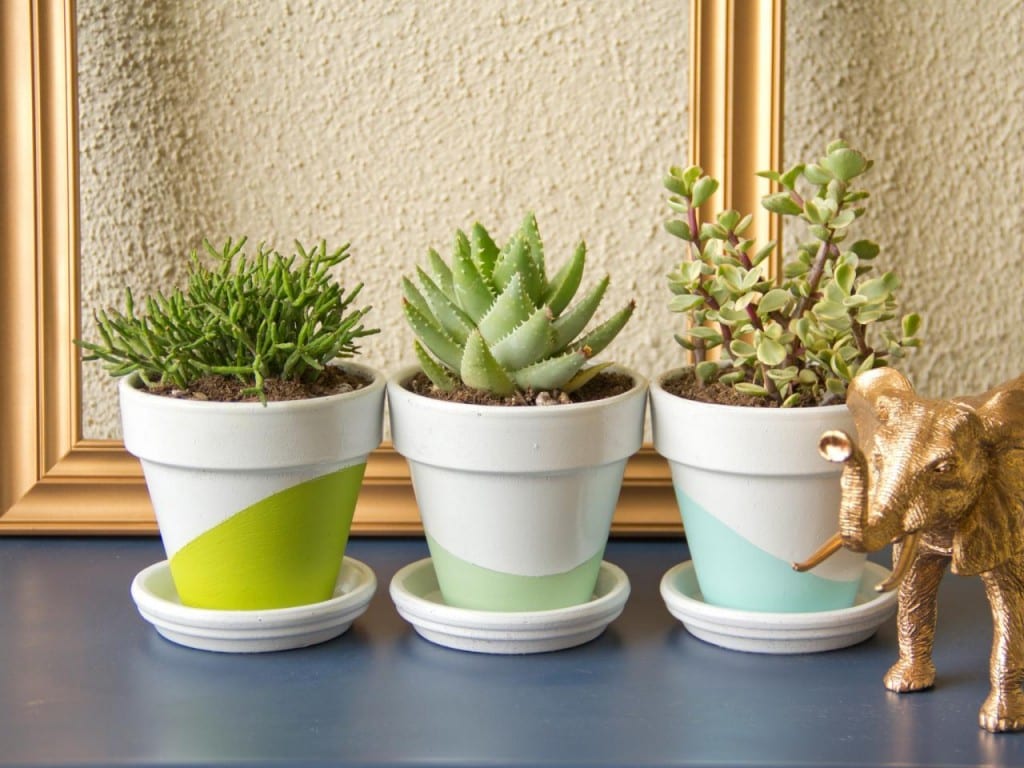 Image from here.
Finally Get Organized 
Office supplies tend to get strewn around the room. It would be nice to find that favored Sharpie without having to turn your office apart looking for it! Use a desk organizer to keep your pens and pencils where they belong.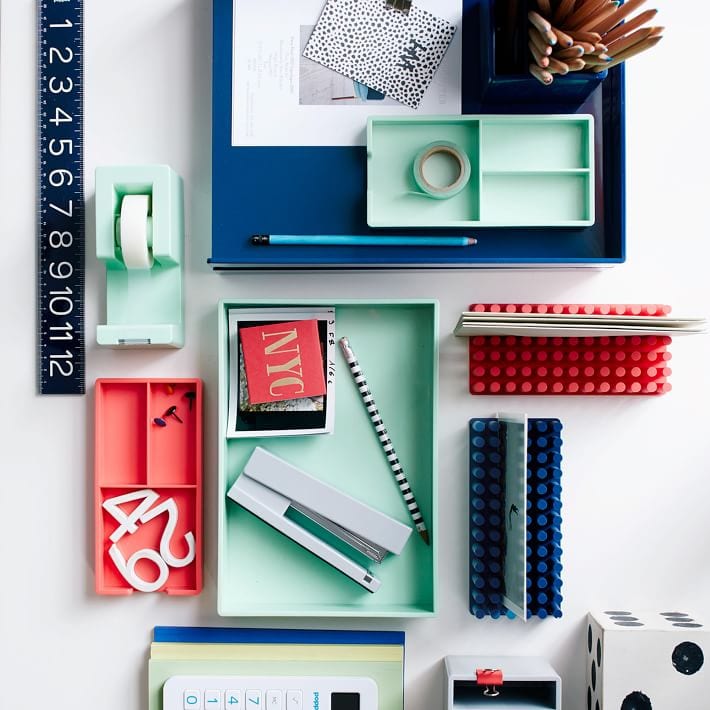 Image from Laurel and Wolf. 
Decorative Lighting
Typical office lighting is such a drag, mix it up a bit, and add some cute lighting options. Not only will your work area be better lit, but it is so much more inviting! This super fun lighting idea is from Lonny.