I love floating shelves!  They are modern, and strong despite the hidden supports.They can add an effortless look to your decor and can be pretty inexpensive to do yourself. Here are some of our favorites!

I love this look from Decoholic! Using the dark shelves with natural wood elements is super trendy right now and I am 100% behind that.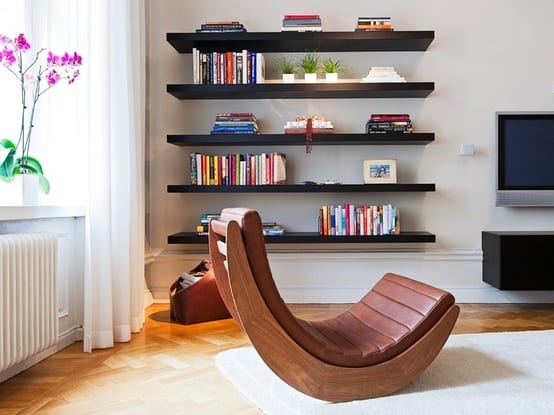 I love this look for a kitchen. The under shelf lights really make an almost boring space pop. Playground Gem did an amazing job and I think it's amazing.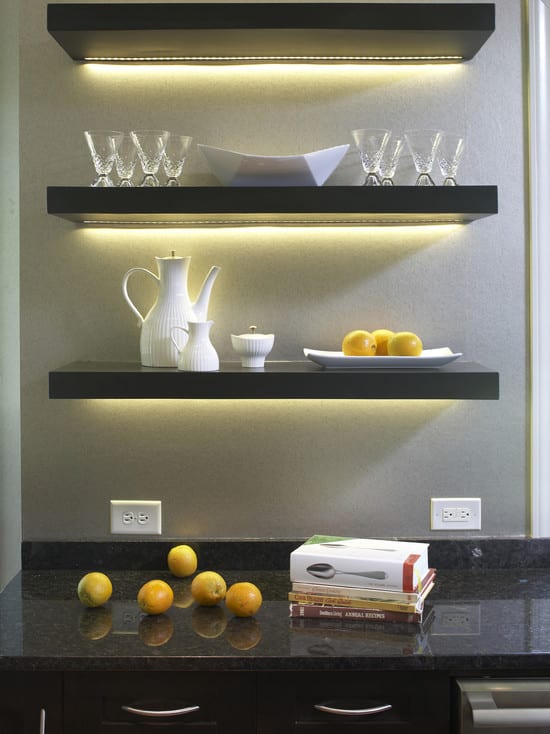 These floating bookshelves are a great example of how you can take something intended for something else and turn it into something better! Heather Peterson Design shows us how you can use Ikea cabinets turned on their side as floating bookshelves.
The ladies over at The Woodgrain Cottage have a great tutorial on how to use the floating shelf concept to make a floating bench. Go to their site for the full tutorial.
Everyone loves a floating bookshelf. But the people at Busy Boo took it to the next level and made the books themselves into the shelf. So cool!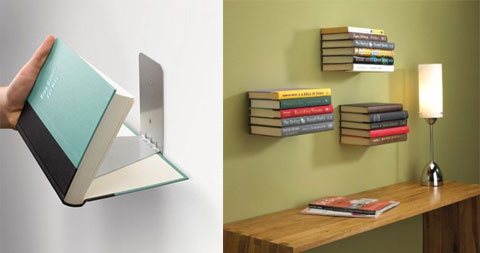 Another way to create some floating shelves is to re-purpose rain gutters as book shelves. Beth from Sunshine on the Inside had this ingenious idea for bookshelves in her kids play area. Look for the full tutorial on her blog.
The folks over at 4 Men 1 Lady used floating shelves to fill an awkward space in their sons bedroom. They fabricated some of these shelves for a corner nook and they look amazing! Go to their site for their easy to follow tutorial.
Preparing for Peanut(s) has a great DIY tutorial for what they call "Chunky" floating shelves. They installed these shelves in place of cabinets in their kitchen and I think that it's a great improvement! They have the full tutorial on their site.
Another great twist on the floating shelf is the floating desk. The ladies at Tater Tots and Jello has an amazing how-to on this idea.  If yours turns out half as well as theirs did you should celebrate.
Always on trend, Shanty 2 Chic gives us a tutorial for their take on the floating shelf. Aren't they adorable? It's exactly what I want my bathroom to look like.
We found another great tutorial at Hometalk. It has a bit of a different take on how to accomplish the installation so it should be worth checking out!
Yellow Brick Home showed us how to make floating shelves that are wider and will most likely be used for a greater variety of things. They are "Some really big, really hunky, really strong shelves!" Check it out!
 Turning it Home used some used wood she found at an estate sale to make a floating shelf in her bathroom. Just goes to show that materials can come from anywhere and end up as anything. Check out her website to see how she did it!
For those of us who tremble at the thought of using a power tool, but still want to have those wood floating shelves, the Etsy shop GnH Woodcrafters is our saving grace. They advertise customr sizes and finishes with the hardware included. Visit their shop and see what they can craft up for you!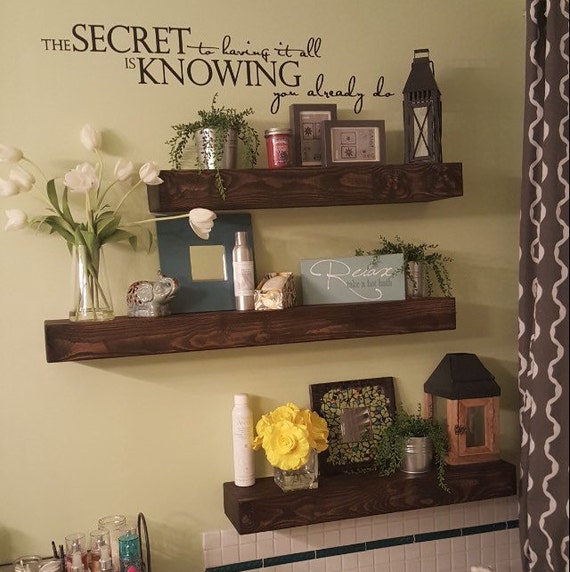 Lastly, you can use floating shelves as a simple headboard feature in the bedroom. Really easy to do and has an awesome effect once completed.
Hope these ideas give you some inspiration on how to incorporate a floating shelf into your home.
Happy Shelving!