Just next week my youngest brother is moving out of his long-time apartment and into his very first house! He is, of course, incredibly excited, and so are we! When we bought our first house, it was such an exciting time in our lives and I'm so ecstatic for him to experience those same moments. Unfortunately, like any just-bought house, it's far from perfect. In fact, there are quite a few DIY projects that need to happen before he even moves in! Fortunately, both my husband and I have offered our services so he can get the projects done faster. The first project on our list is to remove the heinous texture from the surface of his walls so it is prepped for a fresh coat of paint. His walls literally look like popcorn ceilings! Why would anyone think that was a good idea? My husband is an expert at removing texture from walls because we did it so many times when we moved into our own home. Keep reading to see how to remove texture from walls in absolutely no time at all!
Here's What You'll Need:
-A spray bottle with water
-Sandpaper
Step One: Before you begin the process, you will need to prep the area. Lay down a large tarp to catch any dust, and seal anything with painters tape should it be necessary.
Step Two: Once the area is prepped for the project, start by spraying a section of your wall with water. Let it soak in for a few minutes before moving on. Once the water has soaked in, use your scraper tool to remove the texture. It's hard work, I know, but it will be worth it in the end! Feel free to try out a variety of scraping tools and utilize the one that is most convenient for you.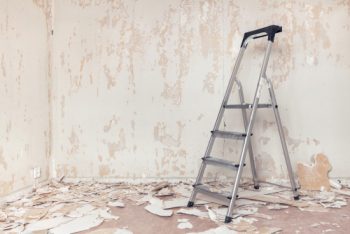 Step Three: As soon as you have scraped off the remaining texture on your wall (I know, it's hard work but you're almost done, I promise!) you can move on to the next step! Now, you'll want to use a damp cloth to remove the remaining dust off of your wall. Make sure your wall is completely cleaned before you move on to the next step.
Step Four: Once removed, apply an oil-based primer to your wall. Let it dry completely before moving on to the next step.
Step Five: When dry, use a wallboard knife to apply the joint compound directly to your wall and let it dry for 24 hours.
Step Six: Once dry, sand down the surface of your wall to remove any instances in the texture. Now, your walls are ready for a fresh coat of paint!