Who doesn't like a home that meets all modern standards, is aesthetically appealing, and is highly functional? Everybody does. However, as much as everyone would love to get their homes upgraded and renovated, not everyone has the means to do it. People are often found looking for home improvement ideas on a budget so that they can have a more functional and attractive living space without having to exhaust all their savings.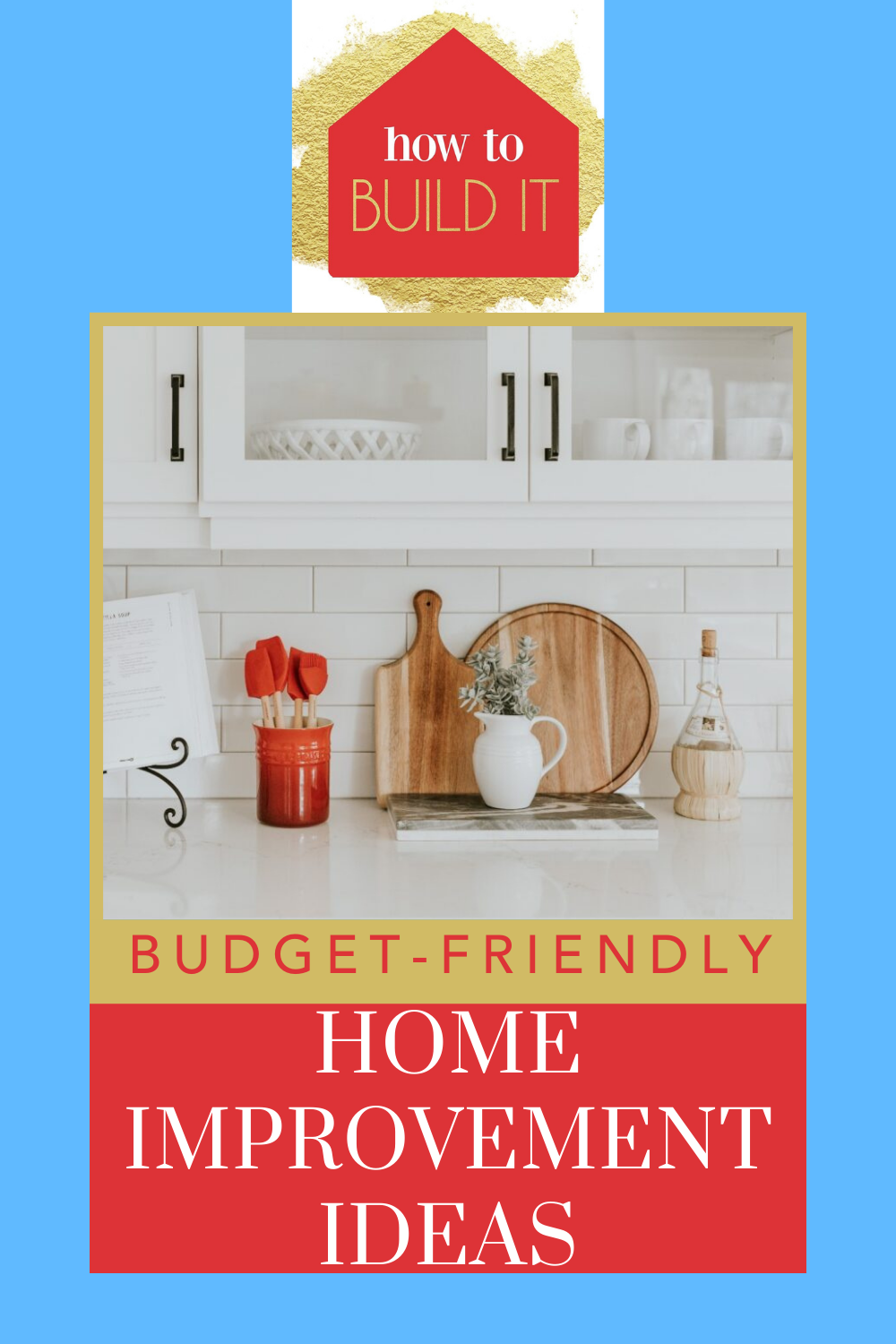 Home improvement doesn't always have to be a full-scale renovation or upgrade. You can improve the aesthetics and functionality of your property on a budget too. All you need to do is focus on the right areas and do everything right.
This blog post is just the right place to be if you're planning to upgrade your living space and are on the lookout for home improvement ideas on a budget.
Why Should You Invest in Home Improvement Projects?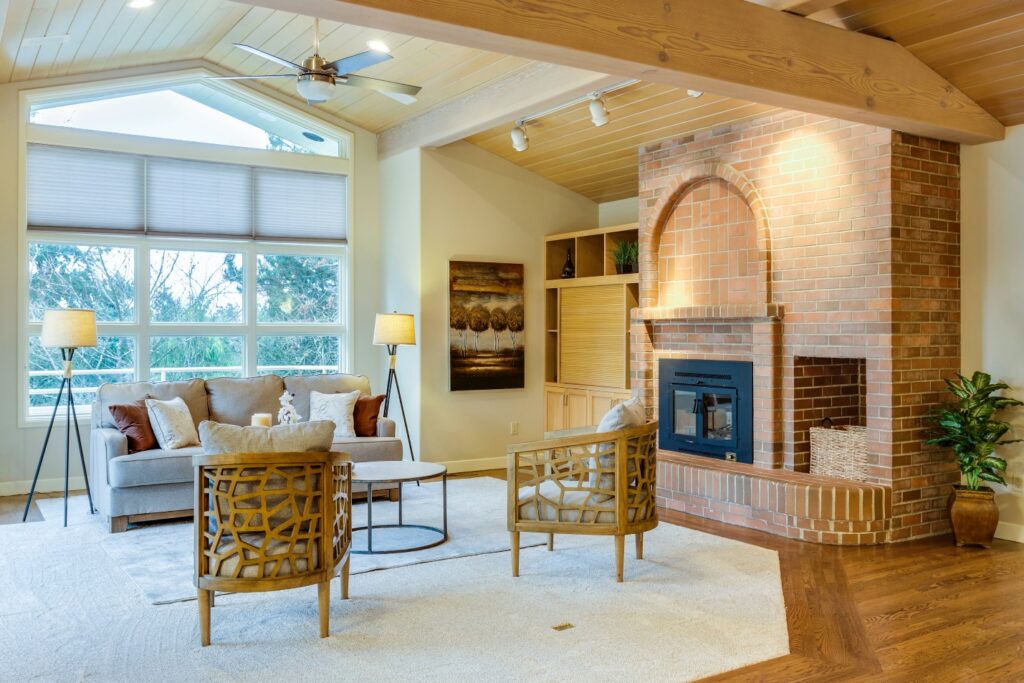 Home improvement projects don't come cheap, but they offer a plethora of benefits that make them worth it. Let's look at some of the biggest reasons you should invest in home improvement projects.
Enhanced Comfort
One of the biggest reasons why you should invest in home improvement is to enhance your comfort. You can install energy-efficient windows or replace the old furniture to make your living space more comfortable. There's so much that you can do on a budget that can make a difference when it comes to your comfort.
Improved Functionality
The house you design today may be highly functional for the date, but if you walk 10 years down the road, the same house may not seem like the most functional. It's because your needs change with time. Home improvement can enhance the functionality of your home. For example, you can install modern shower surround systems in your bathroom or a dishwasher in your kitchen. All of this falls under the umbrella of home improvement.
Increased Space
You keep cramping in stuff in your living area that can make your living room look smaller than it actually is. Moreover, it'll also make the space look congested and untidy. However, you can increase the amount of space available by opting for the right home improvement projects. You can get new shelving, furniture with concealed storage, or you can invest in modifying the layout of your house. The options are endless and you can choose to do as much as your budget allows.
Reduced Energy Costs
The right home improvement projects not just not make your house look better and your living space bigger and neater, but they can also reduce your energy costs. Home improvements like the installation of energy-efficient windows can play a significant role in regulating the interior temperature of your house, thereby, reducing the load on your HVAC. This is turn cuts down the energy costs.
Improved Aesthetics
Investing in home improvement surely gives a boost to the aesthetics of your property. From applying a fresh coat of paint to getting new floors to changing the light fixtures, there's so much that you can do to make your property look a lot more attractive and appealing.
Increased Value
A house that looks prettier and is more functional will surely be a catch for potential buyers. Investing in the right home improvement projects can increase the value of your house, and you can bag in a massive ROI. It means you'll be able to recover most of what you spend on your property in the form of a higher price of your house at the time of selling.
Tips to Keep in Mind Before Investing in Home Improvement
You must analyze everything rationally and financially and see if what you're planning to do is wise or not. The same goes for home improvement projects. You may have a home improvement idea in mind that's going to cost you approximately $2000. However, evaluate if the project is really worth spending this much money on before you decide to do it. Would it offer you any ROI? If yes, how much?
You shouldn't invest in anything just because you feel like it. Do it only if it's worth it in the long run. We've compiled a list of tips that you should follow when planning to undertake any home improvement project, no matter the scale or estimate expense. After all, money doesn't grow on trees. You earn every bit of what you own!
Home renovations are not tough as long as you don't have any budget constraints. However, when you're looking for home improvement ideas on a budget, the tips listed below are going to help you a great deal!
Make a Plan and Stick to it
It's easy to go with the flow. However, you need to have good control over your wishes if you wish to stick to your budget. Plan out everything carefully and note down everything that you want to get done. And stick to your plan. For example, if you planned to replace your bathtub in the master bedroom, don't go over the board and get the sink replaced too just because you felt the impulse to do it. That's one of the most important tips to keep in mind when you're getting your home remodeled or upgraded on a budget.
Choose the Right People for the Job
You'll come across plenty of contractors who are willing to do the job that you wish to get done. Don't choose the first contractor you meet. Do your research and shortlist multiple names. Take quotes and compare. Choose the contractor that offers the most competitive rates and seems promising. You can always ask for references to be sure you aren't hiring the wrong people for the job. Save money wherever you can!
Don't Rush
No matter how excited and restless you feel to get done with the remodeling and home upgrade work, don't rush. Take your time researching about the right people, right materials, and choose the right home improvement ideas on a budget. The more time you spend planning, the higher are the chances of you getting all the work done in your set budget.
Choose DIY Projects
There are plenty of DIY home improvement ideas on a budget that you can choose. The more work you do yourself, the less money you'll have to spend.
Keep a Budget Aside for Hidden Costs
If you don't want to blow your budget, always make it a point to keep a budget aside for hidden costs. There's a chance for things to come to the surface that you didn't know needed your attention. For example, you might decide to get new floors installed only to find out that the foundation underneath needs immediate repair.
Best Home Improvement Ideas on a Budget
We've compiled some of the best home improvement ideas on a budget below so that everyone can enjoy a good-looking, modern, and highly functional living space.
Repaint Your House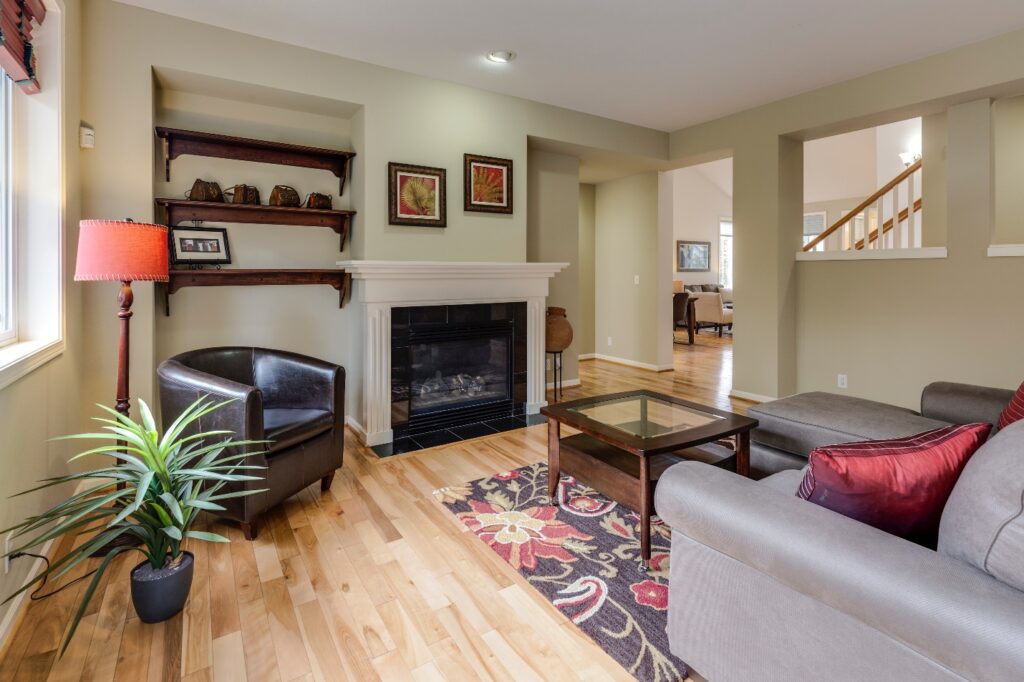 Repainting the old, dull, and dirty walls is one of the simplest and cheapest DIY home improvement ideas. You can paint your walls a bright color to brighten up the space or go all-white to make your home look bigger, brighter, and welcoming. The choice of color plays a very significant role. Darker walls can make your living space look smaller but warmer and cozier, whereas lighter-colored walls make any room look brighter, bigger, and livelier. The best thing about this home improvement idea is that you can do it yourself! You'll be amazed to know that repainting a room can cost you as low as $150.
Add Crown Molding
The next on our list of best home improvement ideas on a budget is crown molding. It not only adds charm and aesthetic appeal to your home but also enhances the value of your house. It makes the wall-roof joints look neat, and thereby, makes your living space a lot more presentable and elegant. It'll cost you about $120 to add crown molding to a room. Can a home improvement project get any cheaper? We don't think so!
Get a New Carpet
Replacing the floors can be very costly, and therefore, not a viable option for many. However, you can get a new carpet for your living room. You can either get a carpet to cover all of the floors or you can invest in an attractive centerpiece rug or a runner for the entryway. It's an ideal way to add a pop of color and final finishing touches to any living space.
Revamp Your Kitchen Cabinets
The kitchen is the most important part of a house. Potential buyers are likely to pay a higher price for your house if your kitchen is modern and good-looking. However, kitchen remodels are also the most expensive. One of the most popular home improvement ideas on a budget includes revamping the kitchen cabinets. You can apply a coat of paint in a different color than what your cabinet color is currently. The color of the cabinets is bound to darken over time due to all the smoke and grease, and this can make your kitchen look dull. However, a coat of paint can really make a difference.
Interior Window Shutters
If you want to restrict the amount of sunlight entering your home or want to install a privacy barrier on your windows, interior window shutters are an excellent way to do. Interior window shutters not only serve the purpose, but they look really good too. They can add a dash of architectural detailing to your house, with an added functionality that is sure to add value to your house. Window shutters can cost you anywhere between $150 to $400, depending on the material and the number of windows you're installing a shutter on.
Add Colorful Flowers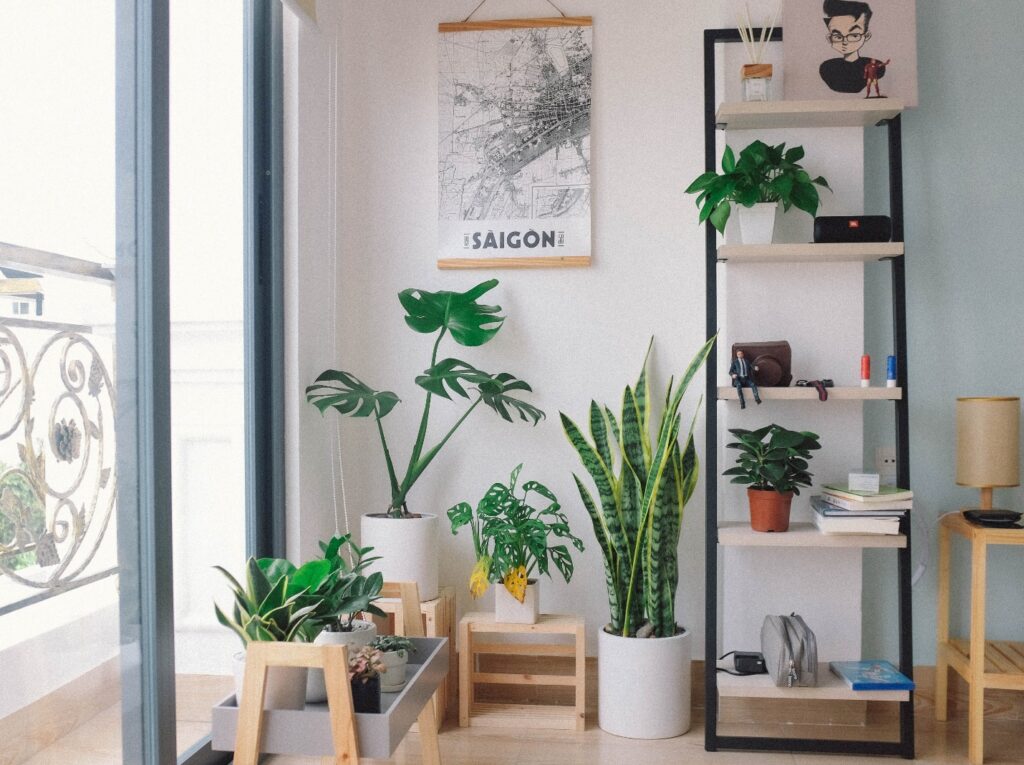 Natural plants can transform any living space almost instantly. They make any room look brighter, livelier, and a lot more welcoming. One of the best home improvement ideas on a budget involves installing planters in your home and plant beautiful flowering varieties in them. Planters don't cost must. You can even make them yourself using old stuff from your garage.
Install a Water Filter
Home improvement isn't limited to making your house look more attractive. Anything that makes your home more functional is also a part of home improvement. One of the best, and we say, much-needed home improvement ideas on a budget are the installation of under sink water filter system. Not only will it ensure that you get clean drinking water, but it'll also reduce the plastic waste that you generate in the form of plastic bottles. Not to mention the convenience of not having to refill the empty water bottles all the time.
Install Cork Floating Flooring
Many people want to do something about the cold floors. Nobody likes to step onto ice-cold floors every morning. While carpeting the floors is one option, not many people like carpeted floors for obvious reasons. Carpeted floors are hard to clean and maintain. One way to address the problem of cold floors is to install cork floating floors. These floors are soft, warm, and comfortable. They're easy to install and are highly durable. The best thing about these floors is that you don't have to remove the existing flooring. These panels simply snap in place and offer the warm padding that you so badly want.
Replace the Doorknobs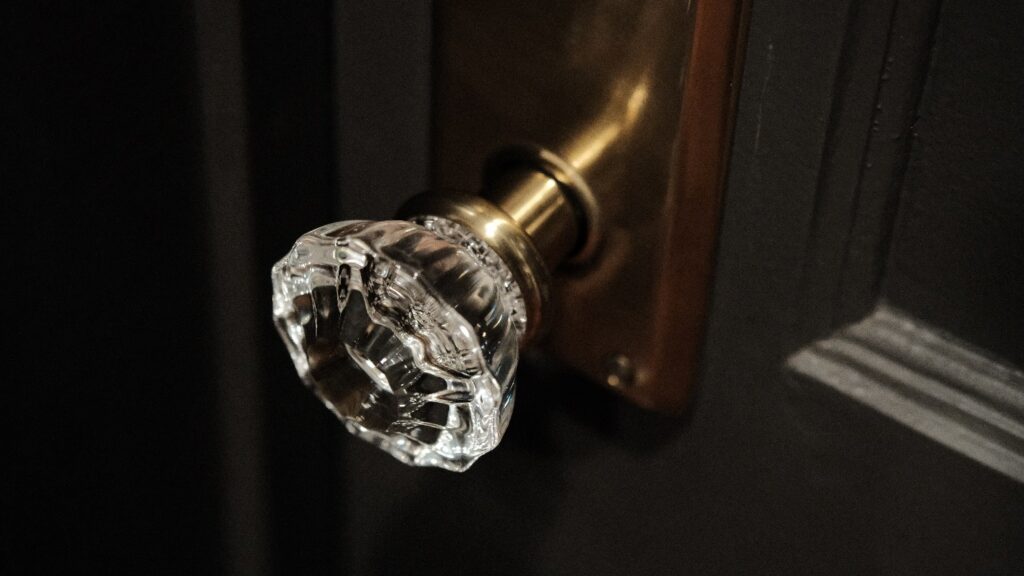 Wooden doors are highly prone to rot and damage. However, not many people can afford to replace their wooden doors. You can polish your wooden doors to make them look presentable but what's more that you can do that'll make them look as good as the rest of your house? You can invest in fancy doorknobs. They'll cost you only a fraction of what replacing the entire doors would cost you. The impact of fancy doorknobs is unmatched. You'll totally love the feel!
Install New Bathroom Fittings
Bathroom remodels are the most expensive, only after kitchen remodels. Bathrooms are also the most used parts of any home and are highly prone to damage. It's only natural to want to get your bathroom remodeled, but not everyone can spare that kind of money. However, you can look around for home improvement ideas on a budget for your bathroom. You can replace old bathroom fittings with newer, modern ones. Install new taps, fixtures, and shelving to your bathroom. You can even add new light fixtures if your budget allows.
Add Life to Weather-Beaten Deck
Wooden decks can make excellent seating areas. Well-maintained decks can even add value to your property. Unfortunately, not many homeowners focus on the maintenance of their wooden decks. If you're looking for home improvement ideas on a budget, this one might just be it for you. Scrub your wooden deck clean. Power wash it and get rid of all the tough stains. Apply a fresh coat of polish and seal coat to protect it from getting damaged in the future. Add some plants and enjoy a revived wooden deck that's a sight to see! And guess how much it would cost you? A mere $80 to $120 only.
Shift Your Focus to the Staircase
Most people spread beautiful runners on their stairs. Balusters and newel posts are also quite common. However, the exposed sides of a staircase are often neglected. If you want to revamp the staircase but are tight on a budget, we suggest you install stair brackets to the exposed side of the stairs. It'll add an element of visual interest and make the staircase look complete and a lot more presentable. It's not going to cost you more than $250, so there's not much you've got to worry about.
Install Backsplash to the Kitchen Walls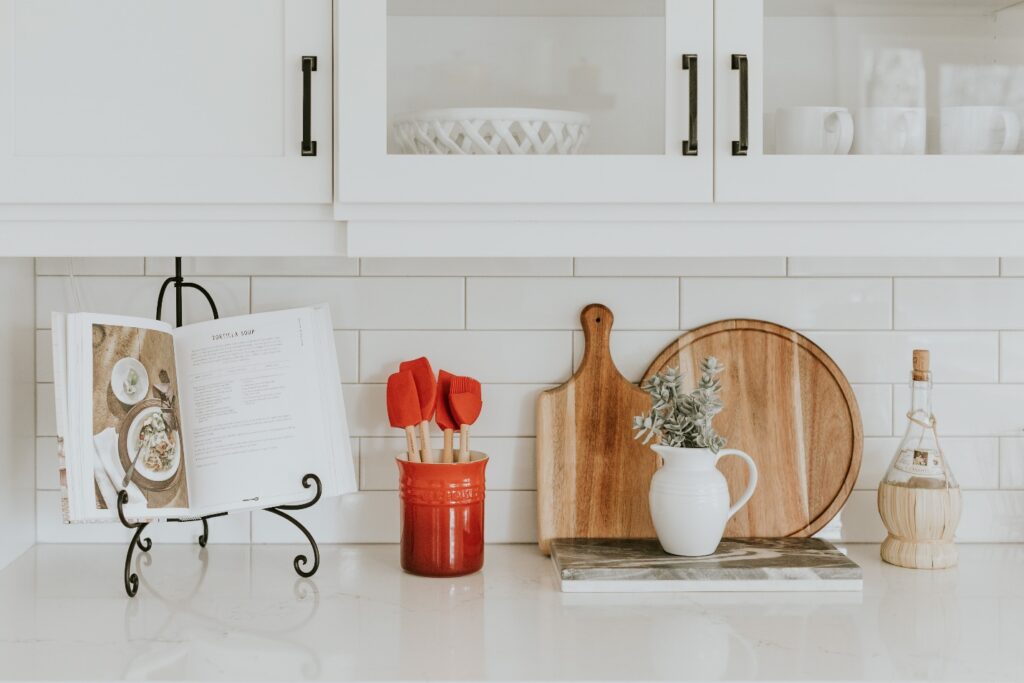 Kitchen walls can get really dirty in no time. The smoke and oil from cooking and the dirty water from dishwashing can really make the kitchen walls look absolutely dirty. No matter how many times you repaint the kitchen walls, they'll get dirty after some time. One way to make your kitchen cleaner and more attractive is by installing cool backsplashes that are easy to clean. Not only do backsplashes make kitchen maintenance easier, but they also make your kitchen look prettier.
Energy-Saving Dishwasher
Anything that adds to the value of your home falls under the umbrella of home improvement. Your old dishwasher may be washing dishes just fine, but older appliances consume more energy than newer, energy-saving models. One of the best home improvement ideas on a budget is to install a new, energy-saving dishwasher. A new dishwasher will be smarter in looks, efficient in functionality, and will help you save big on energy costs!
Update the Light Fixtures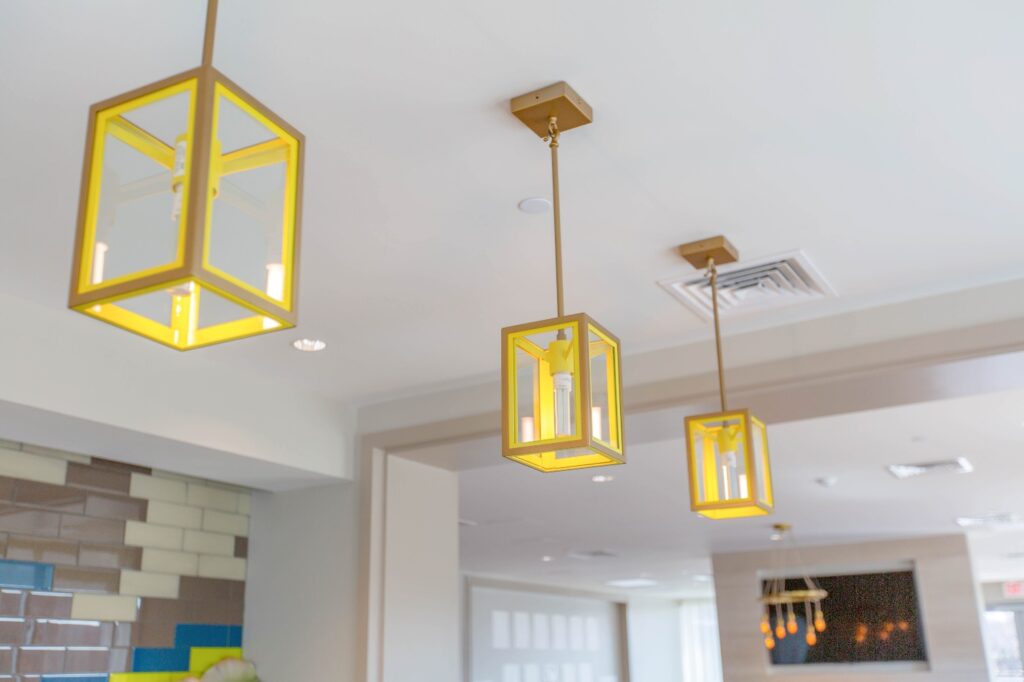 Changing the lighting inside your home can really make a difference. The next idea on our list of best home improvement projects on a budget is to invest in new light fixtures. You'll be overwhelmed with the number of options you have in this area. Choose statement light fixtures in your home and see how they transform the feel of your living space.
Polish the Furniture
Another low-cost home improvement idea is to polish your furniture. Old furniture can be a major visual turn-off. Replacing all of the furniture isn't possible, but polishing the furniture to make it look as good as new is. Re-polishing your furniture doesn't cost much and revives the original aesthetics of the furniture, making it one of the best ways to renew the aesthetics of your living space.
There are innumerable home improvement ideas on a budget that you can try. You don't have to overwhelm yourself when it comes to making your home look attractive and presentable. There's so much that you can do without putting a dent in your bank account. All you've got to do is look around and analyze what areas require your attention and stir in the creativity in yourself to come up with the best possible ways to revamp your house on a budget!