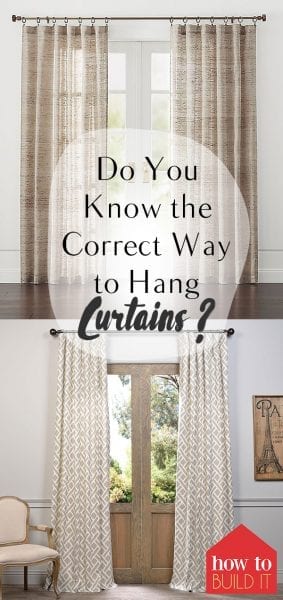 Curtains can make all the difference in any room. With great patterns, colors, and materials, you can go any design-direction you please – but before you get ahead of yourself and start drilling holes in your wall, you may want to rethink your curtain rod placement.
Initially you might think "Duh, just frame the window." But you'd be doing yourself (and your living room) a huge disservice.
By mounting your curtain rods around the immediate perimeter of your windows, you're showing the true size of the room. This isn't always a bad thing, but we'll show you the way to always give your space bonus height and design points.
BAD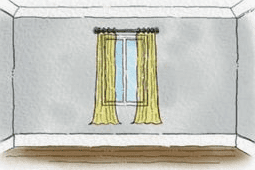 This is wrong, on so many levels. You might as well say "Hi world! I'm a window. And I'm a small window. There is nothing grand about me, as you can see." Unless you have actual floor-to-ceiling gorgeous windows, do NOT select curtains the same size as your window frame.
GOOD
The curtain rod has been placed as close to the ceiling as possible. You may or may not have crown molding in your home. If you do, you never want to mount your curtain rod to your crown molding. For ideal placement, mount your curtain rod approximately one foot taller than the top frame of your window. If you have less than a foot of space between your window frame and the ceiling, mount the rod as close to the ceiling as possible. .Then, you'll extend the rod and mount the ends at least one foot on either side of the window frame. If your window is 60 inches wide, you'll want to purchase a rod that spans 84 inches comfortably (accounting for an additional 12 inches on each side of the window frame).
In the photo above, see how the curtains are actually only covering the wall? This gives the appearance of wider windows. It's a great trick for achieving a larger visual space when your home has only small windows.
BAD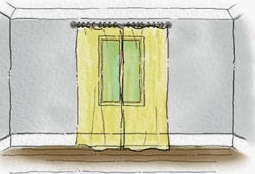 In the image above, the rod is in the right place and the curtain is the right length; however, when the curtains are closed, they're spread flat. This is a no-no as well. See below:
GOOD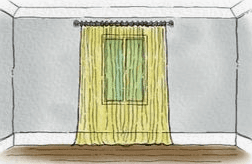 The curtain rod in this image is mounted properly, the length of the curtain comfortably touches the floor and the width of each panel is enough to leave pleating when the curtains are closed. THIS is ideal. See the real-life example below.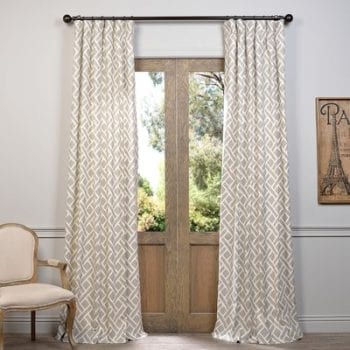 Did this article leave you wanting more? Here are more DIY curtain projects from How to Build It!