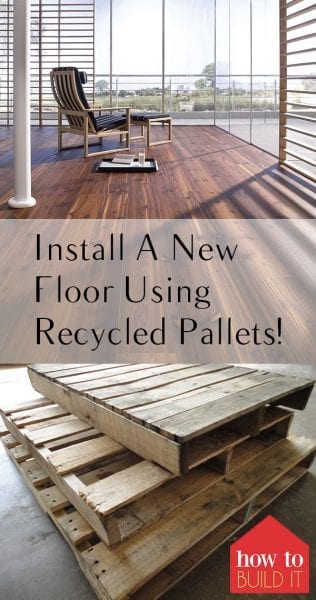 It is 100% possible to DIY your own floors using wooden pallets. And most of the time, you can find these pallets for free. But before you start ripping out your old carpet and driving around the back side of Costco looking for pallets, there are two important factors to keep in mind:
1. Beware of fungus. Find pallets that are dry. Fungus can be a definite problem on wet pallets. Also, the cleaner the pallet, the better. Because…
2. Pallets run the gamut when it comes to germs, bacteria, raw food leakage, dirty hands – all of it. You don't know where they've been and you don't know what's been on them (e-coli anyone??). If you're thinking of building a food container, table top, or picnic table – you may want to find cleaner materials.
That being said, recycled pallets make dang good flooring!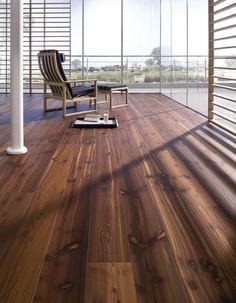 Collecting Pallets
You can find pallets just about anywhere. Some stores like Walmart, Lowes, and Costco will leave them in or by their dumpsters regularly for disposal. If you do a quick search every now-and-then on craigslist, you'll probably see someone trying to give pallets away for free. So they make for very cheap flooring.
As you begin collecting pallets for your flooring, keep in mind that no two pallets are the same. Expect to find an array of colors, sizes, and construction. The floor you're about to install will NOT be a seamless work of symmetry, rather more of a quirky work of art.
Safety Concerns to Consider
You're going to encounter a lot of rusty nails during this project. A tetanus shot would be a great safety measure to take prior to starting this project. Also, as you're disassembling pallets and cutting wood, always wear safety goggles to prevent damage to your eyes.
Disassembling The Pallets
You'll need tools to disassemble your pallets. The easiest way to do this is by using a sawzall (you can purchase one–if needed here!)  This tool will cut through nails holding pallets together. It's also the fastest method for disassembling the dozens of pallets you'll need for your floors. You might also try a crowbar and/or rubber mallet to separate the pallets but this can often lead to splitting and damaging the wood.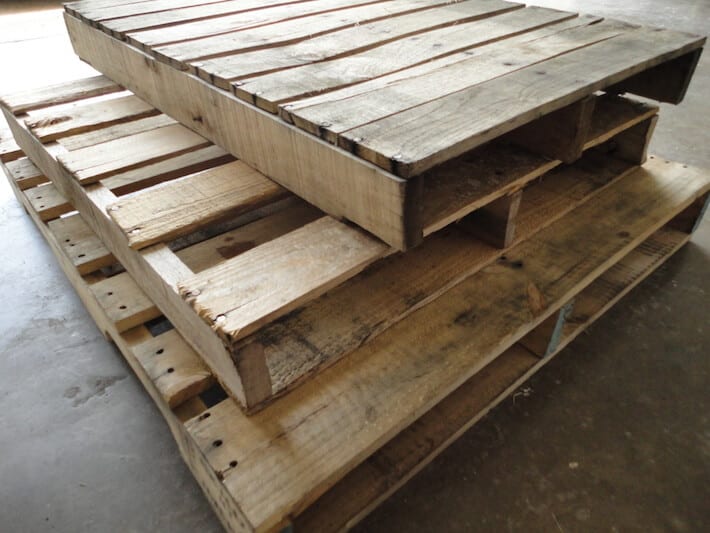 Cutting Straight Lines
Once you've disassembled your pallets, you'll find you have planks of wood that are not truly straight. This will present a problem when you're laying down the flooring. Using a table saw and square, you can cut your wooden slats to create straight lines for the flooring.
You can cut varying widths and lengths of wood but the easiest way to lay your flooring is by making sure each piece of wood is the same exact width. This will be the trickiest part of your project – more so than cutting the flooring to fit door jams and awkward walls. It may be a good idea to seek the help of an experienced friend or relative to help you as you cut the individual planks for your flooring. As you cut each plank, sanding the surface is a great way to ensure a nice even finished floor at the end of your project.
Installing A Pallet Floor Over Plywood Subflooring
1. Locate The Joists – This can be done using a stud finder (you can purchase one if needed, here!) Once you've located the joists, snap a chalk line or mark the floors with something permanent. You will need these markings to identify your joists as you lay the flooring. Each piece of flooring needs to be secured to the subfloor and joist to hold the planks in place.
Lay The Planks
This part of the job is an art form. As you'll have many differing colors and sizes of wood, you'll want to lay the planks as randomly as possible to avoid creating a pattern on the floor. Lay the planks perpendicular to the joists, securing the planks to the joist as you lay them.
A good rule of thumb when laying wood flooring is to stagger the seams of the ends of your planks by no less than 6 inches.
 Fill In The Gaps
When using recycled wood and wood pallets, you will always have planks that are curved, broken, or misshapen in some way. In these cases, you'll want to cut pieces to fit where they are needed.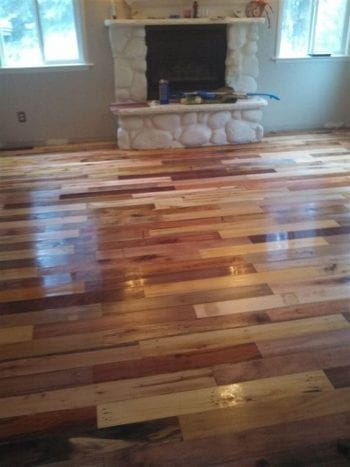 Finish The Floor
Once you've cut, laid, and secured all of your flooring pieces, you must chemically finish the floor. You can stain the floor for a customized color. But the final touch should be a polyurethane coat. Apply one coat of the polyurethane with either a brush or a roller. Once it's dry, lightly sand the surface and wipe away debris. Then apply a second and final coat of polyurethane.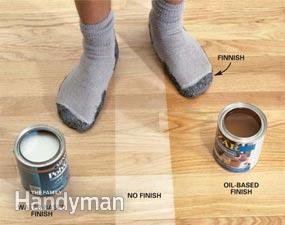 These floors will be slightly high maintenance, like all wooden floors. They will benefit from regular care and the occasional sanding and re-coating of polyurethane. The great thing about a pallet floor though is that you can replace planks easily without the worry of having to perfectly match your materials.
Interested in more pallet projects? Check out these other ideas from How to Build It.
How to Make a Pallet Wall (in One Weekend!)