I love hanging photos of my family up around our home. Family photos and artwork really help to turn a house into a home. One of my favorite ways to display collections of photos or pictures is in a home gallery. It's very simple to cluster a bunch of pictures together, and there are some really easy tricks to making your gallery look stunning. Hope you like these ideas!

Atkinson Drive posted a great idea for a gallery wall that is also really inexpensive. Find a large quantity of match frames (or paint some frames so that they match), print your photos in black & white, then hang the framed photos in a grid.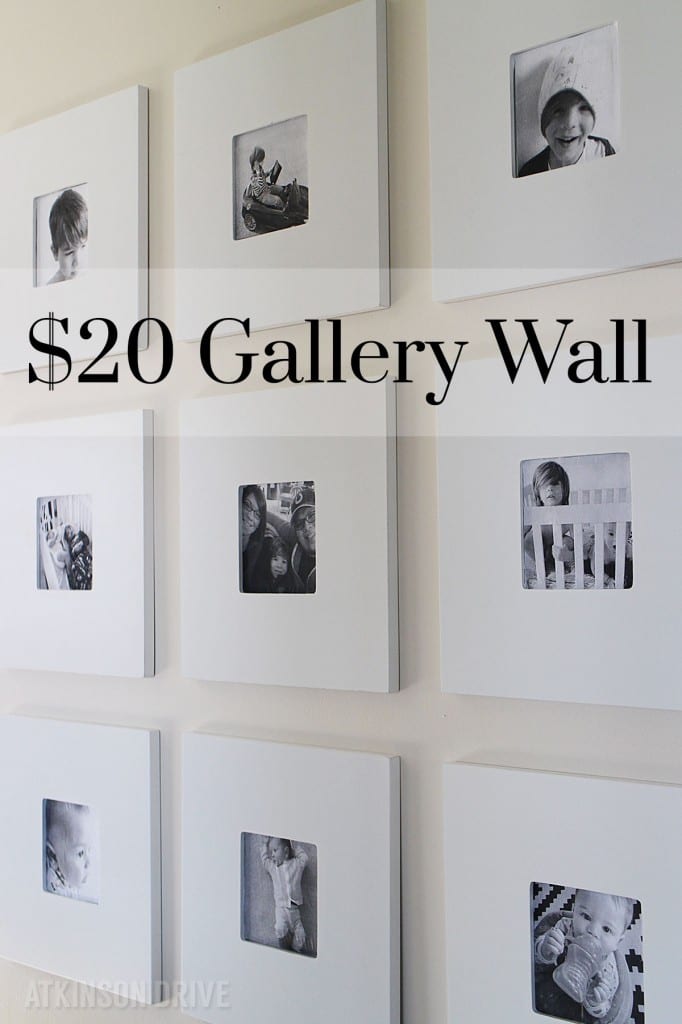 Decoist suggests printing your family photos on canvas for an extra special touch. Canvases don't even need frames–hang the pictures as is! I would suggest printing several pictures on different sizes of canvas and then hanging them in a cluster.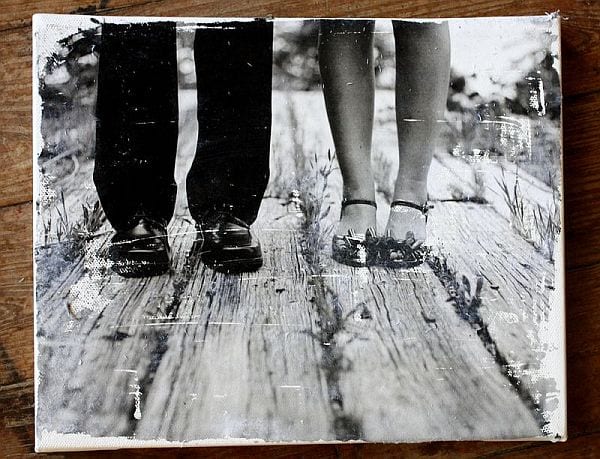 Song Bird Blog posted this beautiful gallery wall that is totally adorable and also unique. I love the way the photos are consistently black & white, but the frames change. The twine hanging the photos is a nice touch, and the layering looks amazing!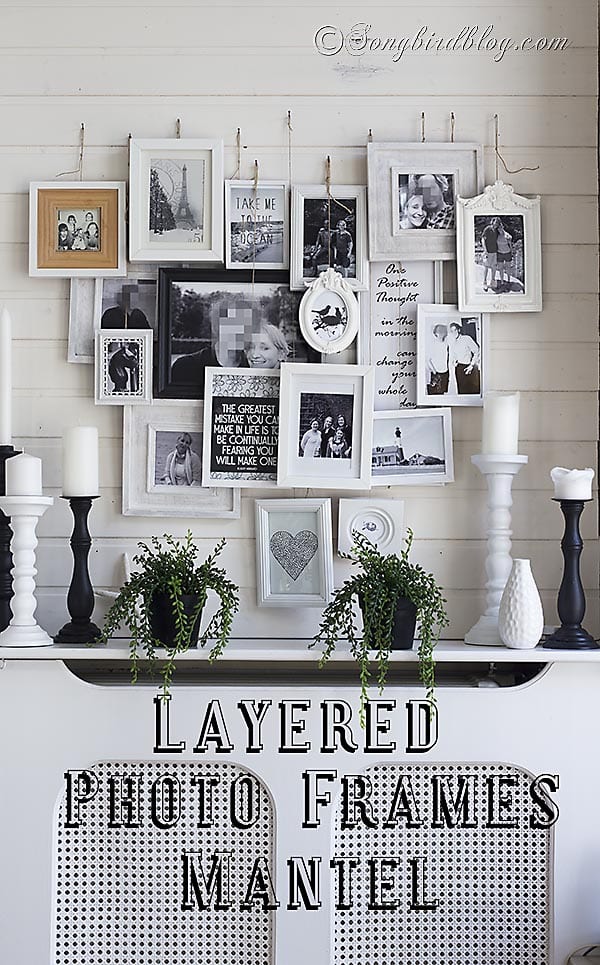 The Creative Mama posted this simple yet chic photo gallery wall that I just love. For this project you would want to format your pictures into a grid before printing. Then you could either print on large photo paper and frame it, or you could print on canvas. Beautiful!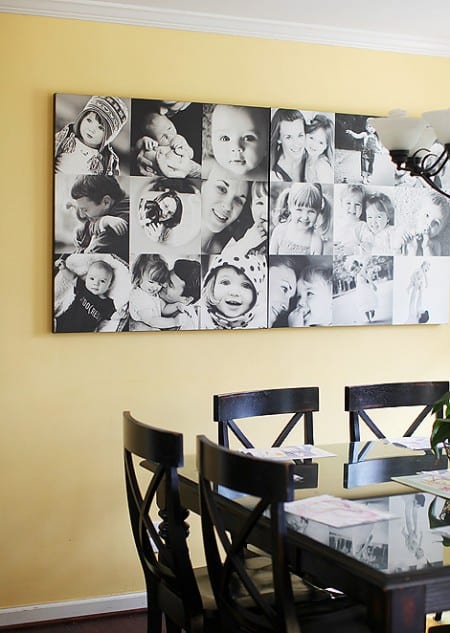 Interiors by Studio M posted a simple DIY project to create an easy and fun gallery wall. All you need to do is string some twine across a wall and then hang your favorite pictures using clothespins. I love the vintage feel of this idea.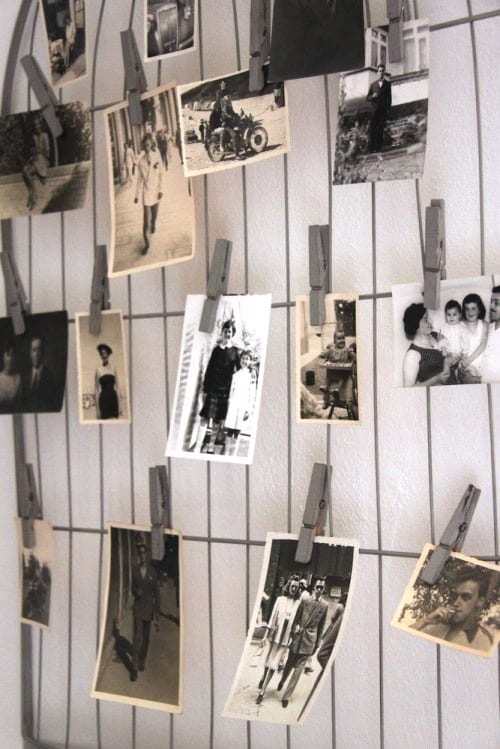 Bits of Everything posted a tutorial for making this beautiful gallery wall. I love the way the color photos really stand out against the black framed background. This would be a beautiful piece to hang in a hallway.
My Ideal Home posted this beautiful gallery wall that just screams classic modern. This would take a little bit of effort to set up–you need to hang the rods and clips, but once the system is set up you can switch out the photographs as often as you like!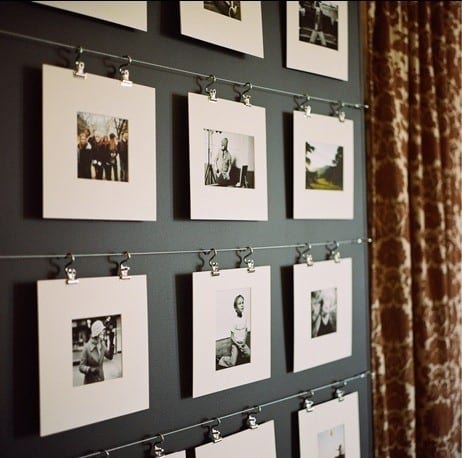 Meg O. On the Go posted instructions for making a gallery wall just like her own. I love the way the empty space in the middle of the rows of photos helps tie the collection of frames together. What a creative way to improve the typical gallery wall!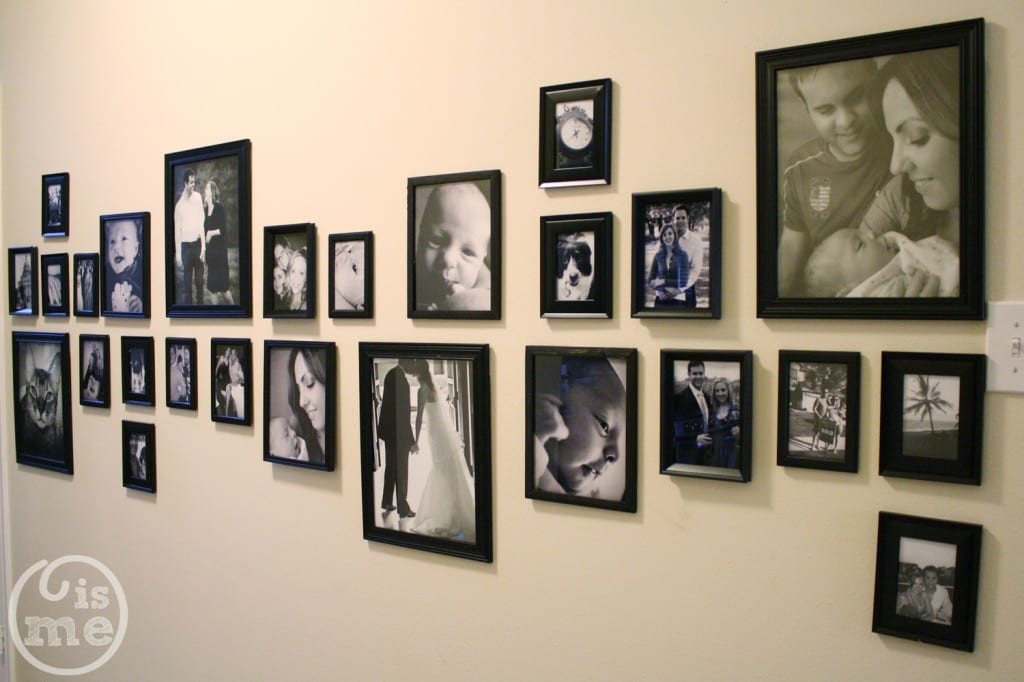 Little Green Notebook posted this lovely set of framed photos. I love the mix of frames and sizes. The rod holding up the pictures really helps to unify the collection and enhance the space. this would be lovely in a living room or even above a headboard.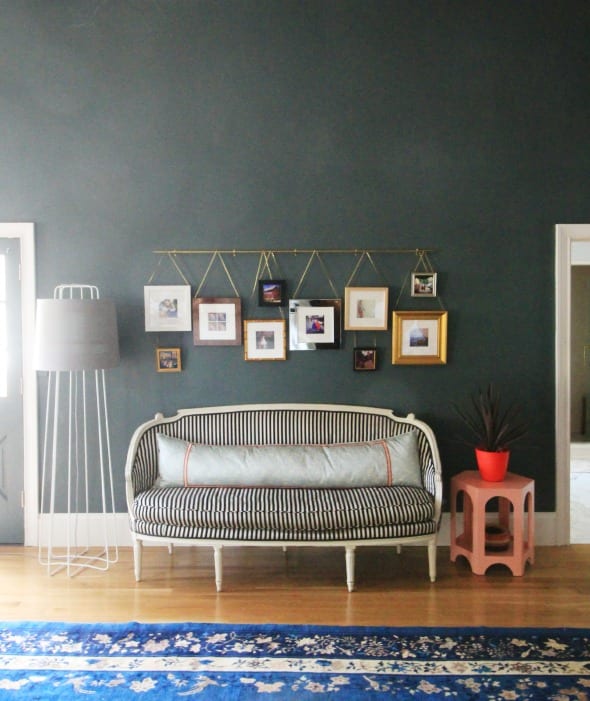 Forever Cottage posted this gallery wall that looks simply stunning above the stairs. Staircases are often overlooked when you're home decorating, but they really have a lot of potential! Adding family photos and artwork like this can help brighten up the space.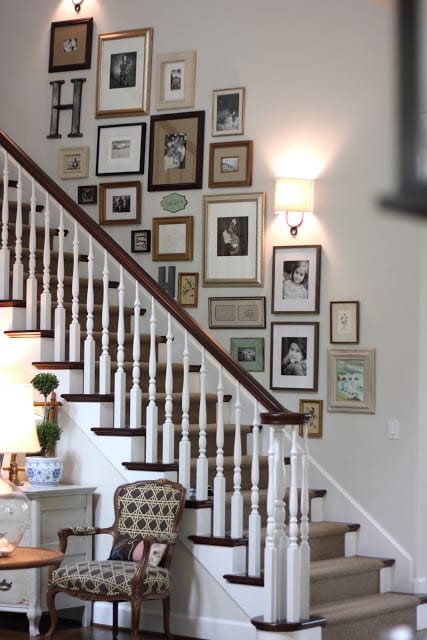 Interior by Studio M posted a unique gallery wall that doesn't even showcase pictures! And that's perfectly okay–instead of a typical photo wall, maybe your home needs a little blank space. If that's the case, fill it up with empty frames!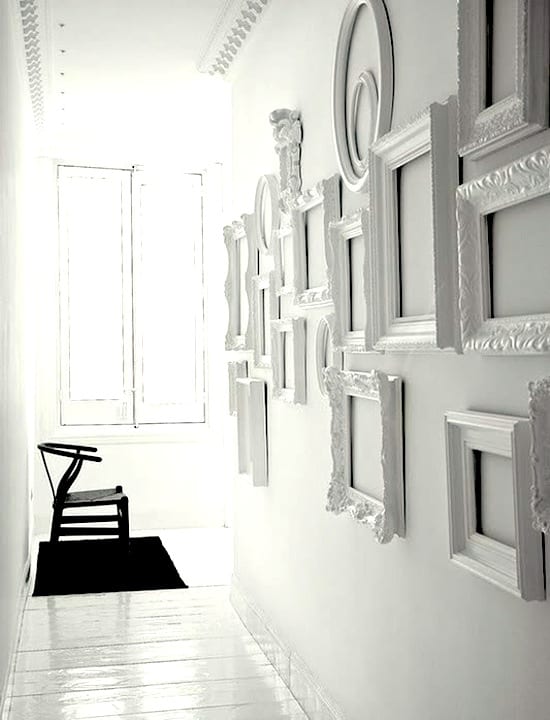 Living Well Spending Less suggests making a gallery wall somewhere in your home to showcase your children's art. This is a great way to liven up a corner of your home–and your kids will feel so proud! You can even have your kids help pick out the frames!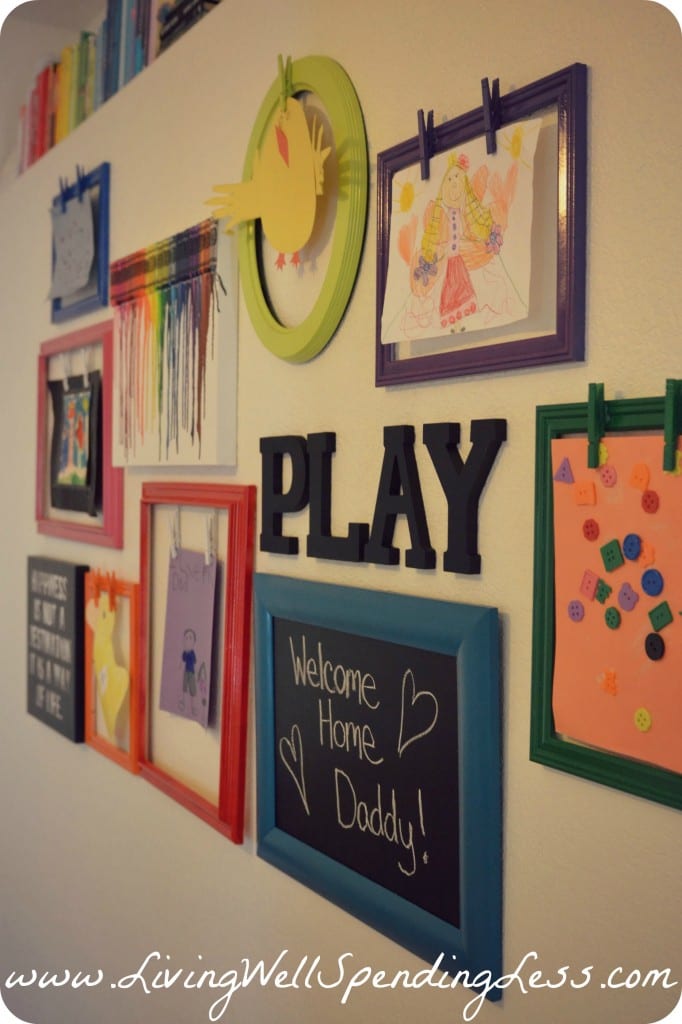 Shanty 2 Chic turned an empty hallway into a beautiful gallery by hanging framed photos on chains and then hanging the chains from posts. This method helps add weight to the photos and really give them a presence in your space.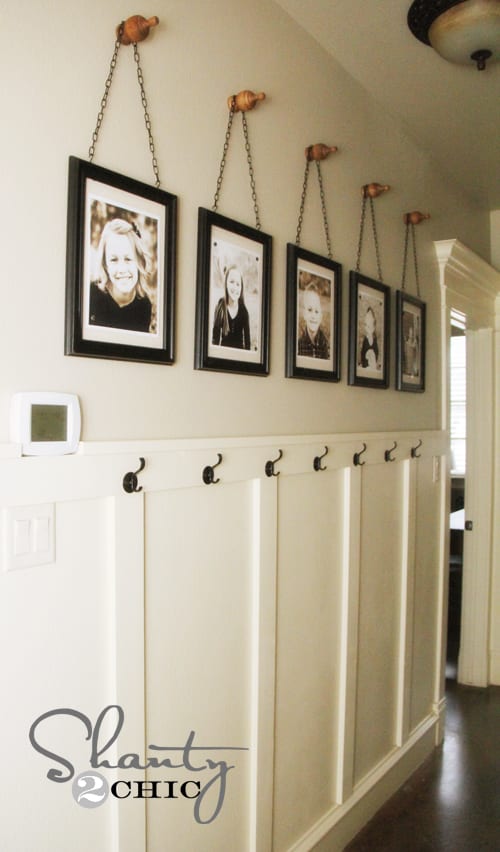 Houzz posted this lovely gallery wall that is a good example of how classy layering frames can be. When layering frames, it helps if you have large mats so that the photos don't get covered up. And have fun with frame sizes–they should vary at least a little.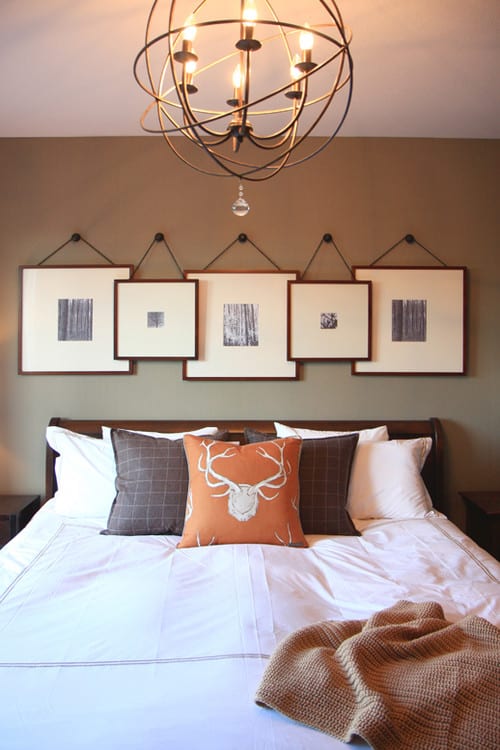 100 Layer Cake posted a really easy and quick way to turn a blank wall into a gallery wall. All you need are some printed photos and colorful tape. Plan out the design you want to place your photos in and then simply tape them on the wall!