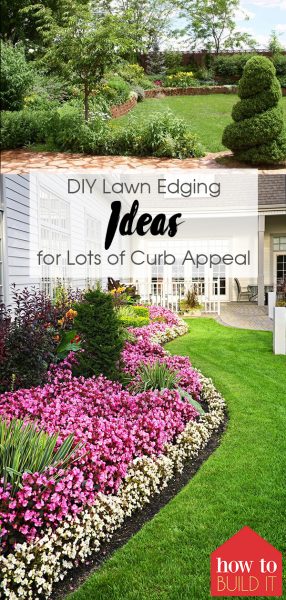 Curb appeal says a lot about a house, doesn't it? And no one on the street likes to be known as "that" house with the ugly yard! Brightening up boring curb appeal is easy with brand-new DIY lawn edging!
Stop worrying about whether or not you're "that" neighbor, and give your home an easy upgrade.
These DIY lawn edging ideas are affordable and easy to implement by yourself. Depending on the size of your yard, you could even be done with these DIY curb appeal projects in just a day!
DIY Lawn Edging Ideas
If space is your concern, make your DIY lawn edging double as a raised garden bed! Four rows of brick are about all you need to create a functional raised bed, and doesn't it look great as edging? Learn how I lay my brick here.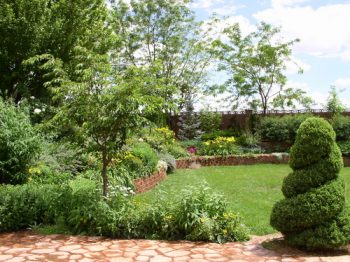 As far as I'm concerned, flowers make for the best DIY lawn edging! Have your flower beds back right up to your lawn and plant flower varieties like Alyssum, Barrenwort, or Bloody Geranium along the edges. To me, it looks like Alyssum was the flower used to create the white border below.
Pro Tip: If you have kids or just a lot of backyard foot traffic, it might be a good idea to invest in a plant variety that can tolerate some foot traffic.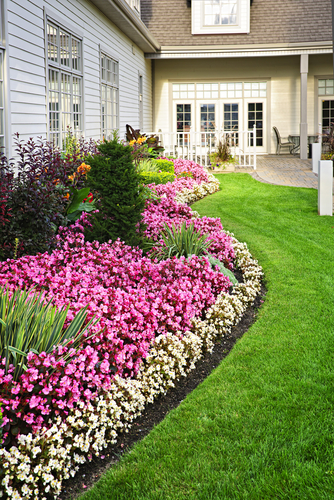 Cheap
To give your yard some depth and texture, line the edges of your lawn with pebbles or gravel. You'll have to dig a small trench to accommodate for the gravel, but that's about all of the heavy labor required here. However, you've probably already noticed that edging like this can be absolutely AWFUL to weed. A few tips and tricks from Bees and Roses should make things a little more bearable.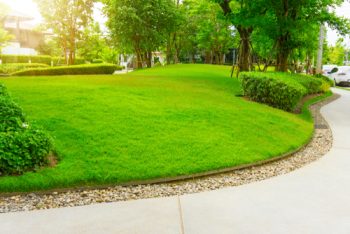 Easy
Was plain gravel too boring for you? Line your lawn with larger rocks instead for even greater visual appeal. I have these very pavers in my backyard! I love how they work as lawn edging and a little pathway that makes it easy for me to water my plants. Moss has even started to grow between the cracks of mine!
Here's an amazing list of other DIY garden path ideas, too!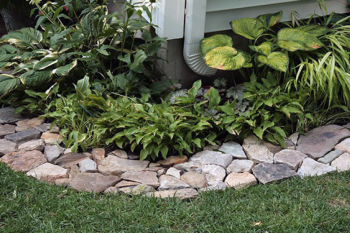 Who knew that recycled terra cotta pots could look so fantastic turned on their side and around a green lawn? If you are starting a terra cotta pot project of this magnitude, it's probably best to buy your pots in bulk here! They come in different sizes, and you can always opt for the smaller size if you think that would best fit your landscaping!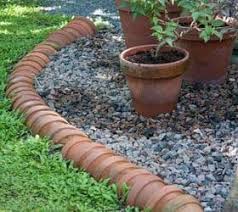 A Few Other Ideas:
Edge your lawn with cinderblocks turned on their sides (holes facing up!) Plant flowers in the holes for a fun addition
Wood
Get rid of that scrap wood pile in the garage by slicing 2x4s in varying lengths for lawn edging. You can stain the wood before you stick 'em in the ground, or you can just leave the wood be. Cover your wood with this sealant either way though.
Don't throw away your chipped or cracked plates! Banish those cracked plates to the garden instead, stuck on their edge, they make beautiful garden edging.
Metal edging is all the rage on Pinterest! Make it happen in your backyard with this edging kit from Amazon.