Curb appeal is called curb appeal for a reason, it makes your home look appealing…from the curb! Regardless of the neighborhood in which you live, curb appeal is massively important, especially when selling your home. If your home is looking a little dingy from the curb, don't let it any longer! Try one of these exterior color schemes for the best looking home around the block.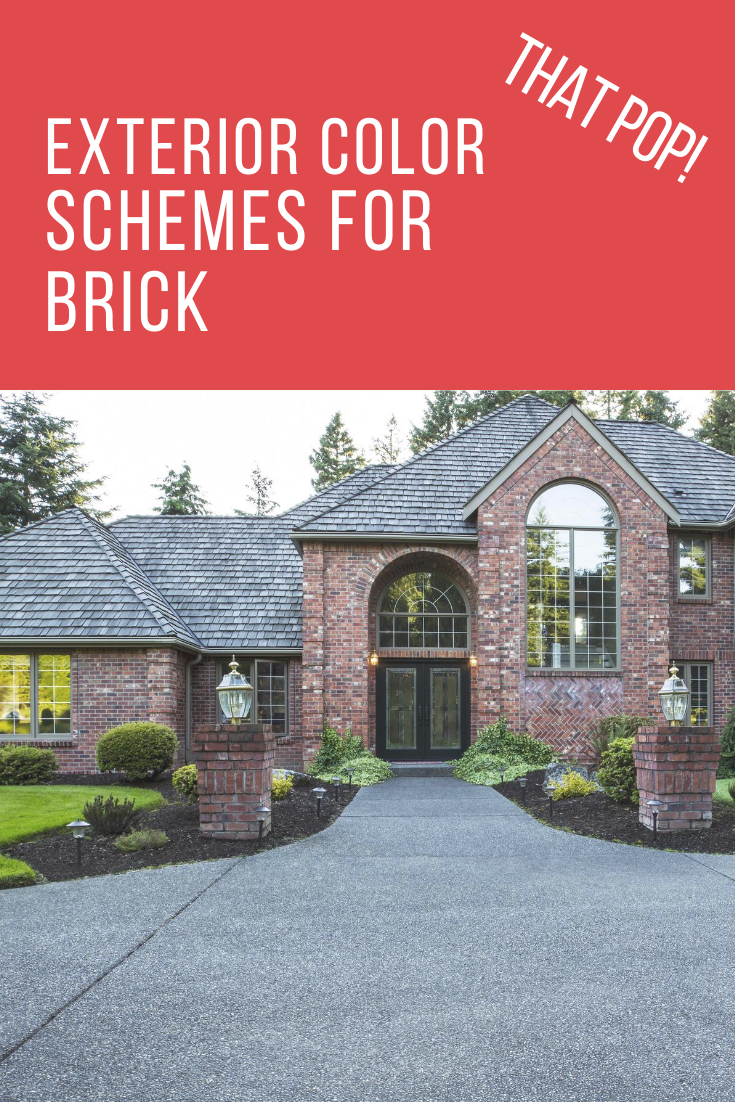 Light Navy and Grey
Navy is one of the most well-used colors when it comes to home decor, but that doesn't mean it's anywhere near overused. Go for a classic, charming look with a light grey paired with an icy cool blue. This color scheme is sure to boost your curb appeal.
Farm House Red And Tan
This rural stunner looks complete with red paneling and tan accent pieces. The red paneling is bright, but that's exactly what makes this home look so charming. Though, any paint color could look great on this home with that kind of curb-side view, check out those mountains!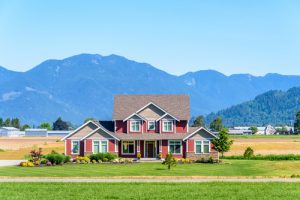 Dark Navy and Dark Grey
If you loved that blue color scheme from earlier, but wish it were a bit more visually interesting, just go with darker shades! The dramatic navy blue and dark grey stone look incredible paired with the vibrant green of the grass and the warm hues of the front door.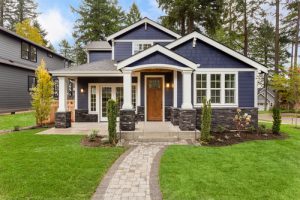 Earth Tones
Perhaps it's time to go with a home exterior color scheme that's a little bit more modern? If so, try one with Earth tones. The dark grey stone creates an interesting contrast below with the vibrant, natural wood paneling. This color scheme seems like it would be perfect on a cabin in the mountains…who knows, maybe that will be my next project.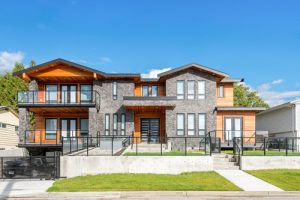 Green and Red
I know, I know, when you read the heading you probably had something super Christmas-y in mind! However, with the right shades, and home can look absolutely incredible dressed in red and green. Go for light greens (dark ones can look too foreboding) and deep reds (you know, the ones that don't even resemble that flaming Christmas red!).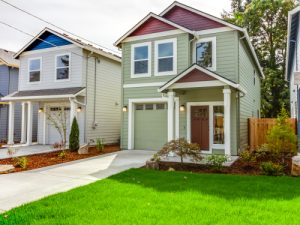 Grey and White
Keep things totally simple yet still "farmhouse fresh" with a deep grey and crisp white exterior color scheme. The airy colors can help your home look more spacious and just the right amount of updated and modern. If you look closely enough, you can see small stone columns around the front door and window covered in stones. Adding a bit of texture such as the bricks will really help to "up" your curb appeal!