Time to update the dining room! Get inspired for your next weekend project with these fun ideas.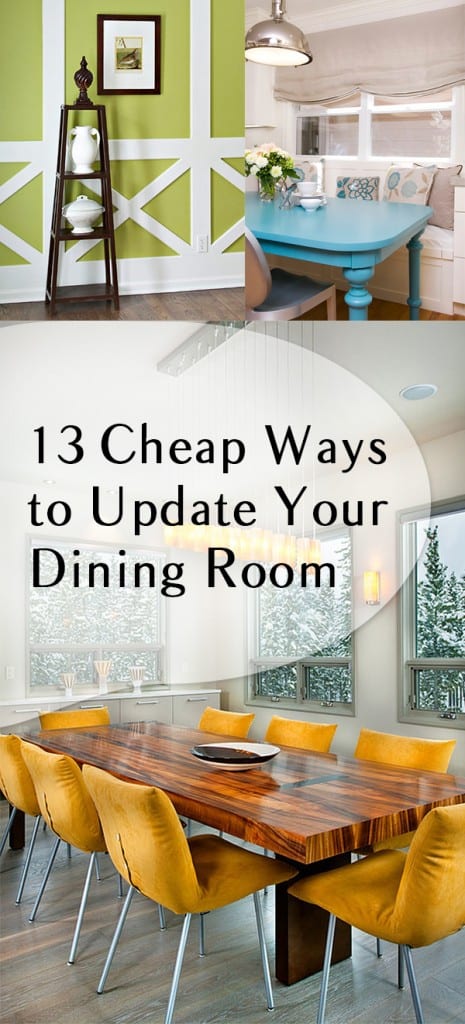 Re-cover upholstered chairs
Change up the look of your dining room by trading out the old fabric on your seat cushions for something new and exciting. This project is fairly simple and you don't need much time or many tools to do it.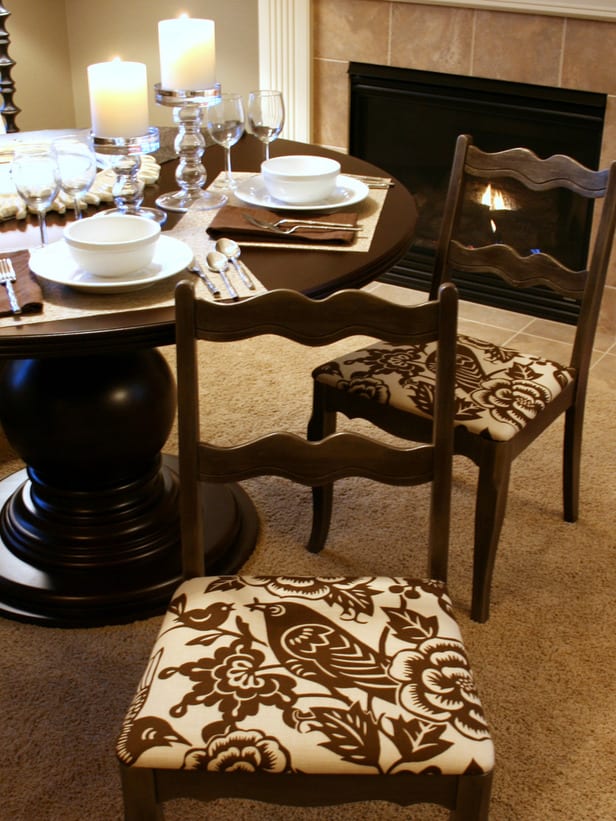 Paint a mismatched set of chairs.
Who says you need to have matching dining room chairs?! Start a collection of chairs you like, found at garage sales and thrift stores, and bring them all together with a new coat of paint and new cushions. You could make them all matching color, or complementing colors for an even more unique look.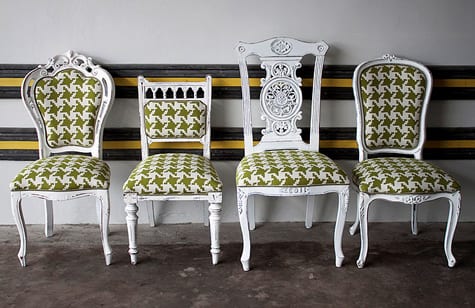 Install valances and curtains.
Valences and curtains can add a sense of formality to any room, including your dining room. If you're looking to up the elegance of your formal dining room, consider installing valences and/or curtains- you can save money by sewing your own (and that way you can pick the specific fabric you want too)!
Inexpensive wall art.
If you have a bare wall in your dining room that is calling for some attention, here's a great idea: mount decorative plates, or plain ones that you have decorated with paint or vinyl stickers. There are places where you can paint a dish and they will fire and glaze it for you. You could make it your next family outing and then mount your works of art!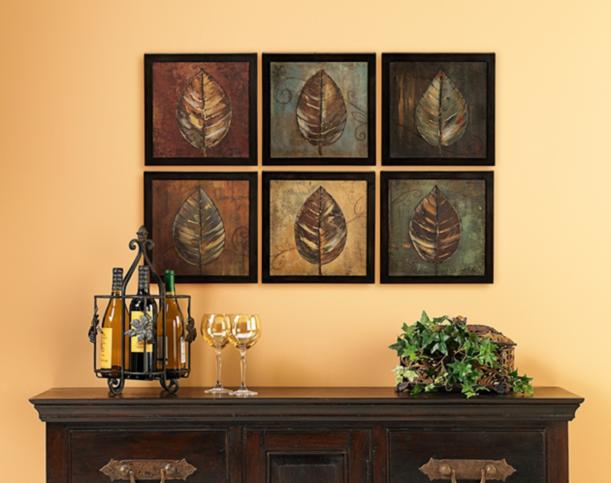 Add a rug.
Bring a pop of color to your dining room with a fun rug. It's surprising how much an item that lays on the floor can add to the character of a room. I think this looks especially nice if your dining room floor is wood or plain-colored tile. If your rug is especially bright-colored, coordinate your other dining room décor.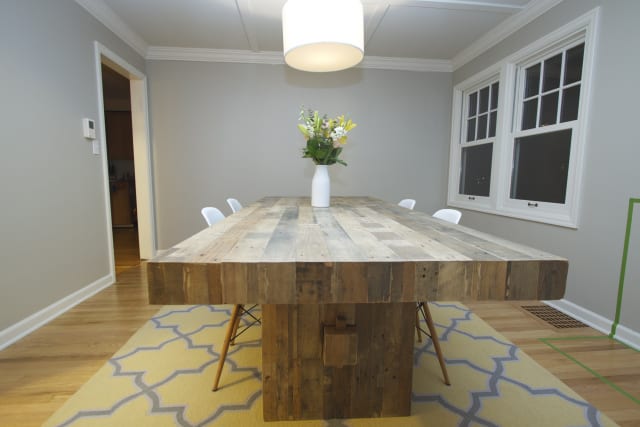 Spice up the walls.
Use medium-density fiber board to add interest to your dining room walls. This design from Better Homes and Gardens would look especially good in a farmhouse style home, but you could create a different design to fit your home.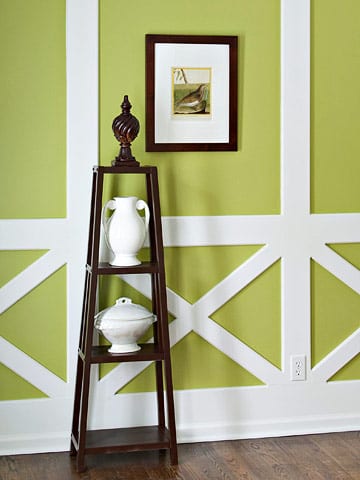 Paint your table.
Break the rules with a colored table! Or you could paint it classic white or stunning black. Even use chalkboard paint for a less-formal dining table!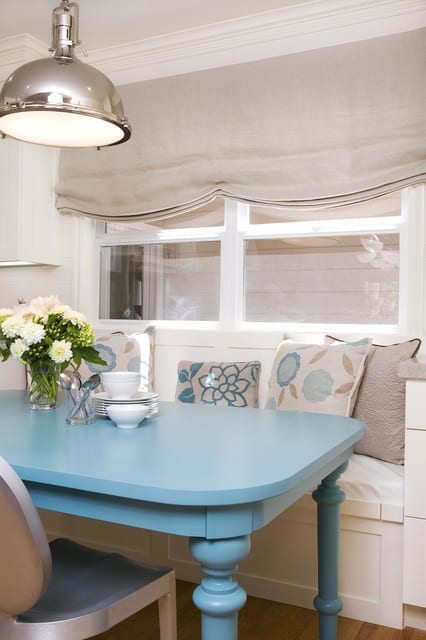 Make a table runner.
I love this idea! Make a table runner out of vintage hankies or scarves sewn together. Looks especially cute on a vintage-looking table.
Install a new chandelier.
Brighten up the dining room with a new chandelier. Fancy it up or dress it down–just make a change! There are many creative options to fit the style of your dining room. Here's some inspiration.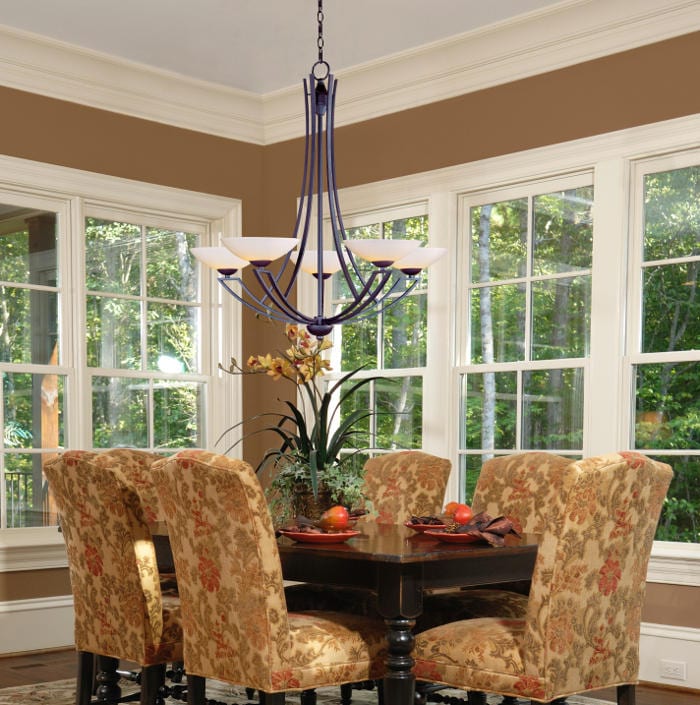 Splash of color.
Improve your dining room quite simply with a simple splash of color! The accent color can be in the rug, the chairs, the lights or even place mats on the table.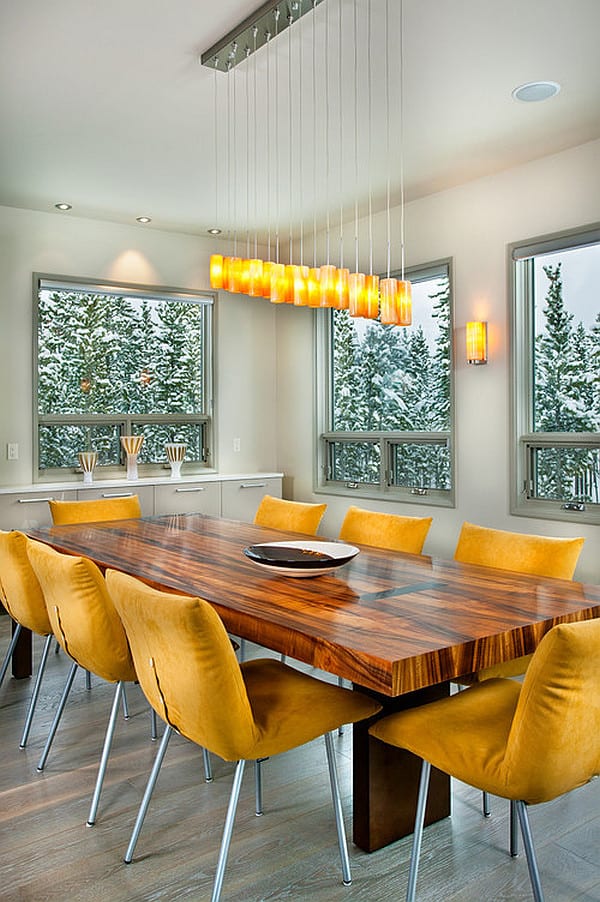 Soften with fabric.
If you have lots of wood, metal, and sharp edges in your dining room, then you may want to add some fabric somewhere. This will help both the material become softer and also the whole feel of your dining room.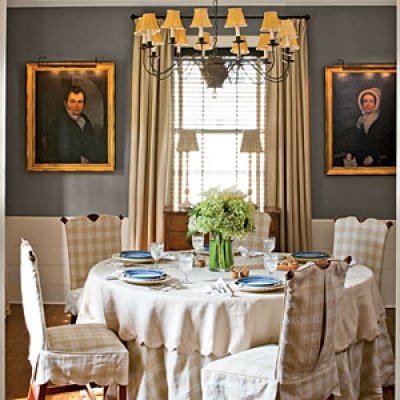 Add some green.
Plants are a good way to take up empty space that may be in your dining room and also adding color and smell. While a few plants can really spice up a room, don't go too overboard or else it may look like a jungle!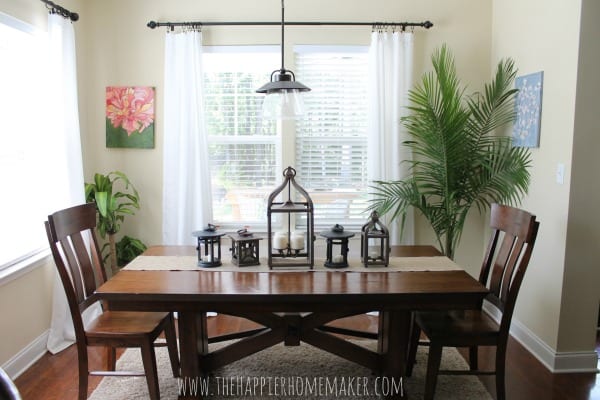 Heirlooms and cultural pieces.
Add a unique touch to your dining room with a family heirloom or artistic piece from your culture or one that you love. Hang a picture on the wall or artistic pieces on ledges or shelves.