If you are an outdoors lover, you need to know these 24 DIY camping hacks you have been missing out on! They will totally change the way you look at camping and they will make camping so much better!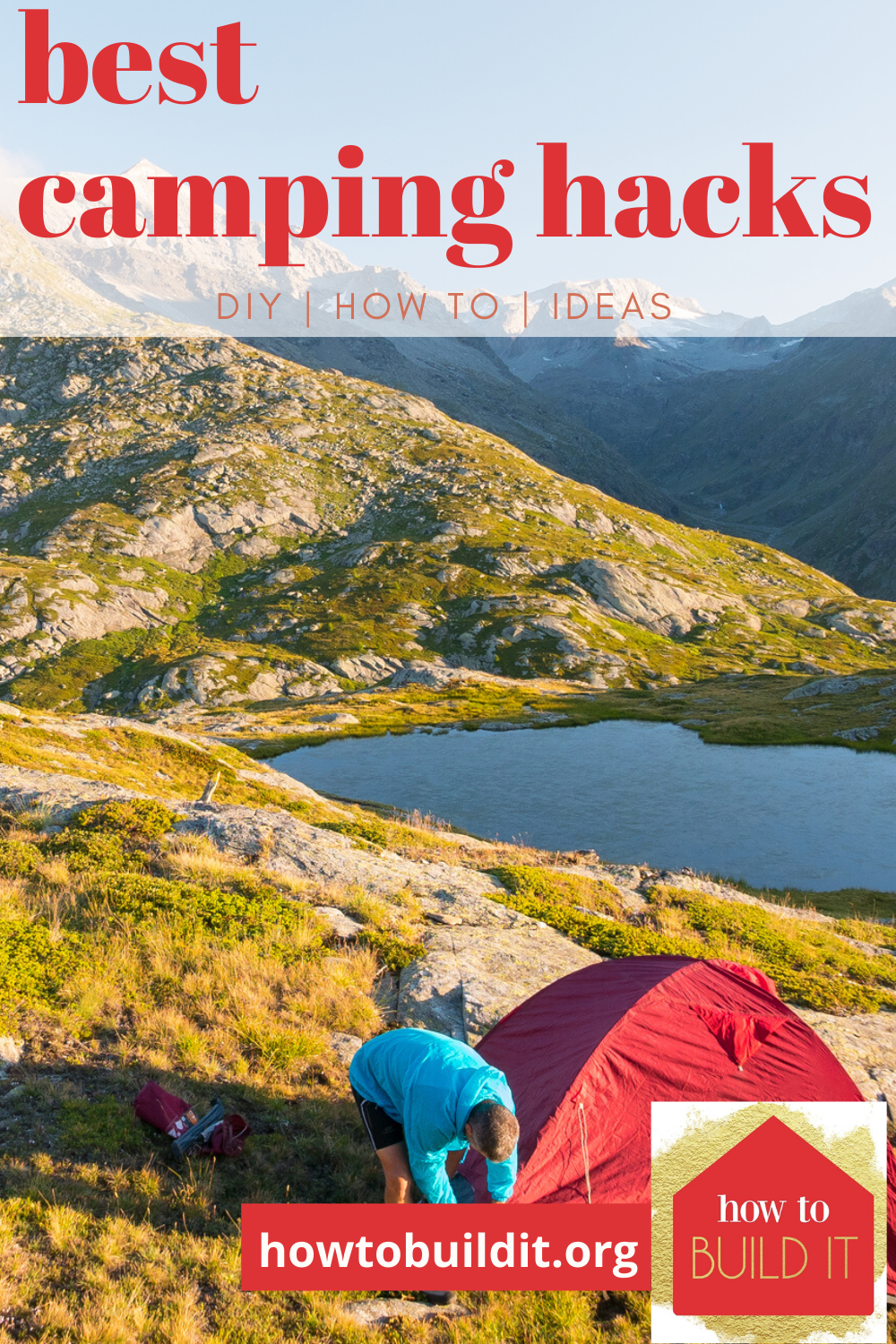 Camping Hacks
1. Hand-washing station
A DIY hand washing station is one of the most important camp hacks of all! And now, creating the ultimate camp hand washing station is totally within reach. All you need is a container with a spout, paper towels, soap, and an optional bucket used to catch all of the water as it falls.
Tip the container so that water flows out the spout, lather up with soap, and dry off with the paper towels. Easy.
2. Keep your cooking supplies organized
Use a shower caddy to store all of your cooking utensils while you camp. This could be used to store a variety of other things too! Don't dig around in plastic bins looking for a spoon or a certain spice anymore!
No more rustling around in your camping gear trying to find the spatula. Your camping organizer will keep every cooking utensil right where you have easy access to it.
3. DIY tiki torches
Use this incredible tutorial to make your own DIY tiki torches. It's a great way to utilize some of the things that you already have hanging out around the house.
Keep your campsite lit up with these camping torches made from candles. Drill a small hole in the bottom of wax candles, insert a small dowel, and stick the other end of the dowel into the dirt. This easy camping hack will have everybody in awe.
4.DIY camping shower organization
You can use a lanyard to put travel-sized bottles of shampoo, conditioner, and body wash around your neck. Simply take the whole thing with you when you shower!
It keeps it all in one place so it's easy to find. This is one of my favorite camping hacks!
5. Easy to use spices
If you want to take spices with you when you go camping, store them in tic-tac boxes. It's easy to dispense out what you need and helps keep everything organized and easy to manage. I've personally used this on all of my campouts and loved it.
6. Food-Cinnamon roll hack
Bake a Pillsbury orange-cinnamon roll in an orange peel over the fire. This trick will give it a hint of orange flavoring, plus, now you don't have to dirty a cooking sheet!
7. Crescent roll hack
If you are craving crescent rolls while camping, just find a Y shaped stick and wrap the rolls around it. It will bake nicely this way and again, you don't have to dirty a baking dish over the fire.
8. Keep your matches dry
You don't want to get stranded in the rain while camping, especially without a fire! To avoid this, make sure to waterproof your matches with shellac.
9. Scrambled eggs while camping
For some nice scrambled eggs in the morning, store your eggs in a plastic container with a lid on it. An old coffee creamer container works wonderfully. This trick will keep your eggs from breaking in the cooler (no one likes a mess like that) and it will be easy to get them started with the easy pour method.
10. DIY lantern
Did you forget a lantern? No worries. Place a headlamp on a jug of water for an easy lantern. It will illuminate the area nicely!
11. Pancake hack
Making pancakes for breakfast? Have pancake mix all ready to go! If you put it in pre-mixed in a ziplock bag, all you will have to do is snip the ends and squeeze the batter onto your griddle. Super easy right?
12. Keep food dry in the cooler
The last thing you want while camping is soggy food. Put cookie cooling racks on top of your drinks and ice for a nice shelf that you can store your dry goods on. This will keep them from getting soggy in the ice.
13. DIY How To Make calamine lotion
Make some calamine lotion for your trip! This will help sunburn, bug bites, poison oak, and other things you may encounter on your camping trip. This is truly good for anything! Use this tutorial from Clear and Well to make your own at home.
14. Firestarter trick
Stuff an egg carton full of coal to take with you on your camping trip. This is one of the most helpful camping hacks. It will make for an excellent fire starter.
15. Shower trick
Use a washcloth to make a soap pouch on your trip. When you get it wet, it will form suds and help clean your body really well, and you won't have to worry about dropping the slippery soap on the floor of a questionable camp shower. Plus, this way you only have to carry one thing with you!
16. Padded flooring
For a nice, padded floor in your tent, bring along those foam mats from the kid's playroom. It will add some cushion, make your trip comfortable, and is super easy to clean.
17. Say goodbye to soggy toilet paper
If you want your toilet paper to stay nice, soft, white, and clean on a camping trip, use this super easy trick! Just put the toilet paper in a circular container that it will fit in, and cut a slit on the side. You can unravel the toilet paper when needed through the slit, so your toilet paper stays completely dry.
18. Campfire popcorn
Want popcorn in the woods? Just use a soda can and cut it open about halfway down. Next, fill it with kernels about 1/4 of the way full. Use some rods to hold the can over the fire, and it should start to pop. When the pops get about 2 seconds apart, your popcorn will be done. Simply shake it from the can and enjoy. Find the full tutorial from Instructables.
19. Homemade fire starters
For some terrific fire starters, just dip some round cotton pads in wax. This is one of the best camping hacks!
21. Camp bathroom
If you are worried about not having a toilet while camping, you can just make your own! All you need is a bucket, a milk crate, and a toilet seat. Assemble the three together using this tutorial from Flamingo Kidd. This is one of the best camping bathroom ideas ever.
22. Light trick
Paint the inside of a mason jar with some non-toxic glow in the dark paint. This will make a great light or lantern useful for when it gets dark.
23. Supply storage
To hang your pots and pans, just wrap a belt around a tree with some S hooks hanging from the loops. Use the hooks to hang the necessary supplies.
24. Portable washing machine
Make a portable washing machine with a clean plunger and a bucket. This works great! Find the tutorial from Refashionista.
Now that you are a pro, try these cold weather camping tips.