Being crafty is always fun, but it can get a little difficult or tiresome at times. Don't let your exhaustion and creator's block stop you from decorating this Valentine's Day! Here are a few fun and fresh Valentine's Day projects for you to work on!
Pallet Heart
Do you have a lot of old pallet wood just sitting around being unused? Put it to good use and make this awesome pallet heart that you can hang anywhere in your home.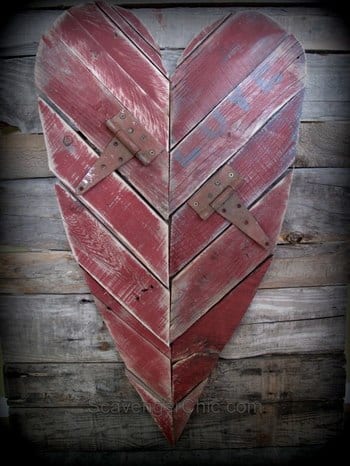 Mod Podge Heart
This idea is just adorable! Plus it goes with nearly any other decoration that you have, whether that's candles or a word stand.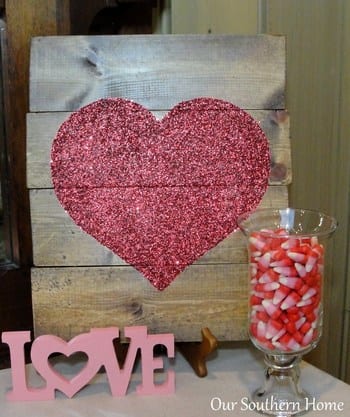 Yarn Wrapped Vases
You can really wrap anything in Valentine's Day colored yarn and it would be a good decoration. In this case, just wrap the vase in pink, red, and/or white yarn!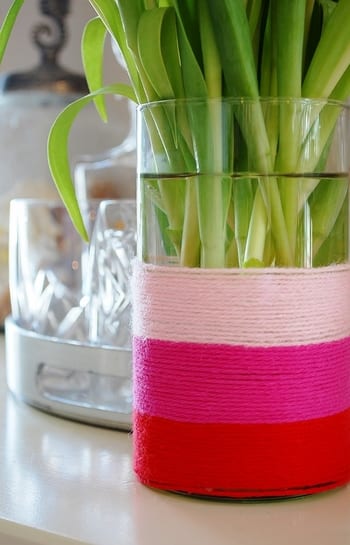 Painted Silverware
This is a fun craft that you can make with the whole family, including the young kids. Just take some old silverware, dip it in Valentine's colored paint, let it dry, and you have a great set up February 14th utensils!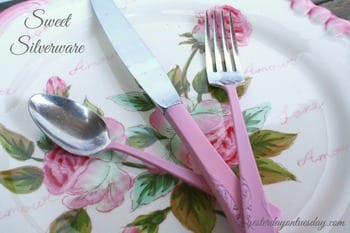 Mason Jars
You can do tons of things with mason jars to make them Valentine's decorations. The simplest thing is to put some roses in them and paint the jars coordinating colors.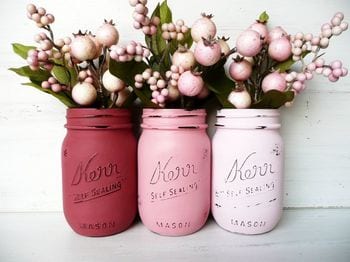 Candles
Don't just use dull, ordinary candles this February 14th. Spice things up with some decorations on the candle and the candleholders. It doesn't take much time but definitely looks great.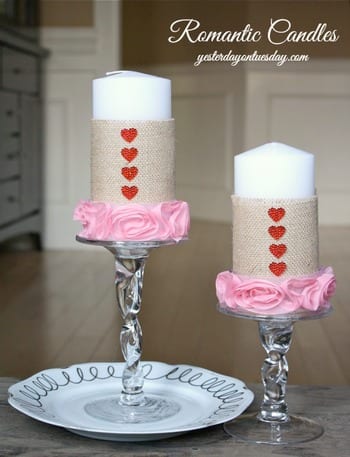 Love Sign
Make this adorable Love sign with little work at all! You can stick it anywhere, from your mantle to your table, depending on the size you make it.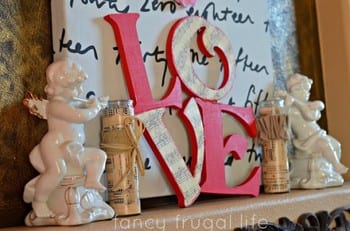 Hanging Letters
You can also hang letters from coat hangers or knobs. Choose bold and bright colors that really draw attention to the letters.
Wreath
Valentine's Day wouldn't be a holiday without its own special wreath, right? There are tons of ideas you can find online, so pick one you and your family love and get to making it!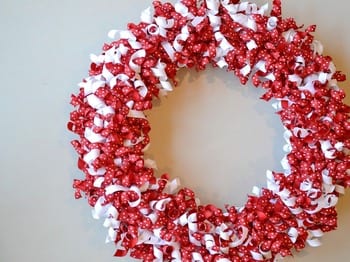 Lighting
Believe it or not, one of your Valentine's Day craft projects can be making a whole new set of lighting for your house! It doesn't require many materials and can change the whole tone and mood of your home!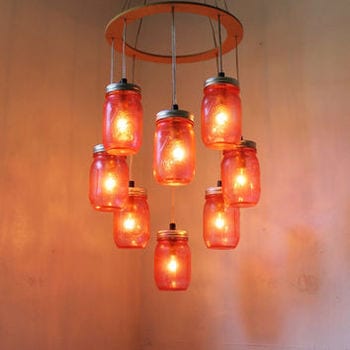 Finger paint
This is a great idea for baby's first Valentine's Day! Spell the word "love" (or any other Valentine's word) in tape on a blank canvas, give your child some finger paint, and when they're done just remove the tape. Adorable!
Submerged Flowers
This is a fun new twist on your classic flowers. Submerge them in water to make their colors pop!
Jenga Blocks
Take Jenga blocks (or something similar) and decorate them for Valentine's Day. You can spell out a whole phrase or just put a few words on each one.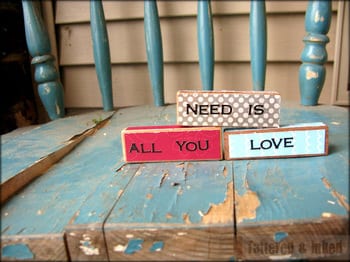 Book Art
This is not only beautiful but actually pretty easy to do once you get the hang of it. Add some ribbon and other decorations and you have a great art display for Valentine's Day.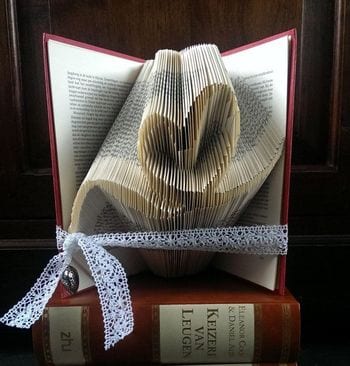 Valentine Tree
If you miss having your Christmas tree around, then try this idea. It's mini trees made out of paper hearts—so adorable!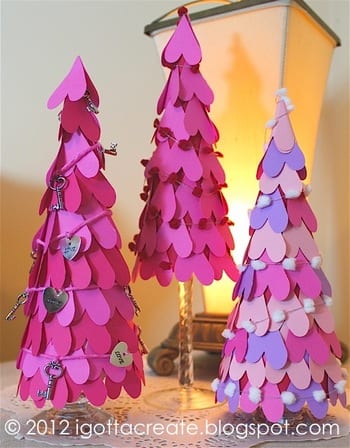 Giant Conversation Hearts
Take the classic conversation hearts and make them bigger than life with this simple craft idea! The hearts not only work as decorations but can also be used in photo shoots with your family, as well.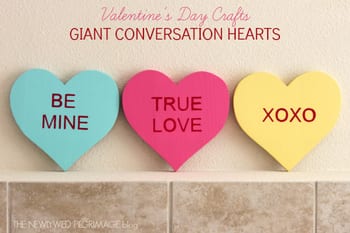 Assorted Letters
Use all sorts of assorted materials to spell out Valentine-related words like "love" and "smile." You can use any kind of wood, twine, rope, or even an old wreath.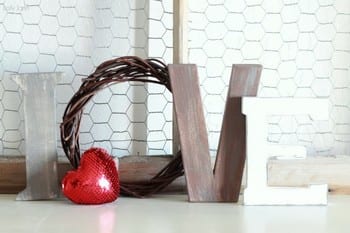 Sequin Letters
It's pretty easy to make your own classy sequin letters for decorations. A traditional decoration is Xs and Os on the wall; it looks great!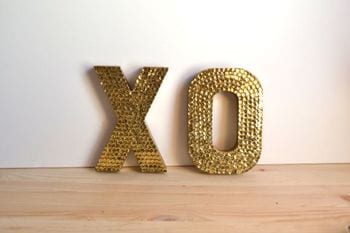 Doily Crafts
You can make tons of fun Valentine's crafts with doilies. Anything from hanging wall ornaments to lampshades! Choose an idea you love and go for it.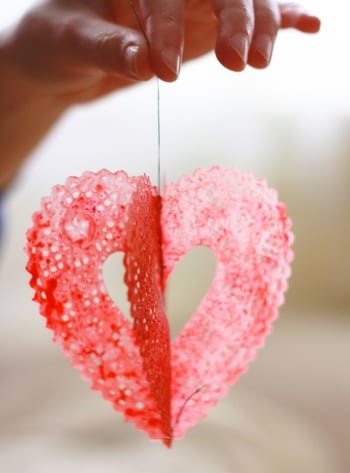 Garland
Make a beautiful heart garland that you can hang anywhere in your home. There are lots of different styles, so just choose one that matches the rest of the décor in your home.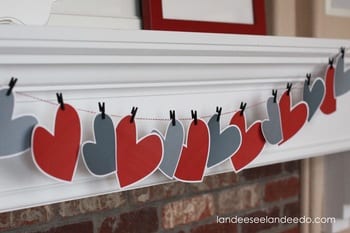 Heart Branches
I love this idea. You can make any decoration look like it was crafted for Valentine's Day by just adding a few paper hearts to it. These heart branches are a perfect example that are just too adorable.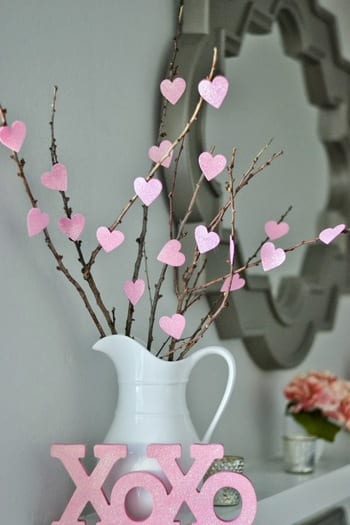 Button Heart
Go buy a pack of Valentine's colored buttons and make a fun shaped heart out of them! You can make this decoration as big or as small as you need it to be!