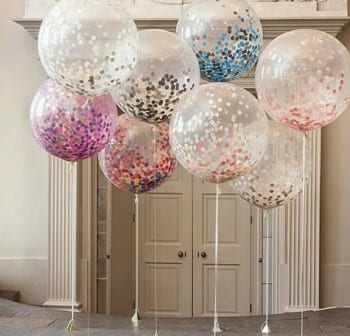 Fill balloons with confetti and then blow them up! The balloons look super cool and they're also really shimmery if you put them in the right lighting!
Take your streamers and hang them right at the entrance of your party! It will get people pumped up right when they come in. If you have leftover streamers, then hang them up all over the room!
Get the classic "falling ball" effect but with balloons. Tie a blanket to your fan blades and fill it with balloons. When the clock strikes midnight, pull the blanket out and let the balloons fall!
Jazz up your champagne bottles by covering them in glitter! It doesn't take a lot of work and will turn your beverages into decorations as well!
Cut out the numbers of the new year from cardboard or foam and then cover them in shiny tinsel! Hang up the decoration on the ceiling or even just put it as a table centerpiece!
A great addition to any NYE party is food that's themed like the new year! You can get cupcakes with little "sparklers" and so many other great options.
Make a sequin backdrop that you can use for pictures at your party! Add a few picture props that they can use, as well, to make it even better!
Cut some circles of different sizes out of colorful paper and then attach them to the wall! You now have some confetti décor that's easy to make and looks great!
Take some golden thumbtacks and stick them into candles to get a sequin-like effect around the candle! It's shiny, fun, and really cheap and easy to make!
I love this idea! Fill some balloons with helium and then attach strings with pictures on them! Put this over the table so people can look at memories of the year while they eat.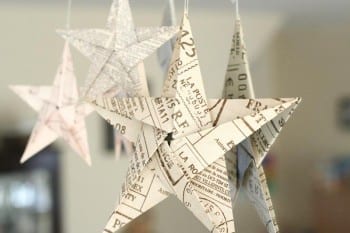 Make or buy little origami stars that you can hang up around the house! If possible, you can even interweave string lights through them for a classier look!
Garlands are a really classy (and easy to make!) New Year decoration! You can make your own or buy some from the store to hang up around the house for a great party.
Make your own streamers that are shiny and fun! Just cut circles out of reflective paper and string them together for a cute decoration!
Make a "moment" wall that your guests can fill out. Have little pieces of paper with different types of "memories" on them like "most embarrassing moment." Have them fill it out and then place on the wall!
Sprinkle some glitter around your Mason jars and then add a candle to the inside of it. You can even set it on a base of confetti or tinsel for a great lighted effect or your party!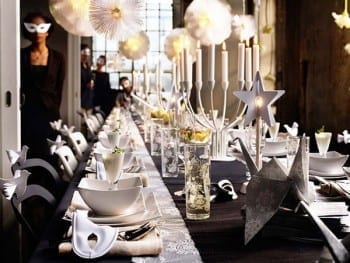 If you're having dinner at your party, then you'll need an incredible tablescape!  You can use party hats, streamers, noise makers, or anything else you want!
Make or buy some festive stirrers that your guests can use in their drinks! Get them from the store or you can attach some yarn balls and other colorful items to your stirrers.
Take some shot glasses, and dip the rim into hot glaze or chocolate, and then add some sprinkles. This makes a fun, festive, and delicious addition to your drinks!
Have a party hat making station for a party hat competition! Just put a bunch of art and crafts supplies out for your friends and guests to use!
Add cute little bowties to your glasses to make fancy and classy drinks! It's such a cute and fun addition and it doesn't require much work at all!