You know that mess you have in your bathroom? The one with the makeup smears on the counter and how you can never find the brush you're looking for? Well, time for an upgrade. Try these simple ideas to organize that stash of makeup and keep the beauty products under control–beautifully!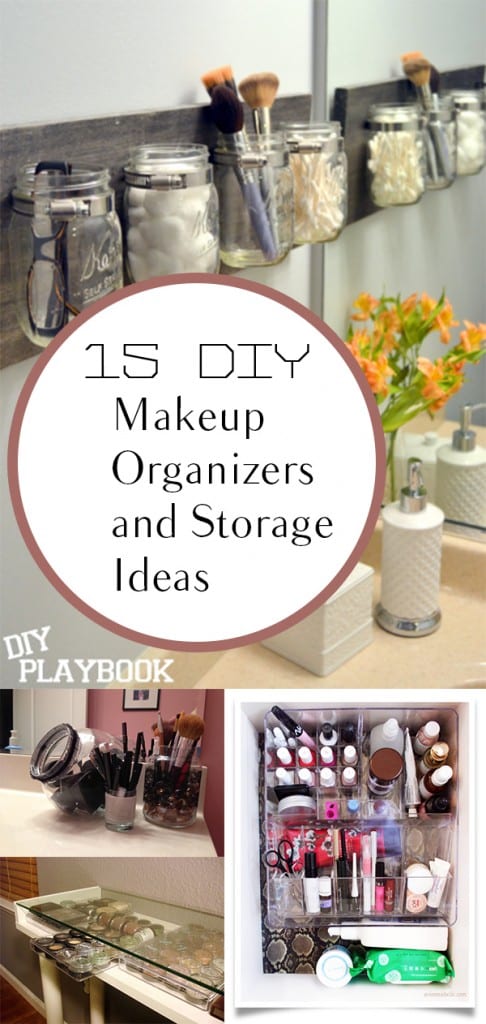 Organizing crates are usually pretty…well…ugly. But, as shown from Dances With Bees, you can just spice things up yourself. Decorate an organizing bin to make a beautiful personal makeup storage kit.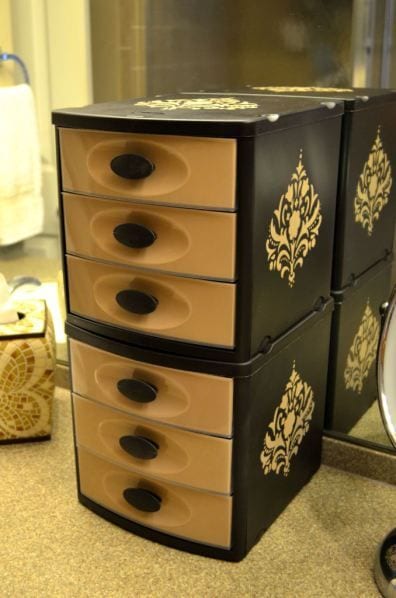 From The Average Girl's Guide , this idea is ever so charming. Some beads in a pretty little jar make for the perfect accessibly makeup storage. Stick your bushes and tools in for easy grabbing.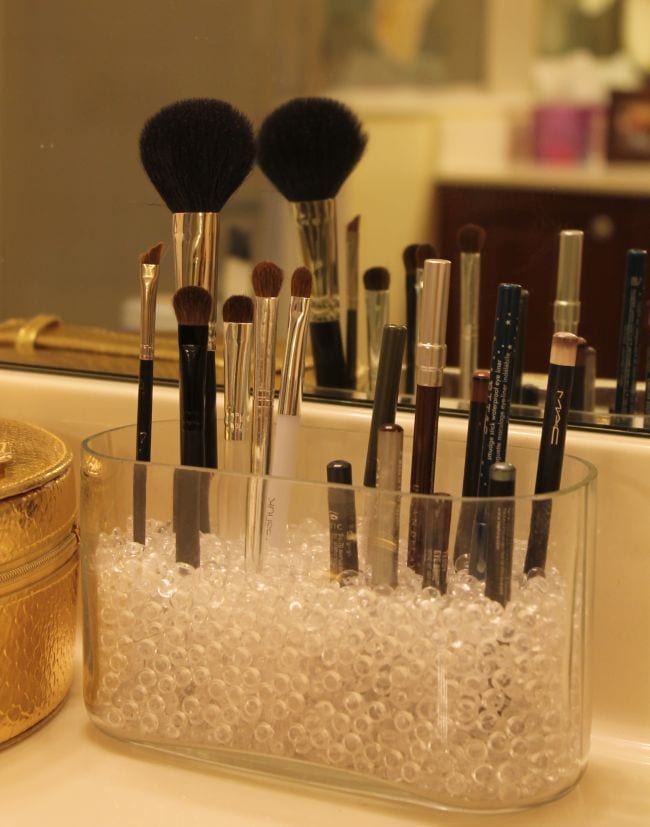 From Buzzfeed, this one's for the gals with LOTS of stuff. A wall storage unit can have each pocket designated for a specific use. Keep track of all of your makeup with this handy dandy kit.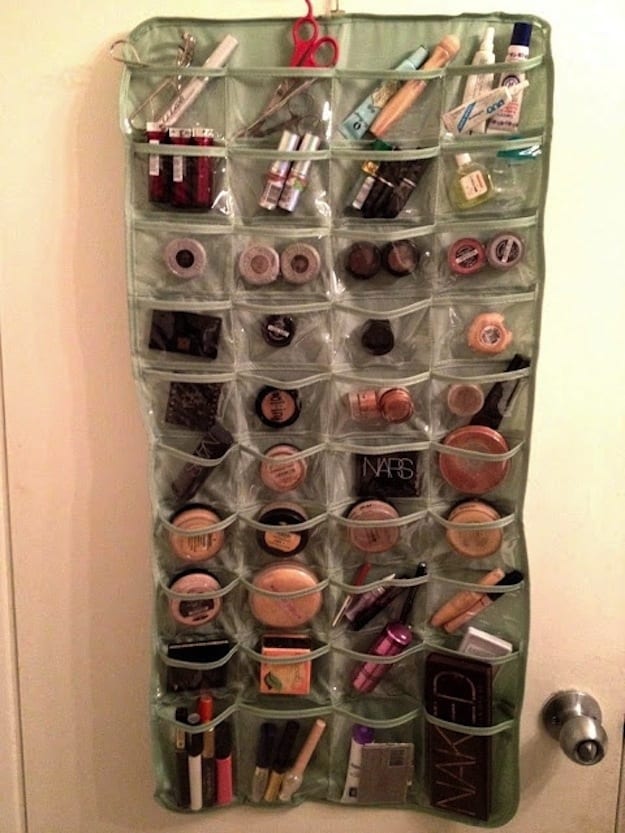 Mmmhmm. This one from Liz is both beautiful and functional. Sew your own makeup storage kit! I love the useability of this one. It's even portable!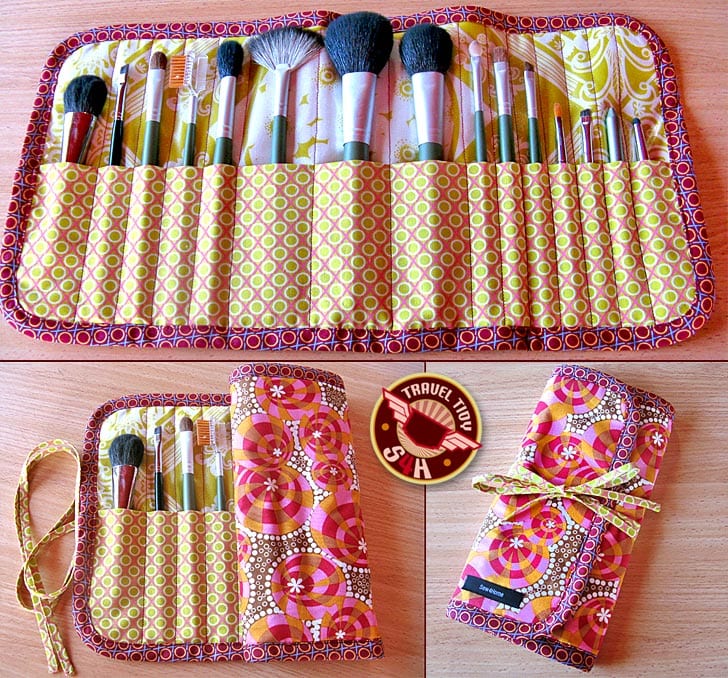 This is an awesome idea from Annie. The entire table plus countertop is included in the tutorial, and it is easy. I'm telling you, it's so simple! But such a perfect way to keep track of everything. I just love it.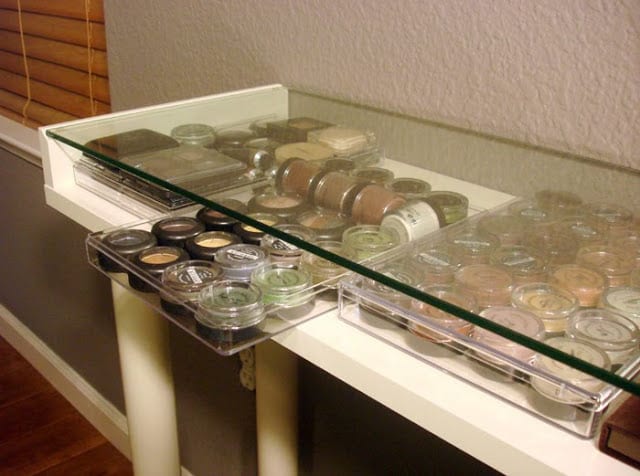 How about this cute framed makeup storage from Laura? Take an old picture frame, add some paint and fabric, and then just use velcro or magnets to keep everything together.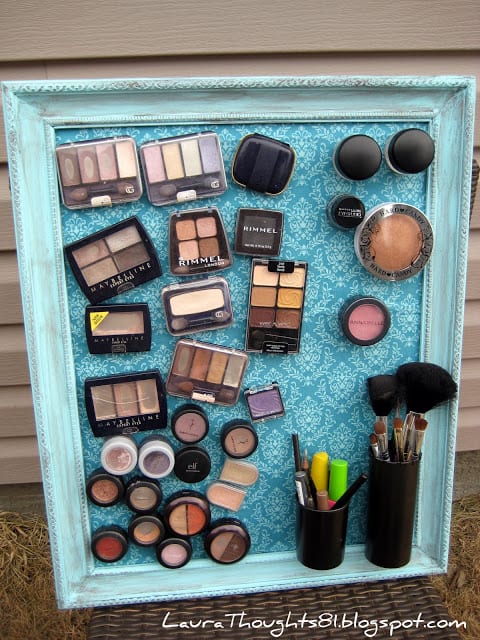 I think this one from Blogger is sooo genius. Take a cookie sheet (you read that correctly), wrap it in your favorite cute fabric, add magnets to the back of your supplies, and bam. Makeup right in front of you, but looking fabulous.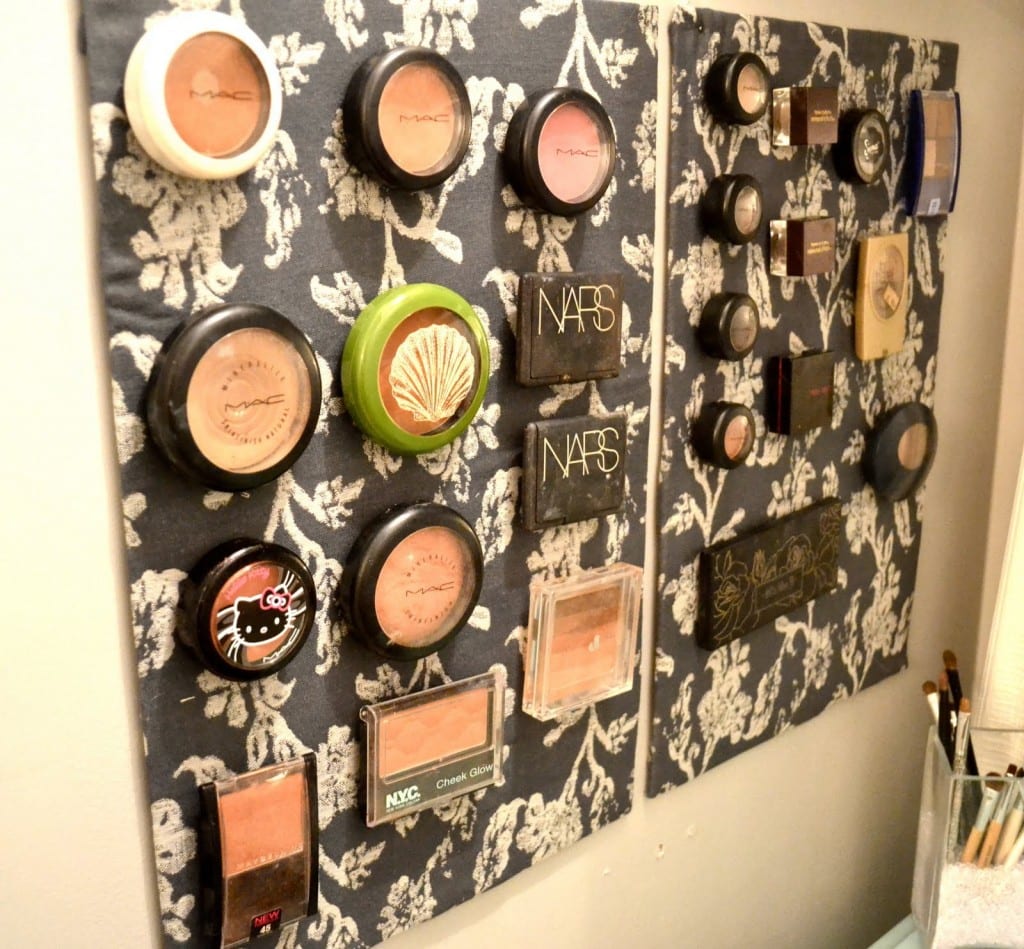 I love this one from Sisteroo. For those of us who just need some organization, this is a perfect guide for where to put everything in a vanity and how to keep track of it all.
Bridget and Casey just used mason jars! I adore this. Attach them to boards and then fill them with the supplies you need. This is so perfect.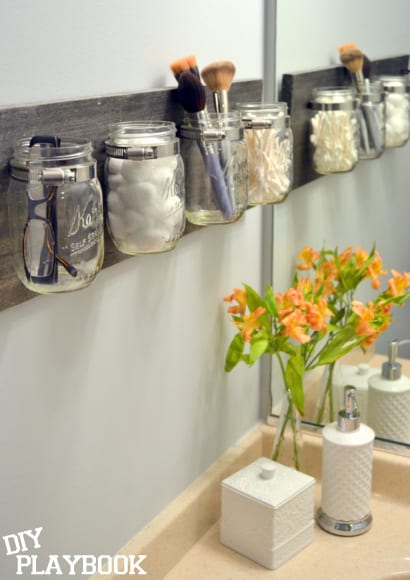 From Top Inspired, this is a very simple take on the whole organization thing. Grab some jars (any size will do) add some cuteness (a ribbon here and there never hurt anyone) and then fill them with the happiness of all your makeup.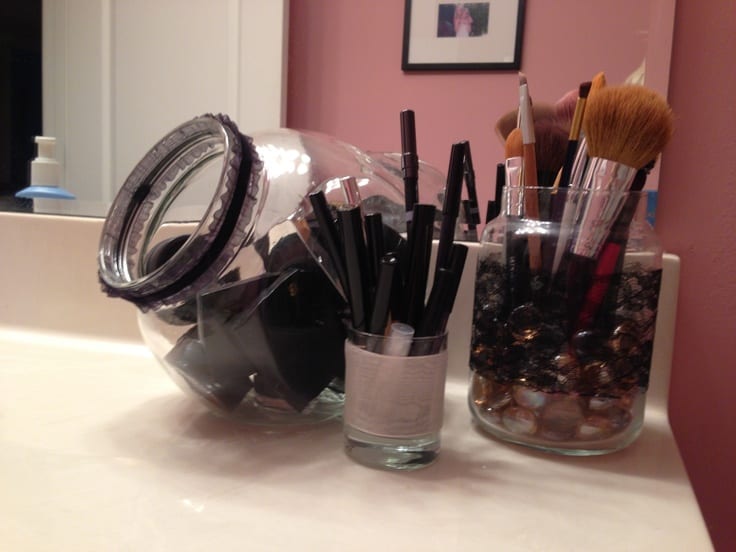 From Ann, this is a beautiful tutorial showing how to use clear tubes to make a glimmering makeup collection that is easy to use and lovely to see.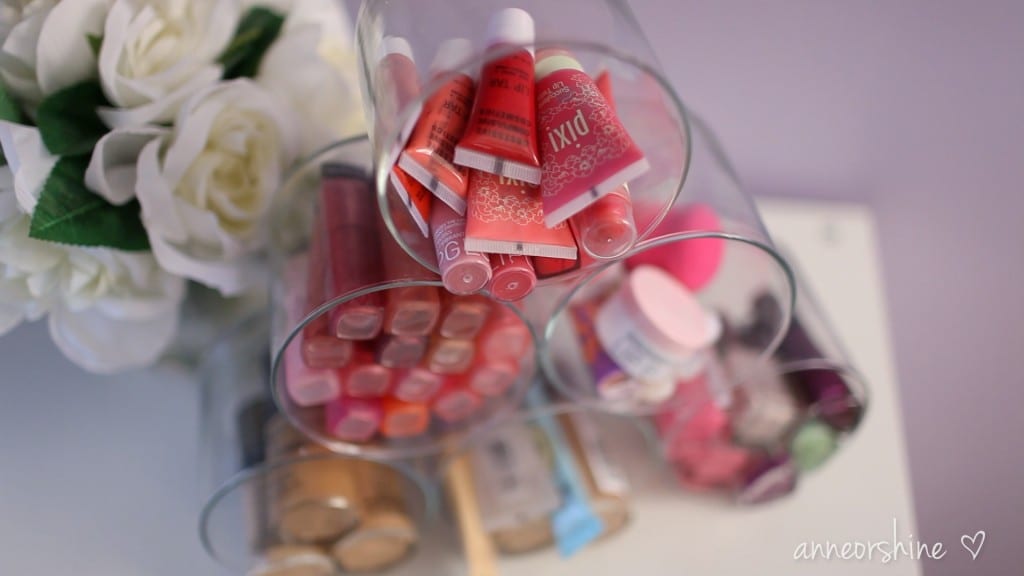 Two birds with one stone: reuse the old vanity jars you have and store your makeup. From The Glam Guide, grab some empty jars and fill them with the things you need. When you're done, simply put the lids back on!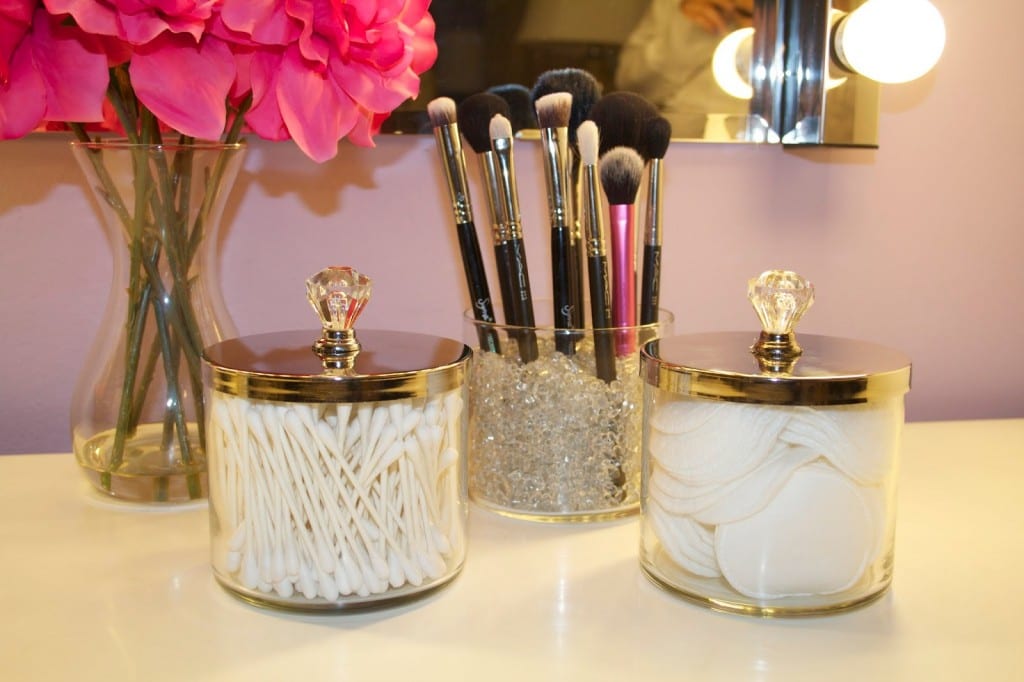 This Casita went right on down to the thrift store, picked up some serving trays, and put them together for a lovely makeup display. I think this is genius and so clever.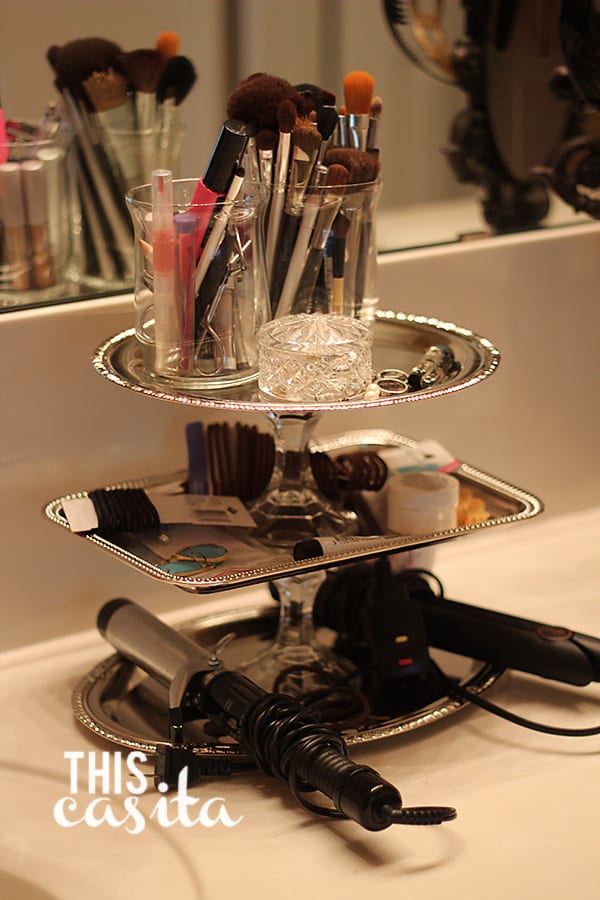 A drawe within a drawer within a drawer…it's inception all over again! I think this is a great solution from Andrea, especially if you don't want to have your makeup out on a counter all of the time. Keep it organized with layers of drawer.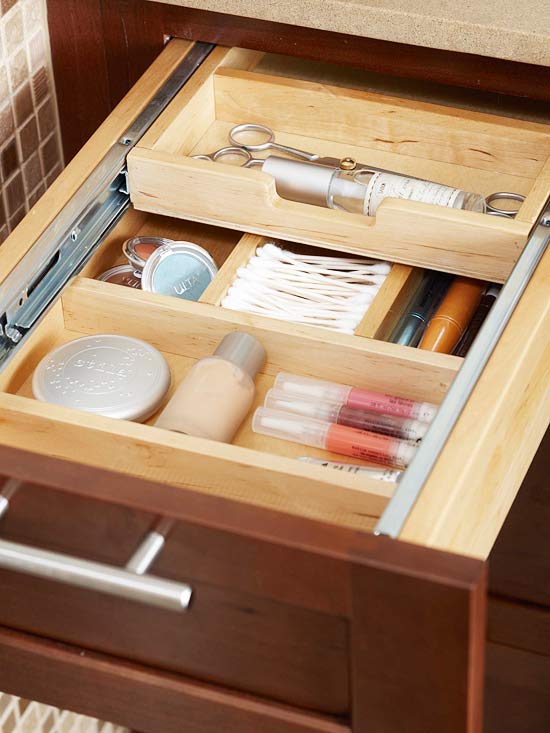 Arianna Belle built a little shelf with a purchased plastic storage unit and some tape. Seriously, that's what she used. It's compacted for easy grabbing but is so neat and cute!