With the Spring and Summer months at our fingertips, it is time to consider our friends the plants, and how we will bring their beauty out in these fair months. Potting benches are an important commodity in this season, but figuring out the best potting bench is a tricky decision! I have collected a few darling ideas to guide you in the process. Hope you like them as much as I do!

This first one from Songbird is just charming. It's just a simple wooden bench, but the way she's dressed it up is just ever so cute. One of the secrets to the perfect potting bench, as she shows, is the right distribution of plants and other gardening materials. Put your pots in one corner, add some baskets, watering cans….whala!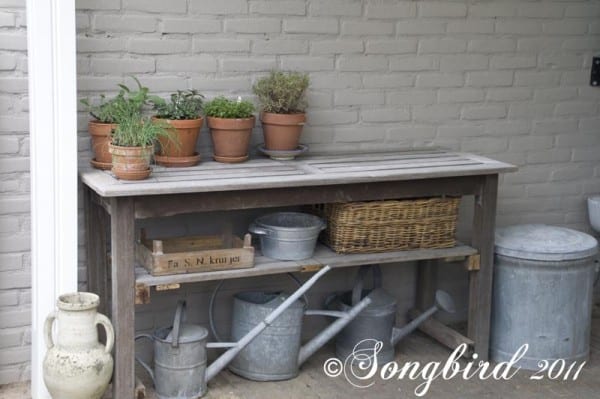 I can't get over this one from Our Fair Field House. It's the most fabulous things…like…ever. She took an old kitchen sink, attached it to the fencing you see pictured, added a few fun touches (bird house etc), and then applied potted plants. Fabulous!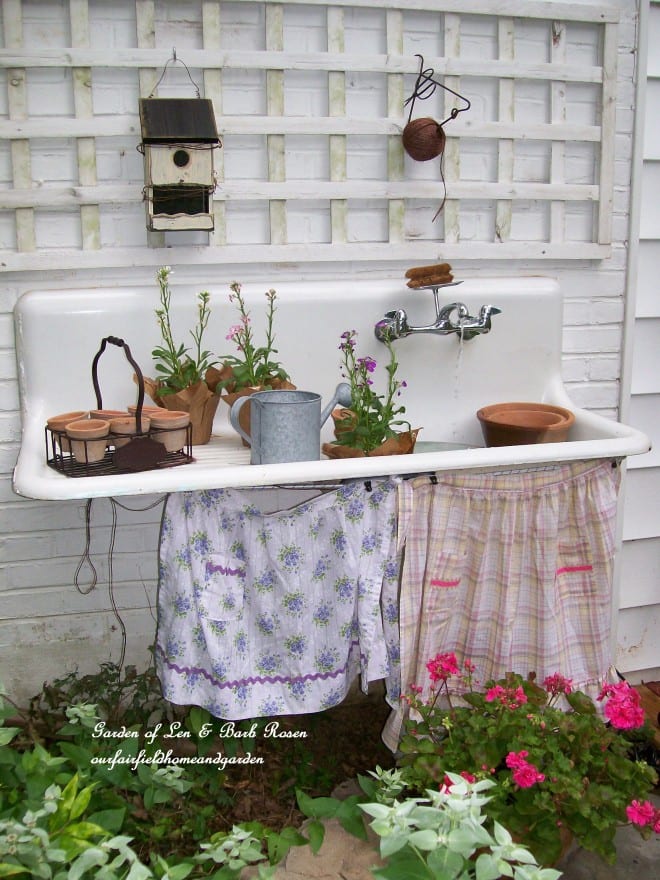 How precious is this from Homeroad? Cute as cute. This took some fence pieces, an old cupboard, and attached the two. The fence top is adorable, and the cabinet adds the perfect touch. All you have to do is fill it in from there! Add plants and other garden materials, and you're golden.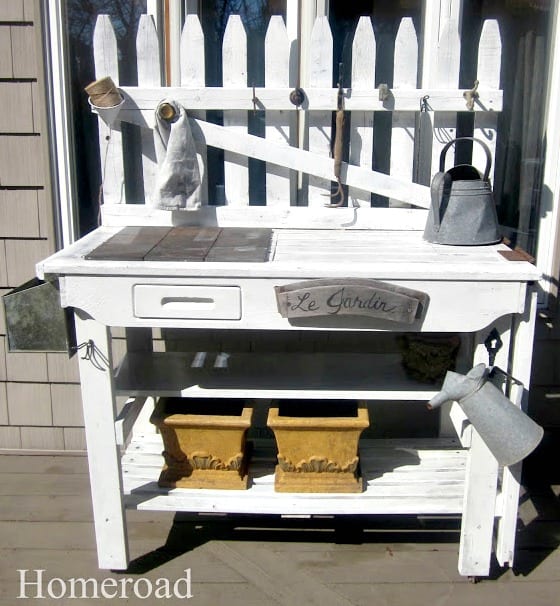 I like this antique look from Robin's Nesting Place. Such a clever blend of art and necessity (in my book, those are one and the same). This is just an old cabinet with a few frills. Add a new color to the wood, put it in the chosen place, and add accessories.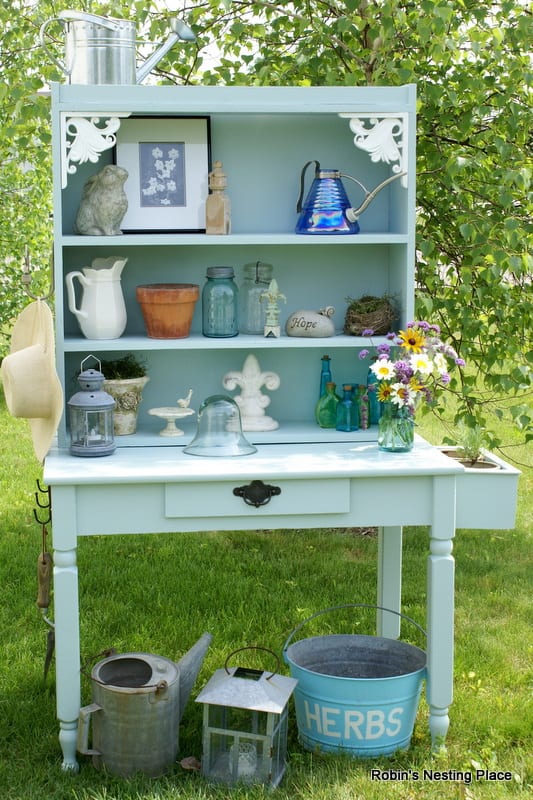 Next up from Jennifer. I can't say enough good about this one. Such a clever combo. This time, take an old table, add some wire meshing to the back, paint the whole thing, and then place the plants. You can even hang gardening tools from the wire meshing.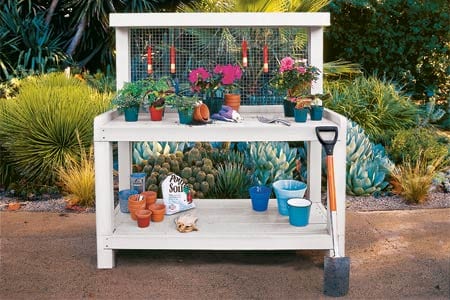 This is enchanting, brough to us by Better Homes and Gardens (BHG). Predominant among the reasons I adore this is of course its color. Bright green does something to a girl. This is as simple as can be, but looks classy and spectacular. Seriously, this is just an old cabinet with a snazzy paint job, a few hooks in the back, and then accessories.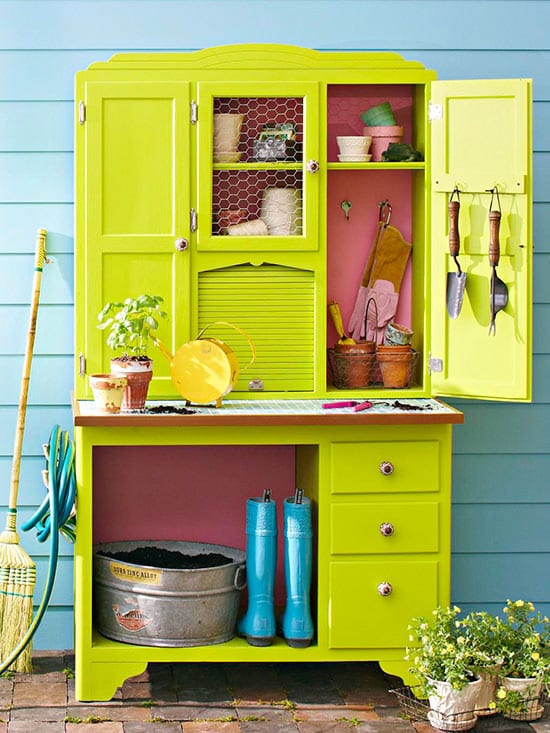 Again from Better Homes and Gardens (what can I say, they do good). This simple approach is actually remarkably posh. The tutorial is on the blog (I don't trust myself to give instructions), but it's as simple as nailing a few wood boards together! And look how pretty it is!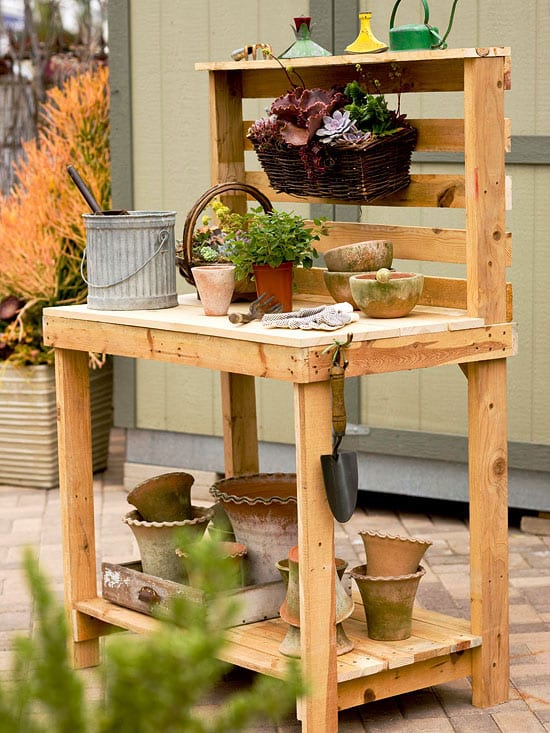 From Hymns and Verses, I think this is beautiful in every way. The color is really pretty and adds some nice spice to a garden (or where you choose to put it). It's small, meaning that you can't put a whole garden of potted plants there, but it's lovely!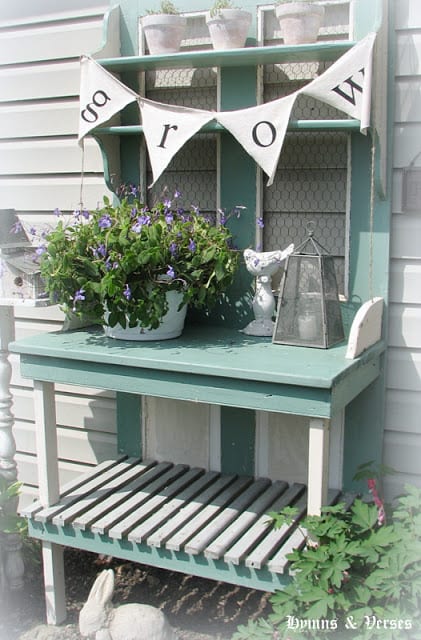 From Pamela, I feel like I walked onto a farm! And I love it. LOVE it. White fence pieces with some ledges to hang things and place your plants. Pamela even added a cute rooster picture which I find charming.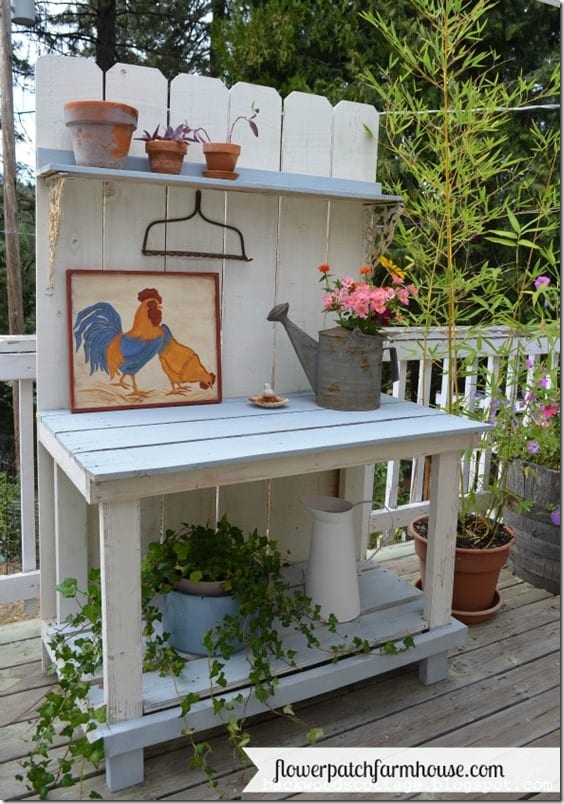 Okay Kathy, you are fabulous. I never would have thought of this, but I love it! Cinder blocks and wood. That's literally it. Stack some cinder blocks and place a wood board between them. Add some potted plants and you've got yourself a bench to stir up some of the best trouble you've ever seen!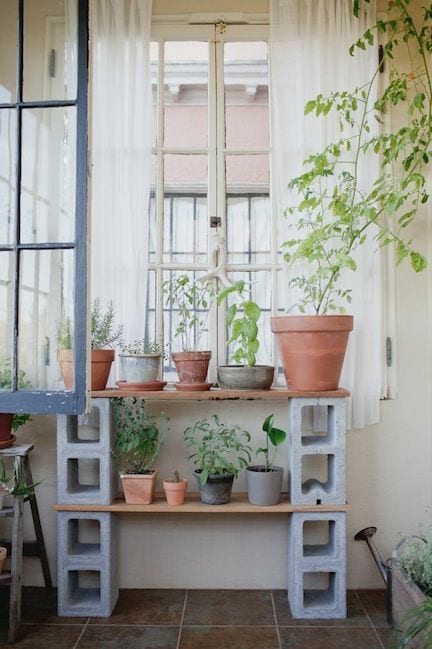 I guess I just really like color, but I couldn't resist this one from Ana White. It's quite simple, amazingly bright, but it will light up any space. This one also has lots of room for multiple plants and anything else you choose to store.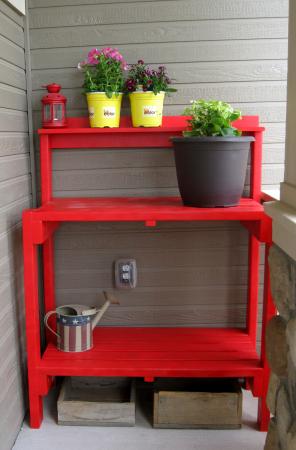 And on a classy final note, here's a beautiful vintage look from Mandi. This is a very clean look, for a sophisticated and posh feel. It's beautiful, small, but a perfect addition to your space.