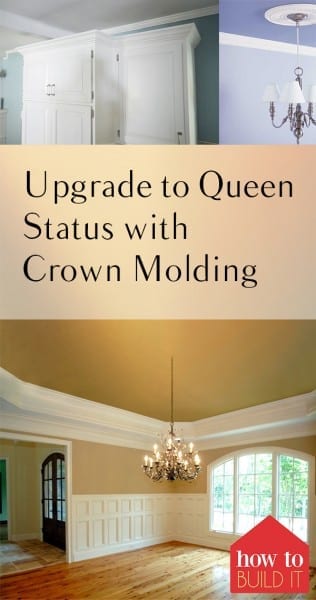 Besides paint color and window treatments, adding crown molding and trim to any room is the way to transform it from ordinary to extraordinary. You don't need a crown on your head to gain queen status—just add crown molding to your living room and see how you feel!
Crown molding takes a plain little area, the junction between your walls and ceiling, and highlights it. You can do this with a variety of types of molding, from pre-milled to custom. If it will be painted, you can save money and use a lighter composite material. You can also go with solid wood if you aren't afraid of the cost.
Here's an excellent example from Young House Love that shows you exactly the kind of difference that crown molding, of even a simple design, can make in a room: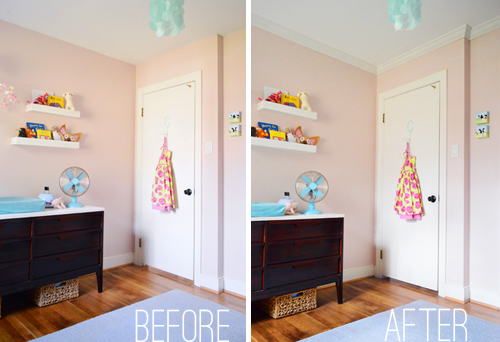 Crown molding can vary in design from simple to extravagant, and it all depends on what you like. A more formal room might deserve a more formal molding, but those with more relaxed tastes might choose a simpler design. More contemporary designs also tend to have simple, clean lines.
You can also choose stock moldings from your local home store and compile them into your own design. Here's an example of a crown made from a few different stock designs. Once it is mounted and painted, it will look like one uniform piece.
One great use for crown molding and baseboards is to hide the wires from electronic, audio and cable equipment, which easily run in the corner behind the molding, or along the wall behind baseboards, and no one ever knows it's there!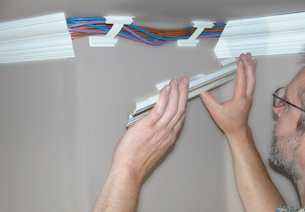 Another great area of your home to give queen status is your kitchen–your kitchen cabinets to be exact. Adding crown to the top of your cabinets instantly elevates them! Here's a great tutorial from Young House Love.