In our house, we pride ourselves in creating something out of nothing! We frequently re-use (or upcycle!) items commonly found throughout our home to give them a new purpose. Over the past few years, I've upcycled tons of furniture! More recently, my cute kiddos have been obsessed with creating upcycled ornaments for Christmas. My kids can turn anything from CDs, old cardboard strips, and even a long forgotten book into an ornament worthy of the highest spot on your tree. My kids have shown me that it's possible to totally decorate your tree with nothing but upcycled items. Make some for yourself with these incredible upcycled ornaments! Comment below and tell me which ones are a must-make for you!
If you're like me, you probably have tons of leftover and unused Christmas lights hanging around your house somewhere! Instead of leaving them to take up space in your garage, put them to use as Christmas cards! To create, you'll want to dunk your lightbulbs in Mod Podge and then cover in a bit of glitter. Let dry and hang from your tree with a bit of ribbon tied around the lightbulb neck. This photo was originally found on My Simple Pretty Blog.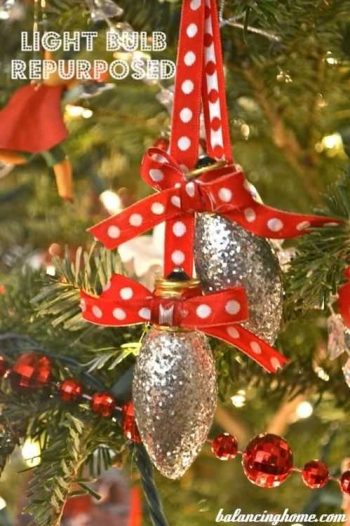 Don't even think about throwing away your old lightbulbs! With a coat of paint and the right accessories you can create one of your own upcycled Christmas ornaments. All you need is a paintbrush, a cotton ball (Santa needs his pouf, after all!) and wiring that (or ribbon!) used to hang your creation. Just think, you could create a theme and fill your whole Christmas tree with characters created from old lightbulbs. This picture was originally posted on I Creative Ideas.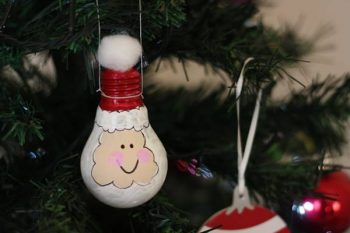 Got a Scrabble set that's seen better days and more pieces? Toss out the game box and use the tiles as part of an upcycled ornament! Use the tile to spell out your a Christmas greeting (Let It Snow, Noel, or Joy are some options!) and glue the tiles together with a line of wood glue. Once fully attached to one another, drill a hole through the center tile and hang it on your tree! Isn't this one of the best holiday decor ideas?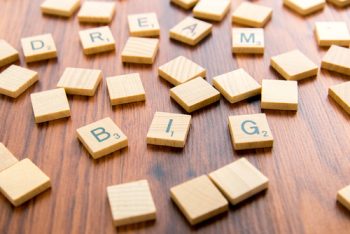 In this house, we love Dr. Pepper and Vanilla Coke! I know, I know, you can lecture me on the evils of soda later! 😉 Right now, I'm focusing on turning all of our old soda cans into adorable Christmas stars. To create, cut off the top and bottom of your aluminum can, unroll (wearing gloves, of course!), and trace a star print into the aluminum. Cut the star out and follow the instructions below from SnapGuide!
Project and tutorial can be found on SnapGuide.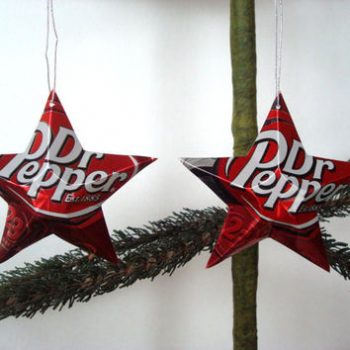 Somehow, I seem to include bottle caps into every one of my holiday decor ideas! I can't help it, there so versatile! When turning a set of bottle caps into a Christmas ornament, you'll first want to hot glue a ribbon pull on the back. Once the pulley is attached, add a set of googly eyes and a pom-pom nose with a hot glue gun for the facial features. You can even add antlers (created from toothpicks and tape) if you desire. These upcycled ornaments are darling!
This winter, head outside for your next crafting tool! Coat garden-savaged pinecones in several layers of paint. It can be colored however you choose, just make sure it stands out and gleams! Once painted, use ribbon as an ornament holder and hang on your tree. This is one of those perfect rustic holiday decor ideas.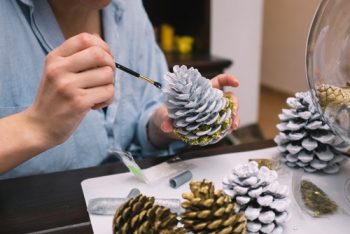 Last but not least, scraps of cardboard actually make for terrific upcycled ornaments! Use a stencil to trace and cut the shape of your desire (we chose Christmas trees!) and a hole punch to create an easy hanger for a strip of yarn or ribbon. Give your ornament some pizzaz with different patterns of Washi tape! This project is SO easy!