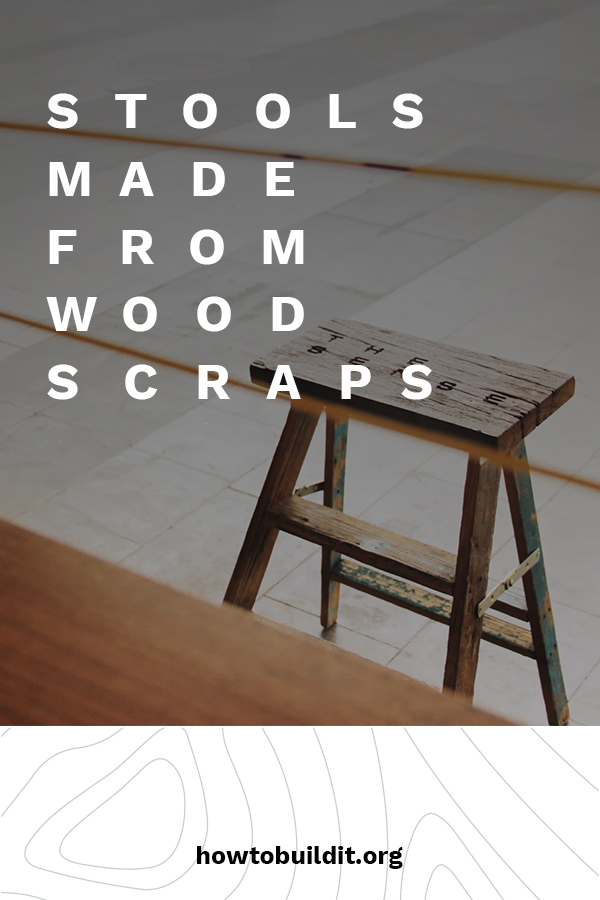 It doesn't matter that I no longer have littles who need stools to wash their hands or find a snack in the pantry, I still love to decorate with stools around the house. Not only are they functional but if you choose the right stool, they could even be an alternative place for storage. I love mixing up my stools whenever possible and donating them to neighbors, friends, or thrift stores but buying new ones can get expensive! Instead of blowing all of your home decor money on bar stools, step stools, and whatever other kinds of stools you may need, try making your own stools instead. Keep reading for a list of DIY stools made from the one thing all DIYers have handy: scrap wood. Let's go!
Basic Step Stool
This easy-to-make wooden stool is perfect for those just out of reach items on the top shelf of your kitchen cabinets. To create, you'll need to track down 1- 1×10, 1- 1×6, and a 1 1×2 piece of wood. Once acquired, you will want to cut the wood to these sizes, 2- 1×6's (3/4" x 5 1/2") @ 17"  (Top/seat boards), 2- 1×10's (3/4" x 9 1/4") @ 13 1/2"  long point to short point.  Cut at a 10-degree bevel, ends should be parallel. (Legs), 2- 1×2's (3/4" x 1 1/2")  @ 9 1/4″ long point to long point.  Cut at 10 degrees off square, ends should NOT parallel (for the top apron pieces), 1- 1×2 @ 11 3/4" long point to long point.  Cut at 10 degrees off square, ends should not be parallel (for the middle support piece). After you've made all those cuts, you'll want to attach the top apron pieces together using screws (go in at an angle so you don't see the screws up top) and attach them to the leg pieces using angled screws. Image via Remodelholic.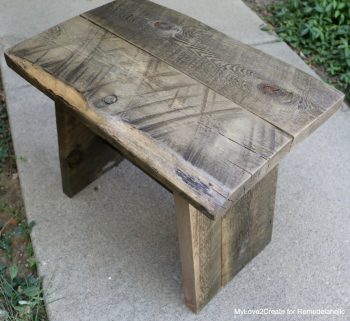 You know a few months ago when all anyone could talk about were pallet projects? Well, I haven't fallen out of love with them yet, so here's another project to add to your list! Break apart the pallets you are looking to repurpose for this project and cut each piece to your desired length. Always remember to cut the long stool legs first and then make your smaller cuts! After assembled, I recommend giving them a little color with a fresh coat of stain after you sand them. Personally, I like to use this brand. Image and project from 1001 Pallets.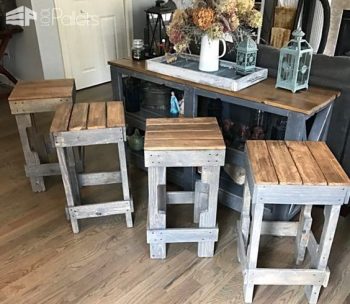 Place this wooden stool in a nursery, a bathroom, or even a guest room for a decorative touch. I've even heard of homeowners using this in their master closet to better reach their clothing! This blogger whipped her easy stool made from wood scraps out of a 2×8 piece of wood (as the stools) and a few 2×6 scrap pieces (as the top of the bench). She had to make a few cuts but they're not too terribly difficult for beginners. For a gorgeous top coat such as the one below, this blogger (and myself!) recommend using a thinned down latex paint. Picture and project from My Repurposed Life.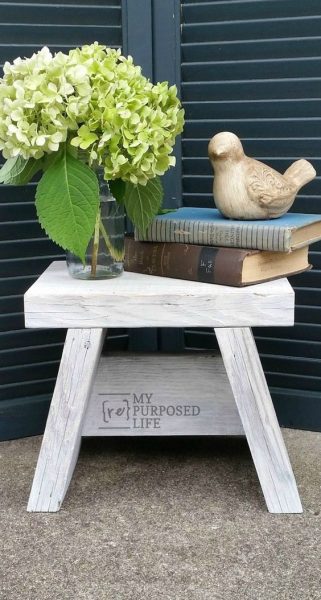 This darling stepstool comes together in a flash! You'll need a scrap 2×4 and a scrap 1×4 cut to these measurements: One 2 x 4 x 12″, two 2 x 4 x 13 1/2″, two 2 x 4 x 6 5/8″, four 1 x 4 x 15″, two 2 x 4 x 12″. Use your handy wood glue, nail gun, and screws to assemble your easy-to-make wooden stool. Picture and tutorial are from Beckham and Belle.
This wooden stool is one of my favorites on the list. The crisp white paint paired with the dark stain of the step tops scream "farmhouse fresh" and who doesn't want that? There isn't a kitchen this stool wouldn't look great in! To build, you'll need: two 1″ x 12″ cut to 15″ long, four  2″ x ¾" cut to 13″ long,  one 1″ x 12″ cut to 8 ½" by 16, one 1″ x 12″ cut to 7 ½" by 16.″ Find paint for this project on Amazon (but check to make sure you don't have any leftover paint before beginning). Photo and project from 100 Things 2 Do.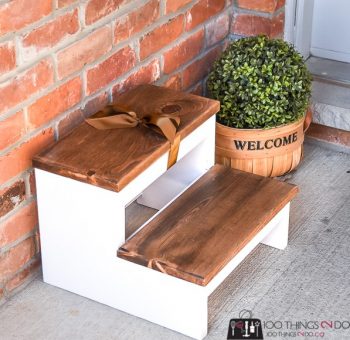 Use this outdoor-stool to easily brighten up your patio or porch! Except, DIYers should know that they'll need both scrap wood AND concrete to create the bench below. However, you can always skip the concrete and go for something painted or a handmade mosaic instead. When assembling, make sure that you do so with outdoor wood glue. This is crucial if you want to use this stool (or side table, it could really be great as either) for seasons to come. Photo and tutorial from Lady Goats.