Growing up, I was always taught that handmade gifts meant more than store bought ones, so every holiday season (from when I was a mere five or six years old!) I created my own handmade gifts for my family members. It's one of my very favorite family holiday traditions and to this day, I make it a point to create a custom handmade gift for every one of my family members every Christmas. Many of us still have the gifts we've made each other over the years, as well. I highly recommend starting a handmade holiday gift tradition in your family! It doesn't matter if you're strapped for cash, or just looking to get your hands dirty with a few crafts this holiday season, these handmade holiday gift ideas are perfect for ANYONE on your list.
Break out your extra 2×4 strips of wood and put them to use as an advent calendar gift for a neighbor! Create a triangle out of your wood that measures 34-3/4". The bottom of the triangle is 28". Once built, stain or paint and let dry. Next, attach small galvanized buckets to the tree and fill with wonderful Christmas goodies! This is one of those handmade holiday gifts that are perfect when given early! Photo and tutorial from Sugar and Cloth.
A set of handmade stocking holders is perfect for a new homeowner or one who has recently redecorated! To build, you'll need one 2×6 at 8 inches, metal clips (to hang the photos!) and hooks (for the stockings.) Cut your boards so you have a 4-inch and a 6-inch piece for each stocking. Attach the two together and finish things up with this tutorial from Shanty 2 Chic.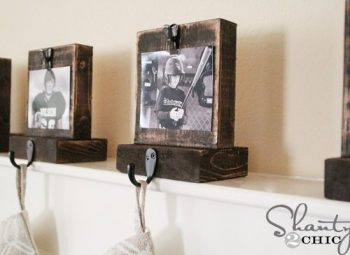 I love to give my neighbors a handmade Christmas ornament every year! I hope they think of me when they go to hang it on their tree the following holiday season. Last year, I created sets of wooden ornaments out of recycled wood slices out of a tree found near my cabin in Utah. My neighbors loved the story behind how I created them and complimented their rustic charm! Transfer the patterns to the ornaments using this technique. Find the tutorial for these at Mountain Modern Life.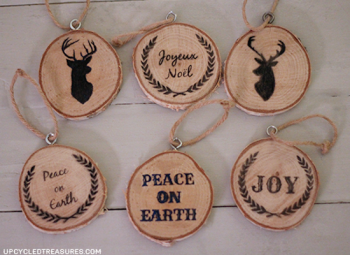 These DIY birch vases are the perfect way to add some texture to a holiday tablescape. You can use recycled tree branches for this project, or you can buy small birch logs at any craft store. Fill with fresh flowers and even outfit the log with a festive ribbon for a stunning handmade holiday gift. I think these are the winners for me this year, I'd love to make these for my neighbors! If you too would love to make a birch vase, you can find the tutorial here!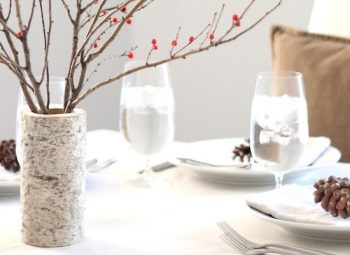 The best thing about these DIY Christmas trees is that they can be displayed wherever! Recipients use them to decorate a mantel, a tabletop, or a forgotten corner of the wall. I love projects with versatility! Create these darling trees using wood shims, spray paint, a craft stick, and some wood stain. Paint all of your wood pieces before assembling! You can find the full how-to at Yellow Bliss Road.
These DIY wooden snowflakes are a great way to add a bit of holiday pizzaz to any wall of your home! My daughters and I made these snowflakes and gave them to our neighbors a few years ago. They were WAY easier than they look to create and just required a jigsaw and a great stencil to pull off. You can catch my full tutorial for the project here!