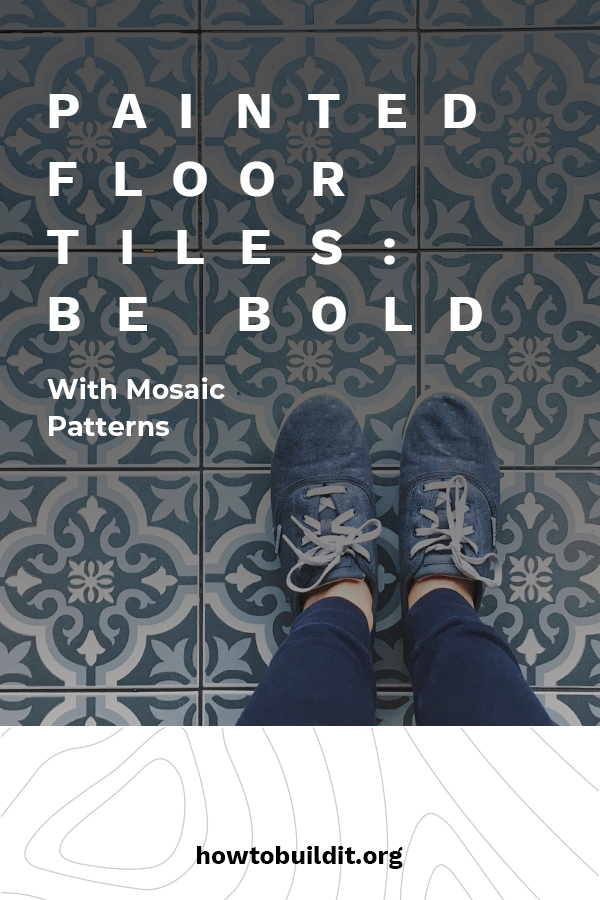 Growing up, one of my best friends had the most elaborate mosaic tiles in her backyard. Though we were around 9 or 10 years old at the time, I fell in love with the pretty patterns that graced her Mother's bird feeder. Since then, my love for elaborate tile mosaics has only grown. In fact, my husband and I are talking about re-doing our bathroom floor to a tiled mosaic now if only we could agree on the color of tile and the geometric shapes used! Unfortunately, paying for actual mosaic tiles is a little out of our budget (Christmas really gets you, doesn't it?) so we are going to paint our pattern on instead. Painting floor tiles is often MUCH easier than planning out a tiled pattern, not to mention much more cost-effective. If you've been thinking about taking on a similar flooring project, see if you can get inspired with these mosaic floor ideas.
Patterned flooring has become all the rage in the home improvement industry! With a simple stencil and a favorite coat of paint, the transformation from drab to fab flooring is an easy one. DIYers can purchase affordable patterns for flooring painting on Amazon, this one is similar to the pattern below.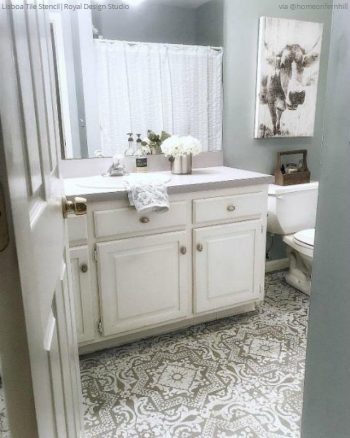 Image from Royal Design Studio
Checkerboard flooring is one of those designs that will never go out of style. Before you begin your floor painting project, I recommend mapping out the area first. That way, you can make any changes to the pattern before you make it permanent with paint! This flooring is gorgeous, and you could definitely play a giant game of chess on it, should you ever feel the desire!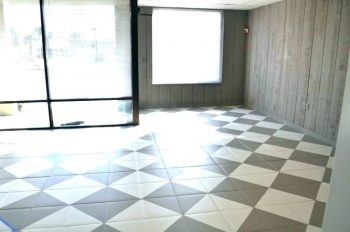 Image from Ben Lennon
If a vintage pattern is more your style, try creating one similar to the floral pattern below. The painted pattern isn't too overwhelming and I love the charming element that it would bring into any space. Find a pattern similar to the one used in this project on Amazon!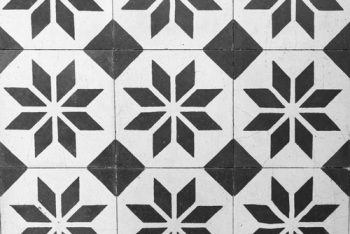 This patterned flooring idea looks like something straight off the coast of France! While it's really one pattern repeated over and over again, this flooring design is sure to draw attention and keep guests enthralled. However, DIYers should make sure that they are sealing their creations with a few coats of a water-based sealant to keep their designs intact.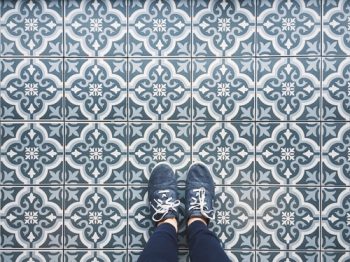 Good mosaic flooring ideas don't just involve elaborate patterns, they involve a healthy mix of solid patterns, as well! Incorporate different solid tones, as well as a variety of elaborate patterns together to create the most beautiful mosaic floor. I wouldn't want to even walk on something this gorgeous!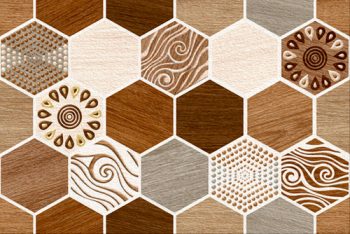 While it's not exactly patterned, this marble flooring idea is making me want to try it for myself ASAP. To complete, you'll have to mix and match a variety of paint tones, so I find it best to follow this tutorial. Think of all the color combinations you could pull off with this idea!