When remodeling my home, there are always a few things that I never throw away because I like to reuse them as pieces in other DIY projects. There really is so much you can do with salvaged items throughout your home! One item that I never get rid of (and actively hunt for at flea markets or garage sales) are old doors. And while it sounds like a complete waste of time to hang on to something such as an old door, there are actually a number of fantastic ways to reuse old doors in the home. My best friend even turned a set of old doors reclaimed from an old factory near her home into a fabulous wooden table! The next time you come across an old door on the side of the road or at a local salvage yard, pick it up and try one of these clever salvage ideas for doors!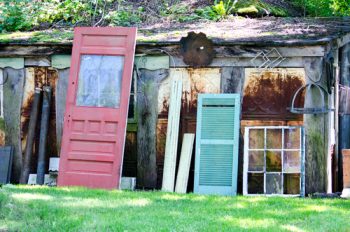 I think everyone needs a garden swing of some sort, especially if they have room in their yard for one! Unfortunately, yard swings can be expensive, and if one isn't in your budget, I recommend making your own instead! For a clever repurposed DIY porch swing, use a set of two salvaged doors. They don't even have to match! Remove the hardware of course, and follow the tutorial below to make it your own.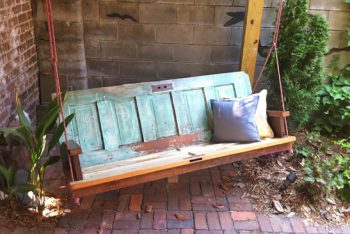 Tutorial and photo from Addicted 2 Decorating
I have kids, so my entryway is always a cluttered mess of shoes and backpacks. My husband and I couldn't stand the clutter any longer one day, and we decided to reuse one of our old interior doors as the back piece for our handmade "entryway organizer." If you look closely, there is a space under the bench where you can stick some fabric baskets. It's a great place to store shoes! Additionally, each of my kiddos has a hook of their own and they're responsible for making sure that all of their belongings make it onto the hook when they get home from school! It's a shame that our coat rack is usually too full to see our cute welcoming message (except, unlike the one below, ours just says welcome to our home).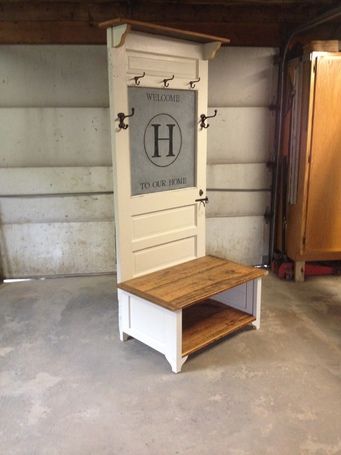 Image and tutorial from Pinterest
With some more DIY magic, you can turn an old door paired with a nightstand into an organizer perfect for your kitchen, too! Cover your door (if you hate its current color) with chalkboard paint so you have a place for your grocery list, and install a drawer to store your fine silverware or other items. You can even add a hook if you'd like somewhere to store your apron!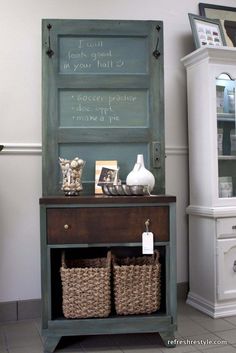 Tutorial and photo from Pinterest
If your old door is unsalvagable, perhaps the hardware isn't! Before you toss your vintage door out, take a look at the hardware. If it's still in good shape, and you love the look of it, remove it from the door and give it a new life elsewhere in your home. You could even give a new door a vintage vibe with salvaged hardware!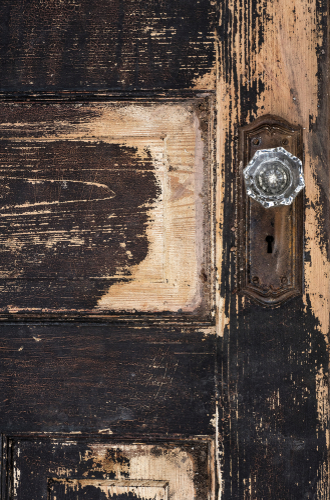 This is probably one of my favorite old door DIYs on this list! If you have a set of doors that matches (a matching set is crucial for this project!) repurpose them as an arbor for your yard. You could even add some climbing vines around the edges to complete the look.
Image and tutorial from Addicted 2 Decorating
Remember when I mentioned that my friend had turned an old door into a really epic dining room table? You can find a project similar, below!  Depending on the size of the table you want, you'll probably need to find two doors of similar look and stature for a dining room large enough.
Image from The Bedding Store