Are you looking for curb appeal projects? Whether or not you are planning to sell, if you increase curb appeal you only lend value and beauty to your home. There are some great DIY projects you can do to instantly boost curb appeal. Here are 10 curb appeal projects that anyone can do.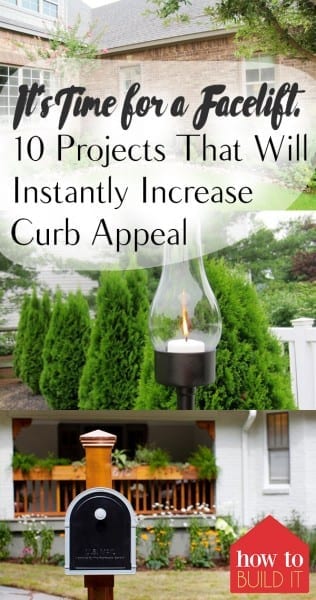 Curb Appeal Projects For Any Homeowner
Give new life to your front door. Just add a new coat of paint or stain! You'll be surprised how much curb appeal comes from a door that is freshly painted versus one that is old, dinged up and flaking. See some gorgeous front door renovations here. 
2. Light it up! Exterior lighting adds tons of curb appeal to your home. There are lots of fun ways to add DIY lighting to your home. 
3. If you've ever thought about adding window boxes to your exterior, stop thinking and do it now. It is easy to build your own. Instant curb appeal!
4. Add a lot more curb appeal with a stone walkway to the front of your home, or even one that meanders through your front flower garden. You can easily DIY this project and you'll love the amazing results!
More Ways to Boost Curb Appeal
5. Is your mailbox noticed, or is it an eyesore? Never underestimate the power of a good-looking mailbox! This one even coordinates with the porch railing.
6. Just as a dingy front door detracts from curb appeal, so do dingy garage doors. If they're in great shape, a  new coat of paint or gel stain will make them look like new again. 
7. Look at the incredible difference some DIY shutters and a paint job make to this home. 
8. Something as simple as changing out your house's numbers has a big effect on curb appeal.  Try some mid-century modern house numbers like these.
9. Don't have room for much of a flower garden? Put together a hanging container garden for your front porch.
10. Water features are a great, unexpected curb appeal project for your home. Something like this DIY fountain is easy to do, uses just a bit of space, and looks so inviting!