There are few décor items I love more than lamps. I don't think I could ever have enough of them! That's why I was so excited to discover these amazing new ways to give the lamps you love a much-needed makeover: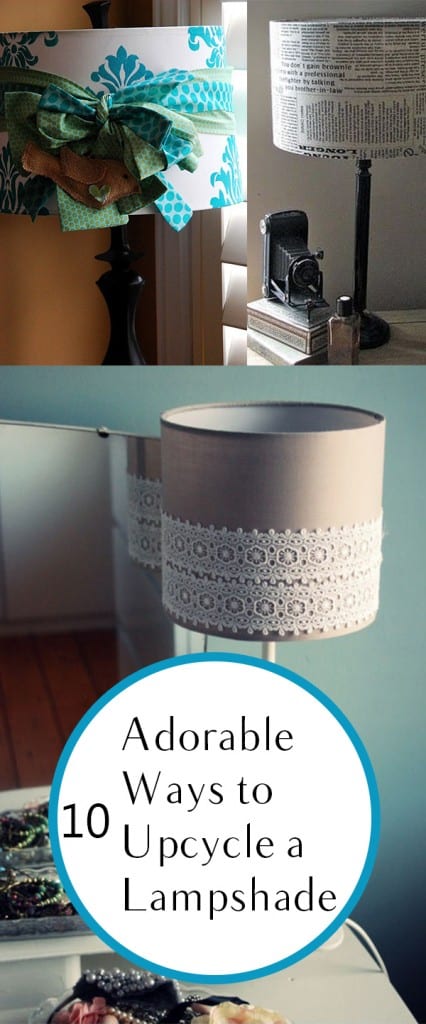 Cover with fabric. Recover a dull lampshade with fun, fresh fabric! This is an easy way to add a pop of color to your living room or bedroom. The process is pretty simple: (1) remove the shade from its base (2) cut the fabric to fit the shade, plus a couple extra inches on the top and bottom (3) use spray fabric adhesive to stick the fabric to the shade, smoothing it out as you go (4) trim the top and bottom of the fabric and fold the excess over to the inside of the shade.  Or check out this adorable idea from The Pinto Pony.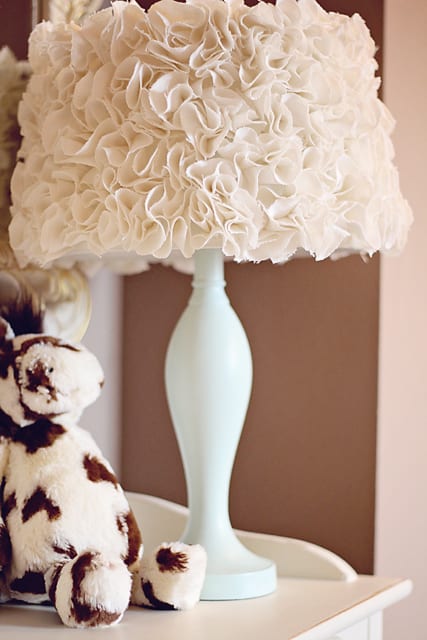 Ribbon-ize it. Create a crisscross pattern of satin ribbon over a plain drum lampshade. To make the ribbon design, pin diagonal strips of ribbon going one direction around the entire lampshade (measure to make sure they are equal distance apart). Remove the pins and then then trim and hot glue the ends of the ribbon to the inside of the bottom and top of the shade. Then weave ribbon of a different color through the original ribbon, going in the opposite direction. Again, trim and hot glue the ends.  Or check out this adorable tutorial on Tatortots and Jello: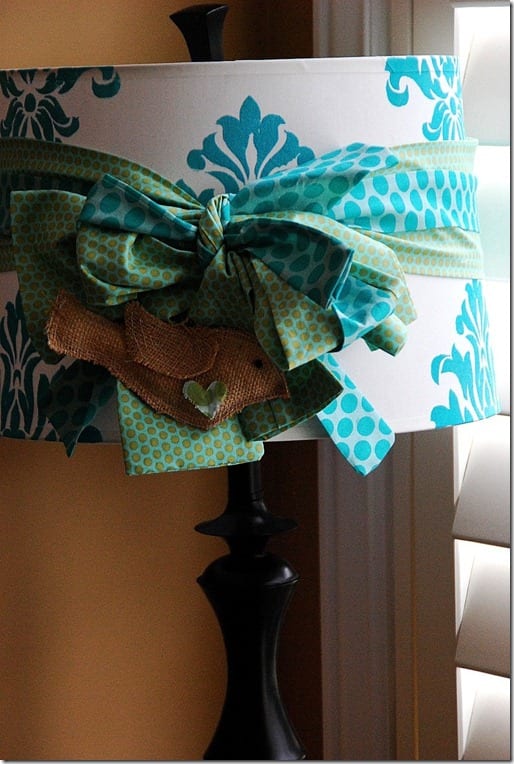 Scrap (fabric) it. Yet another amazing use for your scrap fabric! Strip the panels from an old metal-framed lamp shade, then tie strips of fabric to the metal frame until the whole thing is filled in. Eclectic and beautiful.  Another cute idea is this one from DIY Show-Off: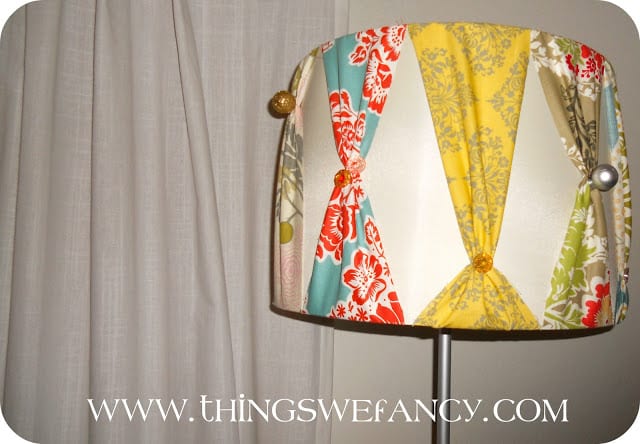 Embroider it. Add an embroidered pattern, image, or word(s) to your plain lampshade. Let your creativity free and create a look that you love!  Or you can stencil a lampshade like this one on Not Just a Housewife :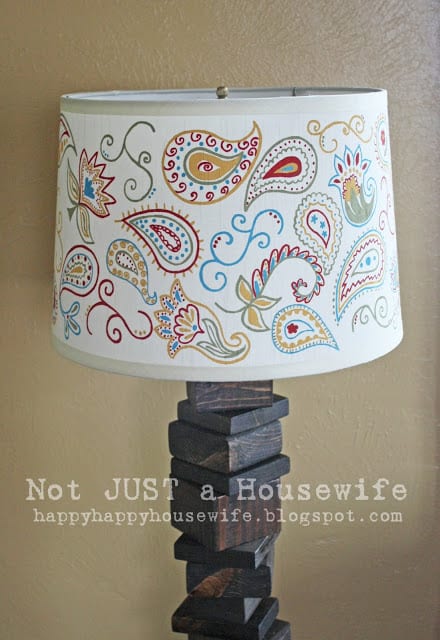 A touch of lace. If you ask me, there's very little a touch of lace can't fix. Turns out, lackluster lamps are no exception to that rule. You can edge your shade with a little bit of lace or cover the entire thing with varying styles of lace.  I love this lampshade but I found it on Pinterest with a broken link.  I hate that!  Anyone know where this came from?  Leave me a comment!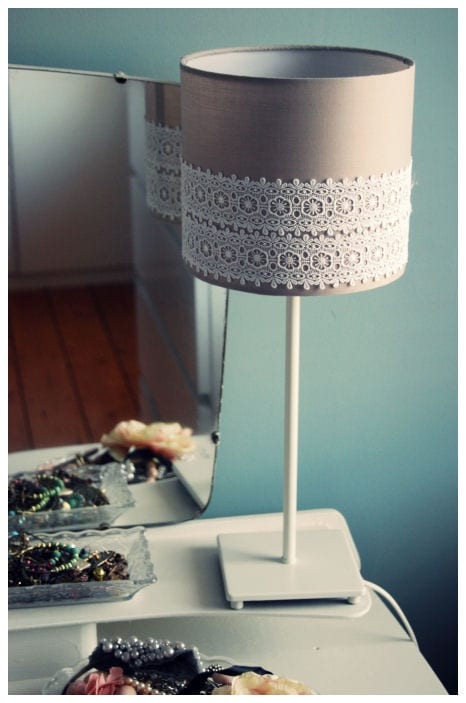 Buttons. I love this idea from Odee. If you are like me, I have hundreds of those extra buttons that come with clothes! This would be a great way to reuse them!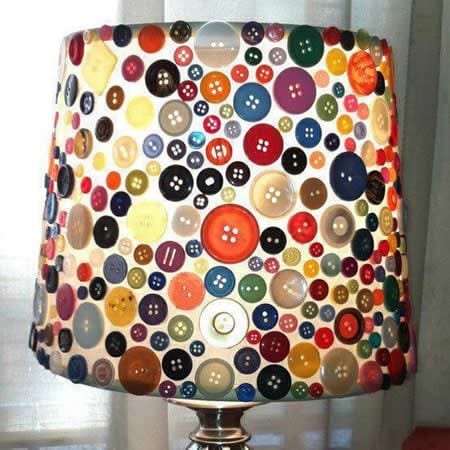 Burlap. I adore how rustic burlap makes everything look. What a fun idea to liven up an old lampshade from Our Vintage Home Love.
Reuse your old sweater. Remember that sweater you bought last winter, and you had every intention of wearing it? But you never did? Yeah, use that one to redo your lampshade.Get the how-to from Diply.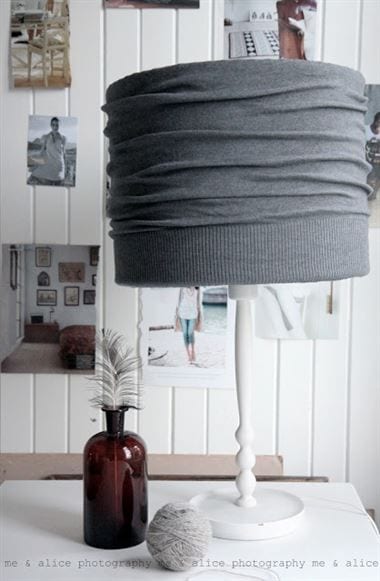 Use print. I am a total book lover, and I love the idea of having words on my lampshade. You could use old lampshades, or even old books that have seen better days! Use this tutorial to bring the written word to your lampshade.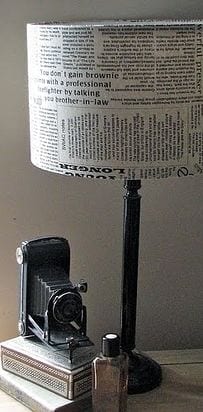 Paint sample. Who would have thought that paint samples could be used to redo a lampshade? It gives the lamp a great artistic touch. I have to try this idea from Homesthetics. I know that all of these ideas have finally motivated me to get rid of that old white lampshade, and I hope that they have done the same for you!