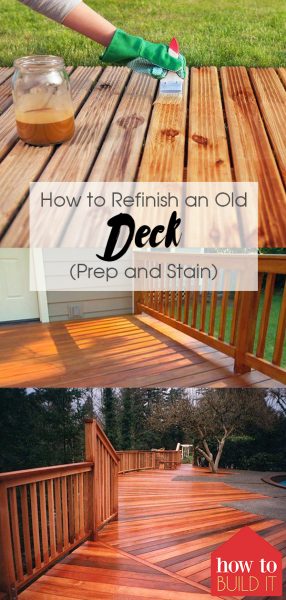 How To Refinish A Deck
A good deck works great as the "bones" of your backyard because it is often the first thing you are drawn towards. Unfortunately, no one is well, "drawn" to an old deck that looks well, old.
 It can even be tricky to attempt to sell a house with an old and outdated deck because no one wants to take on that kind of DIY challenge. But, did you know that it's not really much of a DIY challenge at all? With a little bit of preparation and some stain, even you (yes, you) can refinish an old deck in no time at all.
Here's what you'll need for this DIY:
-Power washer (or something to get rid of the dirt and grime)
-An electric sander--the more heavy duty, the better.
-Oil-based wood stain
-A natural bristle brush (others could leave brush bristles on your new paint job)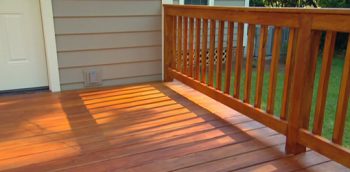 Step One: Before you power wash your deck, inspect it for damage first. Are there any loose screws? Dents in the wood? Replace anything that needs it before moving on to the next step. Sometimes, I think even some easy maintenance like this can make a deck look years younger!
Step Two: If you have paint or a varnish on your deck currently, you will need to remove it with a paint stripper in order to apply a new coat of stain. If your deck is coated with a clear finish or a wood stain, you can easily wash it away with a wooden deck cleaner.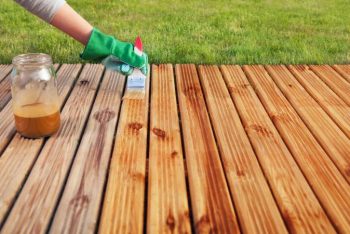 Step Three: Time to powerwash! My husband has an understandable love of his powerwasher, and this is always his favorite portion of ANY project. Use the lowest water pressure that you can, but one that still allows you to clean the area well. High water pressure can ruin your wood, leaving it worse off than it was before! Let the deck dry completely for two days before proceeding. Even a damp deck can ruin the outcome of your project. It's best not to risk it!
Step Five: Allow your deck to adequately dry, and go to TOWN with an electric sander. Take out all of those months (or years) of stored up anger you had towards the deck, and channel it into sanding the crap out of it. Remember, the finish of your paint always is determined by the amount of work that went into preparation. Unfortunately, some of that preparation IS sanding… I like to use an orbital sander for the best results!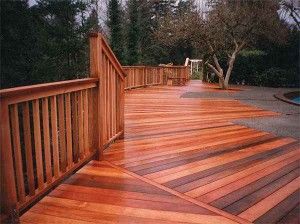 Step Six: When it comes to outdoor furniture projects, I always use an oil stain. I usually pick one that is considered a penetrating with a semi-transparent finish. Apply your oil-based stain with a natural bristle brush in long, even strokes. Use a paint-pad to easily tackle those long floorboards!
Step Seven: When the stain is completely dry, cover your tracks with a water repellent sealant. Wait another two days before moving furniture (or walking) on your refinished deck.
See! It's not too terrible, and you'll love the end result. It's amazing what a coat of paint can do.
See what else a coat of paint can do..check out these articles of mine!
How to Paint Anything (And Get the Perfect Line)
How to Paint Stairs (In the Home)
How to Store Painting Supplies
10 Painted Glass Crafts for the Home