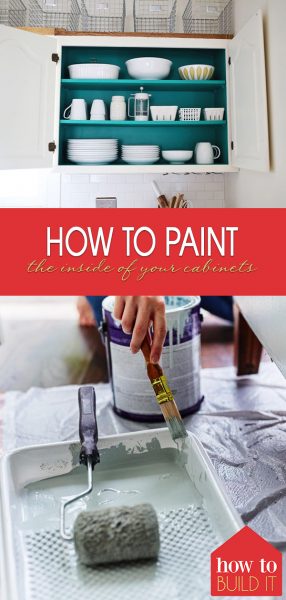 If you are looking for an easy way to brighten up a dark or outdated kitchen, try painting the inside of your cabinets!
You could create a custom pattern (my best friend has stripes painted on the inside of her cabinets, it's adorable!) or just brighten things up with a shade of classic bright white.
This DIY project is one of the easiest out there and you'll love the easy how-to steps. Here's how to paint the inside of your cabinets in only a day.
Are you trying to paint the outside of your kitchen cabinets first? Use this tutorial of mine!
[mv_create key="1″ type="diy" title="How To Paint the Inside of Your Cabinets" thumbnail="https://howtobuildit.org/wp-content/uploads/2020/08/shutterstock_711761722-350×234-1.jpg"]