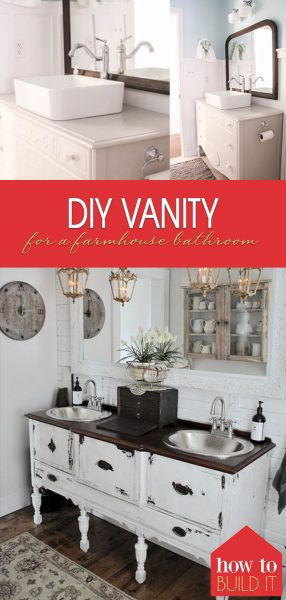 You all know you have wanted a DIY farmhouse bathroom vanity. Seems like there is no better time than the present.
Your vanity says a lot about your bathroom. Unfortunately, mine says something like "overwhelmed and covered in toothpaste splotches." Not exactly the recipe for a killer bathroom vanity.  The final straw came just last week when my eight-year-old spilled an entire bottle of red nail polish all over the poor thing. Now, I probably could have gotten the nail polish off, but I decided that enough was enough!
I was determined to build my own DIY farmhouse bathroom vanity, one that will better suit the needs of my farmhouse bathroom.
I am so glad I did it. Sometimes I catch myself just walking into the bathroom to look at it. You might do the same. Let's get started.
Here's what you'll need to get started:
-An old dresser (it's hard to believe that an old dresser makes for a great vanity! You can use a nightstand as well, the DIY process is exactly the same)
-A sink (or two, for his and hers)
Let's get started!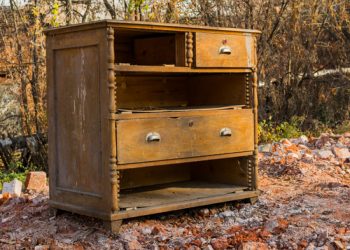 Step One: You'll want to purchase your sink before you begin. You don't want to purchase something too large, so make sure that you keep the size of your dresser in mind when purchasing. If you have the room, I love the idea of turning an old nightstand into his and hers sink.
Step Two: Remove the top drawer. Place your sink template (that came included), on top of your nightstand or dresser. When placed, break out your permanent marker and trace around the outline of your sink template. You can use a pencil if you're worried about messing up!
Step Three: Now for the tricky part: use a jigsaw to cut out the hole in the top of the dresser or nightstand. It seems terrifying, but your sink template makes it virtually impossible to mess this part up! After the hole is cut, go ahead and place your sink inside the hole. Don't forget to give yourself a pat on the back!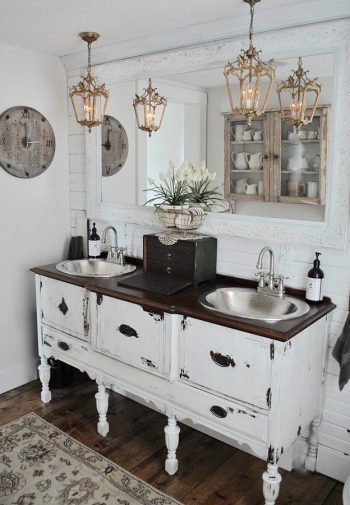 Step Four: After you've celebrated about your correct measurements, you can go ahead and remove the sink. Set aside for later. Now is the time to refinish the top of your dresser (or the rest of the dresser) if desired. For a farmhouse look, try chalk paint! Use a water-based sealant to protect your new vanity once you're done painting. It took me about three coats of paint before I loved the result and the gloss level. Make sure you wait for each coat to fully dry, making sure that you cover well any areas that could get wet from the sink.
Step Five: If your dresser is dry, it's time to really install your sink! Apply a line of clear caulk around the edge of your dresser opening, then place the sink directly on the caulk. Don't run a line of caulk around the edge of the sink when complete, this isn't necessary. One caulk line will do just fine.
Step Six: If it isn't already, move your vanity into your bathroom. Line it up and cut out a hole in the back of your dresser for the plumbing piping. Once cut, set your vanity in its new home, and connect the sink to the plumbing line.
***Psstt..I've heard it's easiest to hook up the vanity to plumbing with the drawers removed!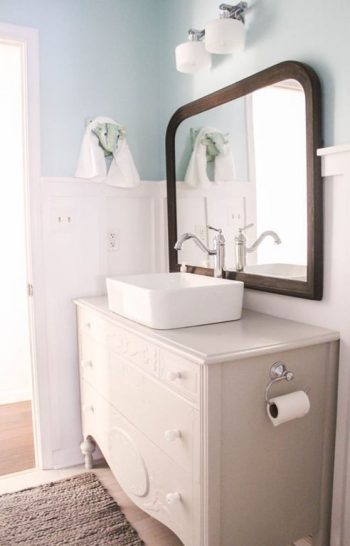 Step Seven: Make any cutouts or changes to your drawers so they're still functional, but out of the way, so the plumbing lines are uninterrupted.  The cut-outs in your drawers will be completely dependent on the plumbing in your home and the layout of the dresser.
Step Eight: Enjoy your new DIY  farmhouse bathroom vanity!