Is it time to paint your fence? Then you need to know how to paint a fence–fast! A wooden fence is a great benefit to your property value and curb appeal–unless it looks a little worse for the wear. Here are some tips on how to paint a fence–fast!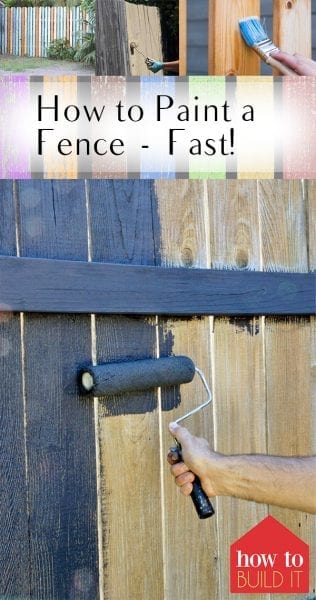 How to Paint a Fence
The best way to make your wood fence last is to keep it painted or stained. Paint protects the wood from weather better than anything else. The good news is that painting your fence is a great DIY project for anyone who wants to save money. And with these tips, you also save time. Before you paint anything, see the 10 secrets professional painters won't tell you. 
Before You Paint a Fence
Before you begin, there is prep work you must do. This ensures that your paint job is the best it can be. Research your paint choice carefully, and buy a paint specifically rated for exterior use. It's also a good idea to think about how your painted fence will weather–weather changes the color a bit over time.
The number one thing to do is make repairs to the fence–slats, posts, etc. This includes sanding any splintered or peeling areas. And then thoroughly clean the wood! A power washer is the best and fastest way to get the fence clean. If you don't have a power washer, a good spray down with a hose is a good start.
Now that your fence is in good repair, clean and dry, it is ready for paint. Hands down, the fast way to paint your fence is with a paint sprayer or this one. Note: Be sure to use plastic sheeting to protect surrounding areas from overspray.
Using a paint sprayer is actually similar to using paintbrush. Move the sprayer in sweeping motions following the grain of the wood, and leave a light, thin coat of paint each time. Thin coats are the way to prevent runs and drips that ruin a paint job.
If you prefer to use a brush or roller, those are perfectly acceptable methods. Use long motions and follow the grain of the wood. This method takes longer than a paint sprayer, but the results are the same. Enjoy your beautifully painted fence!