When it comes to Halloween decorations, there's nothing scarier than a fake, life-sized version of Frankenstein's monster! It's just the thing you need to scare the trick-or-treaters right off of your front lawn! This DIY Frankenstein isn't the easiest DIY project in the world, but with a little patience, even the most novice DIYer can pull this Halloween decoration off. here is how to make a life size Frankenstein!
How To Make A Life Size Frankenstein
Here's what you'll need:
-Newspaper
-Coat hangers
-Blue shop paper towels
-Flour
-White glue
-Play Dough
-Scrap Wood
-Paint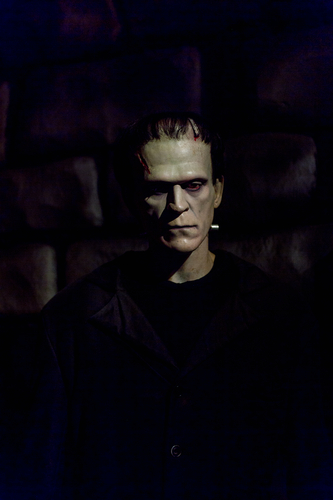 Step One: To make the head of Frankenstein, ball up newspaper until it reaches the desired size. Once your newspaper has been balled up into a sufficient head-shape, you'll want to use duct tape to create the features of the face. This takes time…and lots of it! Be patient in your duct taping… this is what gives your Frankenstein his features!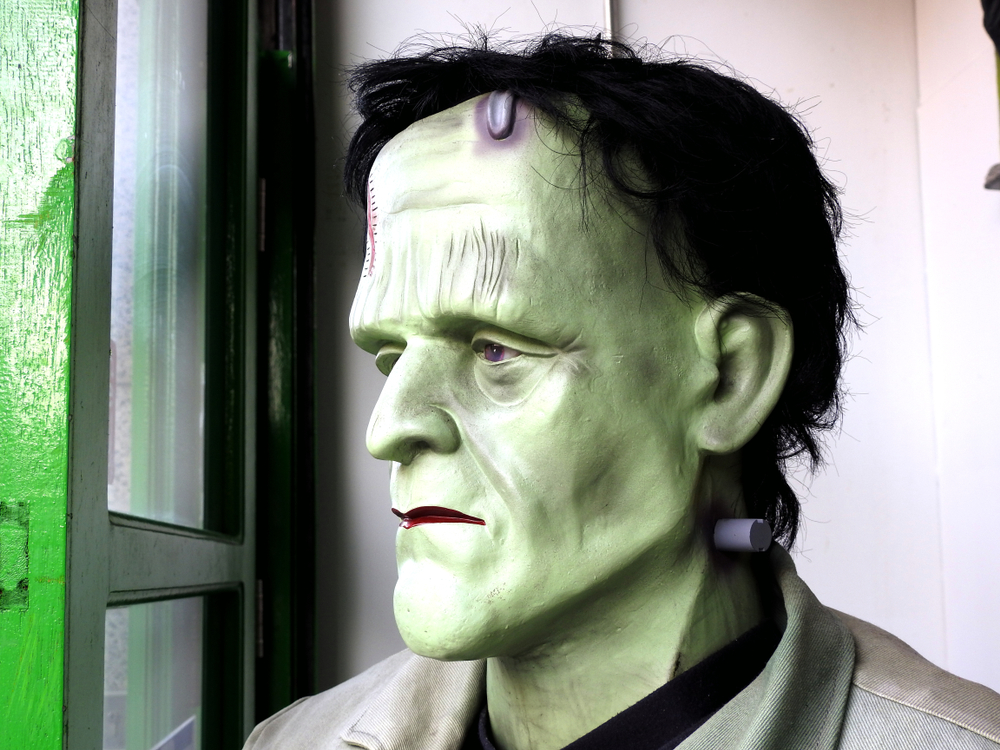 Step Two: For the body, you'll want to purchase an inflatable dummy. Once inflated, coat the dummy in a layer of tin foil, so your paint doesn't damage or permanently alter your life-sized dummy! Now that you have an inflatable dummy as the base, you can use more bundled up newspaper, and even your scraps of wood to give it some shape. Create the hands with old wire hangers. Secure the hands and the body with glue and flour after it has been mixed into paper mache. Wait to attach the head to the body. Wait for the paper mache to fully dry before moving on.
Step Three: Once dry, cover the face of your creation with a few shop paper towels. Cover the towels in a water/glue mixture. This will soften things up, and allow you to create scars and other detailing along his face. Let the face fully dry before attaching it to the body.
Step Four: Secure two 2x2s together to form a T shape, this will give your Frankenstein statue adequate support! Attach the T-frame to your body and shoulders using Great Stuff (found on Amazon) and attach the head as well. This will really make your Frankenstein look rock-solid!
Step Five: Once everything is dry, use the Play-Doh to fill in any cracks, or wrinkles you didn't intend to make. You can use the Play-Doh to create the screws in his head, as well. Now you can cover your newly formed Frankenstein in a layer of spray paint. Start with a light coat at first, adding more coats of paint as needed. The paint is what really makes this decoration look great–so make sure that you really take your time!
Step Six: Now it's time to dress your creation! We dressed our Frankenstein in a huge overcoat, a black sweater, and some dark pants that we found at the thrift store. I found a pair of shoes for him at the thrift store as well. For his hair, I found an inexpensive wig at the Dollar Store and trimmed it so his hair was styled the way I liked.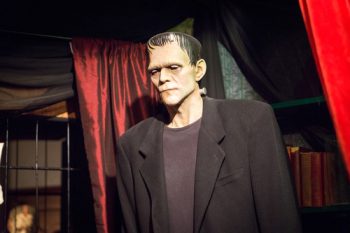 Step Seven: You can display your Frankenstein wherever you would like, as it's pretty lightweight made with the newspaper and paper mache. I like to put mine in the front yard for ultimate Halloween terror! Now you know how to make a life size Frankenstein!