Fall is coming…and you know what that means: incredibly gory Halloween decorations have hit the shelves! If you like to lean a little towards the more extreme side of holiday decorations, these DIY Halloween decorations may be absolutely perfect for you!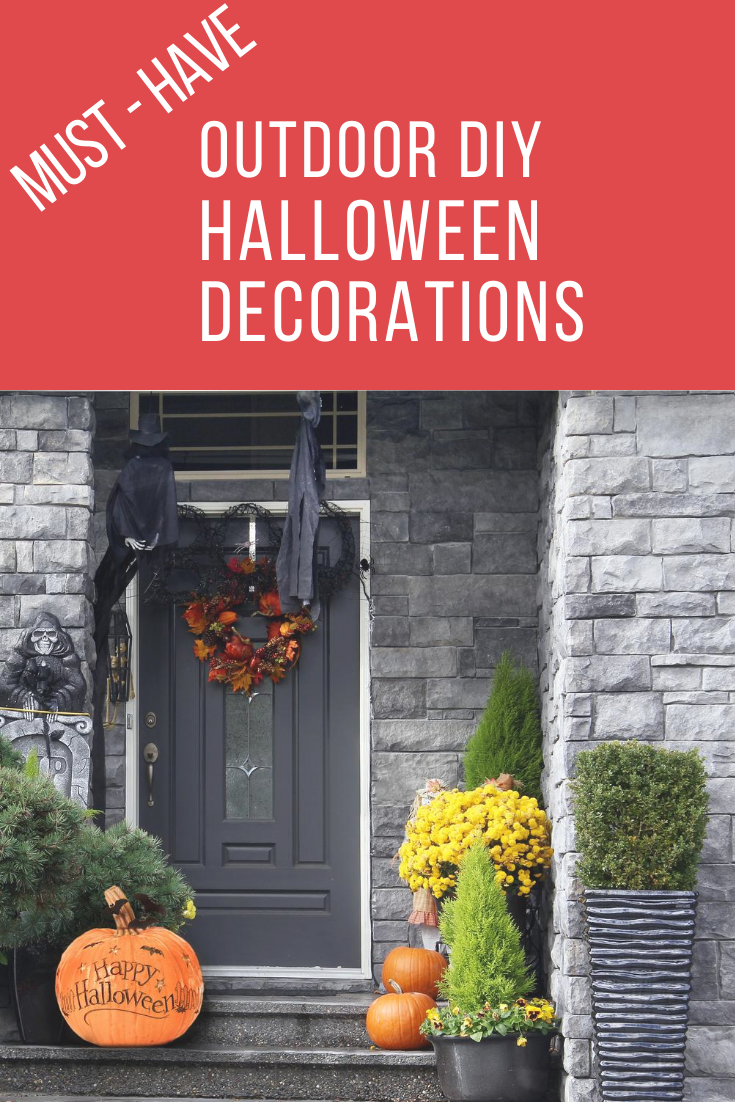 Each one of these ideas highlights the slightly gory and slightly disgusting elements of Halloween decor but the more dramatic, the better! If your favorite elements of Halloween decor are the slightly disturbing ones, then these DIY Halloween decorations will be absolutely perfect for you!
DIY Halloween Decorations
Disturbing Desserts
For the first time ever, it's a good thing on Halloween when guests are too creeped out to try your desserts! For these, you'll want to make your own sandwich cookies and decorate them with super creepy buttercream piping detail! Once cupcakes have baked I find it best to use piping bags to create that really cool brain detailing!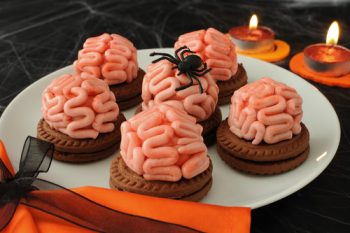 Dismembered Limbs
Dismembered limb decorations are always creepy around Halloween! If you like the idea of freaking your neighbors out with a severed limb but want to keep it relatively tame, try incorporating a sign or two. Of course, a butcher knife is always a good addition and you can find a cheap prop one, here.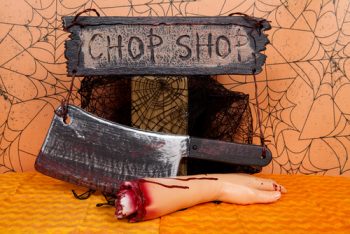 Creepily Carved Pumpkins
Nothing says Halloween quite like a creepily carved pumpkin and a spooky skeleton! Though this Jack-o-Lantern doesn't look quite like Jack Skellington, you can find the exact Jack Skellington pumpkin traceable here. Though it's Disney, I always think that Jack Skellington is a little bit creepy! When displaying, add a fake skeleton to the mix for even creepier home decor!
Disturbing Dolls
If there's one thing that I envision when I hear the word "disturbing Halloween decor" it is these scary dolls! The DIY is simple enough, simply cover the old dolls hanging around your house with fake blood and ripped up clothing. Just remember one thing: these DIY Halloween decorations are much scarier when displayed in groups! If you want, it's possible to literally dismember them…if that's what you're into! Idea was found here.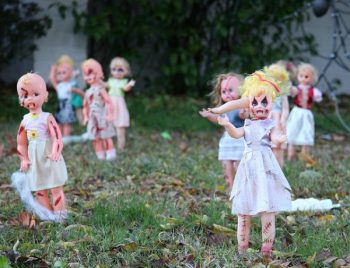 Spooky Skeletons
For an equally easy and disturbing Halloween DIY project, store 3-4 plastic skulls in a tall glass vase. For filler, add in pieces of twine or strips of black ribbon for an extra-scary look. You could even use a few fabric pumpkins (found here) to complete the super spooky look!
Porch-side Patients
Dressing a plain skeleton in a set of all-white pajamas will have everyone sure that she came from a mental institution! For this look, simply place a dressed skeleton (preferably dressed in all white) on the corner of your porch and give it a wig. If positioned correctly, this skeleton will give off the appearance of a real person and there's nothing more creepy! Idea from Pinterest.
A Deadly Dinner…
No one will want to enter your dining room if they're greeted with a disturbing scene like this! Position a family of skeletons around a dinner table, having a meal of other skeletons. With enough cobwebs and the right kind of lighting, this could turn into the spookiest room of your home! The idea was found here.
Jeepers…PEEPers…
Ever since I was little, it's been a fear of mine to open up my curtains in the middle of the night to see a face like this! Talk about disturbing! If it's a goal of yours to creep out your family all night long, stick a freaky face like this in their windows for some quick Halloween fun! To accomplish, I would use decorations like these.