The American Red Cross recommends that everyone have a 72 hour (or three day) kit of supplies in case of emergency. In many cases, it's important to have a kit full of everything you'll ever need (usually stored in a large suitcase or duffel bag). Here's what you should put in your own emergency preparedness kit.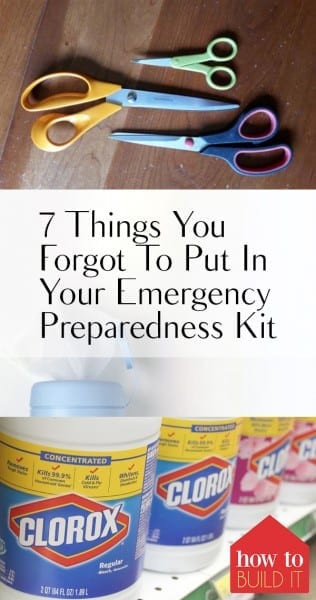 Emergency Preparedness Kit: DIY
Before disaster hits, set aside some time one weekend to put your own emergency preparedness kit checklist together. It might just save your life, after all! Follow the tips below to create your own emergency preparedness kit checklist. REMEMBER: When building an emergency preparedness kit for families, you should assemble a kit for EVERY family member. Everyone, no matter the age, needs their own supplies like food and clothing.
Step One: Gather a backpack, suitcase, or duffel bag that you can use to store the necessary supplies. Personally, I like to store everything in backpacks for convenience sake.
Step Two: When building an emergency supply kit for your family, make sure you take some time to gather up any necessary prescriptions or medical supplies. While I understand you can't keep medicine sitting for a period of time, prepare as much stuff as you can get away with packing beforehand, the better. You never know what you might miss in the chaos.
Step Three: Now, gather up two changes of clothing for each individual. Include socks, underwear, the works. Pack things that are easily layerable, as it could be any season when disaster strikes. Remember things like a hat and gloves just in case, as well.
Step Four: Gather up your food. Use the list below for ideas.
Emergency Preparedness Kit: Food
Preparing the food is the trickiest part of all, if you ask me. It's so hard to plan things that keep easily! To help, I've compiled a list of my favorite food items that go well in an emergency preparedness kit.
-Peanut butter
-vacuum sealed crackers
-Canned meat (SPAM, tuna, etc.)
-Canned vegetables
-Ramen noodles
-Spaghetti noodles and canned sauce
-Sugar, salt, pepper
-Sports drink mix (for the electrolytes)
-Canned soups
-A gallon of water, per person, per day
Emergency Preparedness Kit Best Ideas: 7 Things You Probably Forgot To Include
I had previously forgotten to include these in my family's kits, and I immediately went and put a pair in my backpack after writing this! Sharp scissors are definitely a survival necessity, and purely because they are so versatile! You can use them to cut a tarp for a shelter, or you can sanitize them for any medical emergencies that you may run into. Be sure to pick your sharpest pair!
These aren't exactly a necessity but a package (or two!) of Wet Wipes really goes a long way in helping you feel more comfortable. There's nothing worse than feeling gross or sticky, especially when displaced from your home for an unknown amount of time! A few Wet Wipes can really go a long way to making you feel a little bit more at home, or at least a little more clean!
Dust masks are super small and lightweight, making them an easy addition to your kit. You may not use these in every situation, but a dust mask comes in handy after an earthquake or a wild fire. You might not know when you'll have access to a doctor, so be sure to keep your health a priority!
This might seem extremely obvious but trash bags are often a forgotten item in an emergency preparedness kit. You don't need to include an entire box (or even an entire roll!) but it's important to have a few. Trash bags make great tarps if you need something for a quick shelter.
Tents are tricky to carry around, and unless you have a lightweight tent made for backpacking, they can get a little heavy! Check out this tent from Toogh! It sleeps 2-3 people and is light enough for your kit. If you don't want to carry around a tent, it's important to include a tarp or something similar. You never know when you'll need a makeshift shelter!
Although it can be kind of annoying to lug around, there are so many instances where a bit of bleach can be totally life saving! You can use bleach as a disinfectant (dilute 9 parts water to 1 part bleach) or you can use it to purify water (use 16 drops of liquid bleach per gallon of water) It's important to only use concentrated bleach. Bleach with added dyes, perfumes, or detergent can be harmful when used as a water purifier or disinfectant.
I stand by the statement that there's nothing you can't do with a roll of duct tape. Seriously. Fix holes in your shelter, send an S.O.S. message, or even use them as a makeshift band aid (painful, yes, but also very effective!)
Life Pro Tip from How to Build It
While you undoubtedly included some kind of water purification device in your kit, it's important to know that over time, only boiling water to purify it can make you sick. It's a good idea to include a water purifier as well! Check out the Life Straw Mission water filter! It can purify up to 12 liters of water, and it removes virtually all bacteria. If a 12 liter bag is too large for you, I recommend purchasing the Life Straw (it's available in water bottle form as well!) to include in your personal kit. I own both of these, and they've made my life so much easier on many backpacking trips!