I will start by saying that I am a woodworker.  The DIY projects that I attempt don't involve glue guns, they involve tools with more voltage.  These are the top 5 shop tools you need to attempt big DIY projects, crafts or woodworking.  I will post my top 5 hand tools for DIY projects shortly.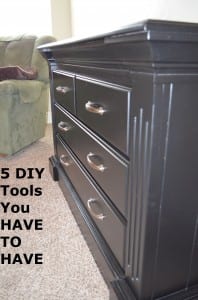 Above is a dresser that I made 6 years ago.  I just refinished it from white to black.  I build furniture to last, using only quality techniques to assure longevity.  When we are tired of the finish, or need to use the piece for a different purpose, I refinish them.  When you build your own furniture, you have the opportunity to build them so strong and structurally sound, that you can't even buy furniture that is as well-built.  This is what I do.  This is what anybody can do, that wants to invest the time and tools to learn how to make quality furniture.
Whenever someone comes to me and says that they want to start a big DIY project, they will often ask what tools they need to get started.  Over the years I have not changed my answers…
In order of priority:
#1 Table Saw: If you plan on building anything, a table saw is the single most important tool you can purchase.  And while it is not difficult to find one on the classifieds for $150, you get what you pay for with a table saw.  A table saw can be modified and take the place of countless other tools, it can act as a shaper, radial arm saw, and even a router.  For more information on finding the right table saw see the article titled "Picking the Right Table Saw".  Dewalt makes a good contractor saw.  Grizzly makes the best cabinet saw, or at least one of them.  Both are great options for your crafting and DIY projects.
#2 Planer: A good planer can go a long way with DIY projects.  In order to get by without buying a planer, you need to purchase pre-finished wood and it can be very expensive.  Nearly every project I do starts with the planer, it is how you get your rough cut lumber to the size you want for your project.  For more information on planer selection see my article titled "Picking the right Planer".
#3 Jointer: A jointer only serves one purpose and that is to give a straight edge to your material.  While it doesn't sound important, if you use rough cut lumber it is absolutely crucial to be able start with at least one straight edge.  A simple guide to picking jointers is, the longer the bed the longer pieces you can straighten, and the wider the cutter the wider the board you can straighten.  For fine woodworking it is nice to be able to straighten the face of the material you are working with, this is only really possible with wider jointers (8+inches.)
#4 Miter Saw: A good miter saw is very important; it is difficult to do complex angles without one.  The sliding miter saws are nice because they can replace a radial arm saw as well.  A miter saw needs to be very accurate or else your angled cuts will not come out properly, this is another one of those tools where you get what you pay for.  There are many cheaper versions out there, but the higher priced models are very reliable and accurate.
#5 Dust Collector: A good dust collector can make a big difference when doing projects.  With a planer it actually makes the finish come out smoother, and on a table saw it can keep it from spraying irritating sawdust up into your face and eyes.  If you are just starting out I recommend a smaller mobile dust collector that can wheel to each tool and connect.  If you have a large shop it can be convenient to have one large dust collector and use ducts to connect all the tools to it so it does not need to be connected and disconnected to switch tools.
These are the most important shop tools to have for building furniture, shelves, shadow boxes, crates, paneling for your house, etc.
I will be posting the 5 most important hand tools for DIY shortly.  They are very different, but really, you need both for most projects.  If you can start collecting tools one by one, eventually you will have a great setup for all projects, big and small.