Fire pits are a great way to bring friends and family together.  They cozy up a yard and add both a romantic and "togetherness" element to your outdoor space.  There are a lot of different directions you can go  with a fire pit.  Fire pits can vary a great deal and are built in all different shapes, sizes, materials and styles.  Be sure to check into building regulations and codes before starting.  You must be at least 25 feet from your house, and there are other regulations as well.  Be sure that you have thoroughly researched the building codes in your area and that you are within regulation.  Check out these 4 different DIY fire pit styles: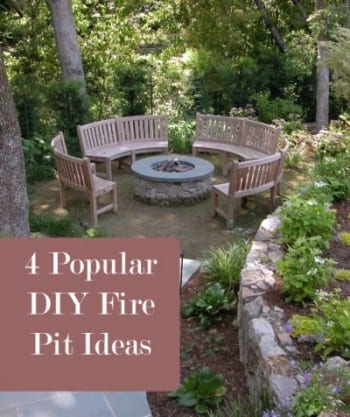 Crusher Cone- You can use an old crusher cone from a concrete factory or a rock quarry.  Often, when their crusher cones are worn down, and they are discarding them, you can buy one from them for very inexpensive, or even pick one up for free.  Bury it a few inches in the dirt and stabilize the crusher cone with cement or gravel.  These make really great fire pits and you can do this for relatively inexpensive.
Stone- Stone fire pits are very popular and very aesthetically pleasing.  They look really great and are very stable.  You can build a stone fire pit yourself with a circular concrete foundation, stone and mortar.  Lay the foundation first, and after curing, place a layer of mortar and stone and follow suit for the outer wall and then the same for the inner wall.
River Rock- A fire pit with river rock is also a very nice and inviting look.  This is also an easy DIY project.  Design your shape, and create a concrete structure in the shape you want your pit (usually square or circle.)  Place a fire bowl in the middle and fill in the shape with gravel.  These are fun because you can be creative with your concrete and the color of your rocks.
Natural- Some people prefer the natural look for a fire pit and want it to look more like a part of nature.  This can easily be done the good 'ole fashioned way.  Dig a hole about 10 inches deep in the shape you have designed.  Be sure the bottom of the hole is flat.  Add gravel for drainage, and a steel campfire ring.  Place your natural stones in a circle around the hole.  Add more gravel and you are set.
These are just 4 of the most popular DIY outdoor fire pit ideas.  You have many options.  You can also make a fire pit that uses natural gas.  Pavers can also be used around a fire pit.  Before you start, design your area, do your research and  choose one that will best suit you and your outdoor space.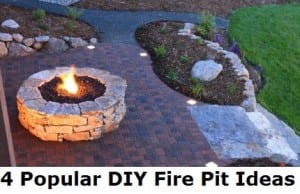 Do you like fires? How about camping? You're sure to love our recommendations for easy camping hacks!