Small spaces don't have to be the end of your decorating creativity. Really. It's possible to do all you want and more even in the tiniest spaces. Here are 27 amazing decorating tips for small space living. Soon, you'll find out that small space living really IS better.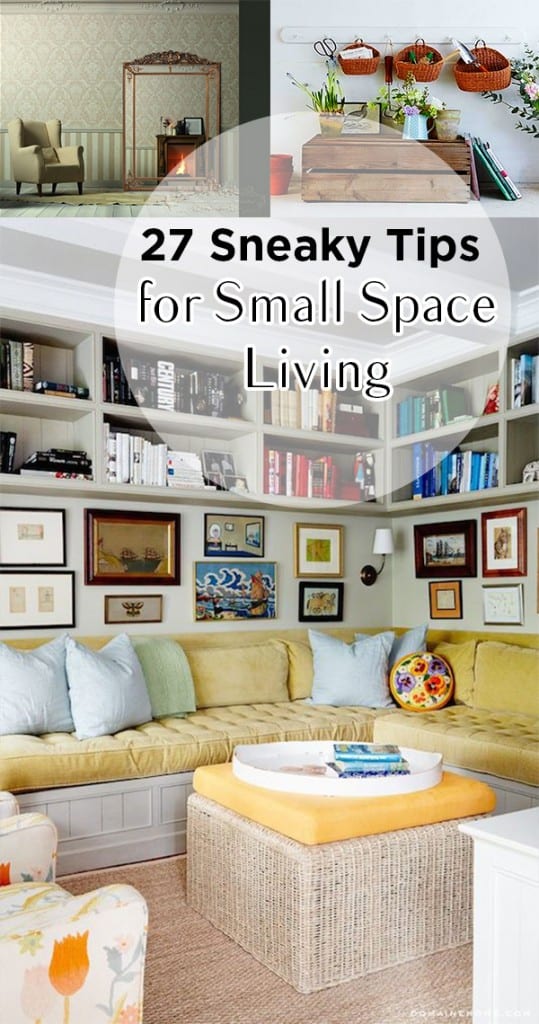 Small Space Living Room Ideas
At-Home Library
1. Utilize wall space with a high shelving unit around the top of your ceiling. Store your book collection up here and you'll have a great at-home library.
Fit A Dining Room Table In Anywhere
2. If you don't have the space for a dining room table, use and end-table instead. Put the end table directly behind your couch and don't forget the chairs for a great dining room table. You won't even remember you didn't have the space for a larger one.
More Shelving
3. If you didn't love the idea of installing shelving around your ceiling, install shelves into the corners of your room instead. Corners are often an overlooked area when decorating, so it's best to use what space you DO have.
Make The Tiniest Spaces Seem Larger
4. Mirrors look beautiful AND they make any space seem larger. Install large ones on a focal wall in your small space and watch as the room starts to look HUGE.
Pick The Right Furniture
5. When decorating small living spaces, I think it is best to pick furniture pieces that aren't bulky with smooth lines.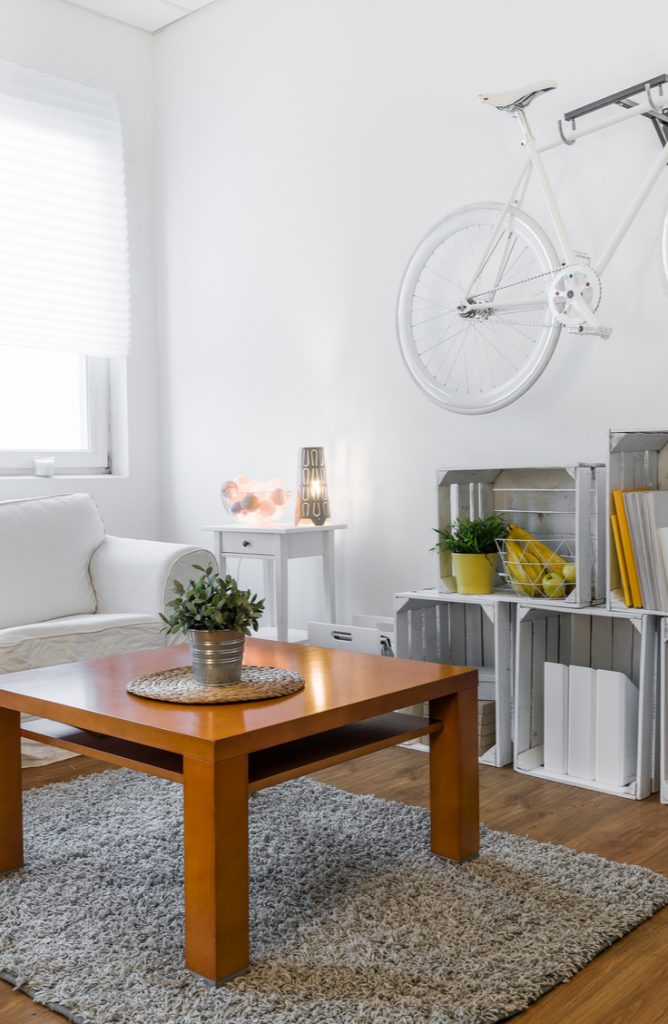 Small Space Living Apartment
Hidden Storage Space
6. Storage is a hot commodity in an apartment. Especially in small areas! Turn your bed into a storage area by lifting up the mattress and storing your goods inside of it. No one will even know what you have hiding under there, and isn't that just how you want it?
MORE Storage
7. Use the space behind your doors to hang towels, store shoes, or other items. Just store them in an over-the-door shoe organizer or something similar.
Use Your Walls
8. Hang baskets, blankets, towels, and other items on your walls with hooks. This will likely free up storage space somewhere else in your apartment. Hang the hooks with Command Hooks.
Streamline Your Countertops
9. Keep your countertop totally functional and clutter-free by storing vegetables and other necessities in a three-tier storage basket.
Art Deco Backsplash
10. Install a rod underneath your kitchen countertop and hang your cooking utensils as a kind of art deco backsplash! It's all about using the space you have available, right?
Small Space Living: Studio
Make A New Bedroom
11. If you live in a studio apartment or have children that share a room, you can turn one room into two (or three or four) with the help of some curtains strung from the ceiling.
Fix Your Small Bathroom
12. If you have no countertop space in your small bathroom, floating shelves could be the solution to all of your storage worries. Store your products on the shelves. This lovely idea is from Graceful Order.
More Closet Space
13. Hang hard to store clothes on shower curtain rings strung on the hanger. This is great for things like tank tops or scarves.
Multi-Use Furniture
14. Choose furniture pieces that have multiple uses when decorating a studio apartment. For example, pick a coffee table that comes equipped with storage drawers.
Make Your Own Closet
15. If, unfortunately, you live in a tiny apartment (or home) chances are, you don't have a ton of closet space! Make your own out of a metal clothing rack on wheels. That way, you can take your closet anywhere.
Small Space Living: Student
Pull Down Desk
16. Install a pull-down desk to do your work on. It collapses easily, and looks great in use, or folded up! Get the instructions from Ana White.
Organized Electronics
17. Always mount your electronics on the wall. You'd be surprised at how much space that television takes up!
Pretty Bathroom
18. If you are lacking bathroom space, and none of the storage options mentioned work for you, consider using a shower caddy to store your products in the shower. This makes for easy access, and you can take it out of the shower with you if your roommate likes to steal your goods.
Organized Paper Clutter
19. If you are sentimental and don't want to throw away any of your paper items or old assignments, use cute boxes to hide clutter and create a uniform look.
Organize With Pegboard
20. Pegboards are a great way to maximize the storage capacity throughout your home. Install one somewhere in your dorm room and use small containers and S-hooks to keep your belongings stored.
Small Space Living Bedroom
Paint Is Everything
21. Choose the right paint color. Using certain colors can make a room look a lot smaller. Use this guide from HGTV for small space painting.
Stay Clutter-Free
22. Avoid clutter! When living in a small space, an accumulation of clutter can really make your space look smaller. Invest in under-the-bed storage solutions, bookshelves, or more.
Pretty Cleaning Supplies
23. Cup of Jo recommends investing in cleaning supplies that look pretty. Pick ones with great labeling and display them in a cute way. This is especially great if you don't have a cleaning closet.
DIY Bed With Storage
24. Don't be afraid of DIYing it! This great pallet bed adds a cool feel to any space, and it has plenty of space for storage. Learn how to make your own on Tumblr.
Other Small Space Living Ideas
Even More Storage
25. If you have a multi-level home, use the space under the stairs to store clothes, decorations, or anything else.
Over-The-Skin Shelving
26. Shelves can be put anywhere, even over your sink. Place a little shelf over your skin. It's perfect for toothbrushes, soap, and other bathroom necessities.
Smart Side Table
27. Store your necessities next to your couch. Check out this cool design from Sobro.