No need to just recycle those wine bottles, it's wasting their precious material! Instead, take the empty bottles and turn them into something awesome! Here are just a few amazing things you can make with your wine bottles.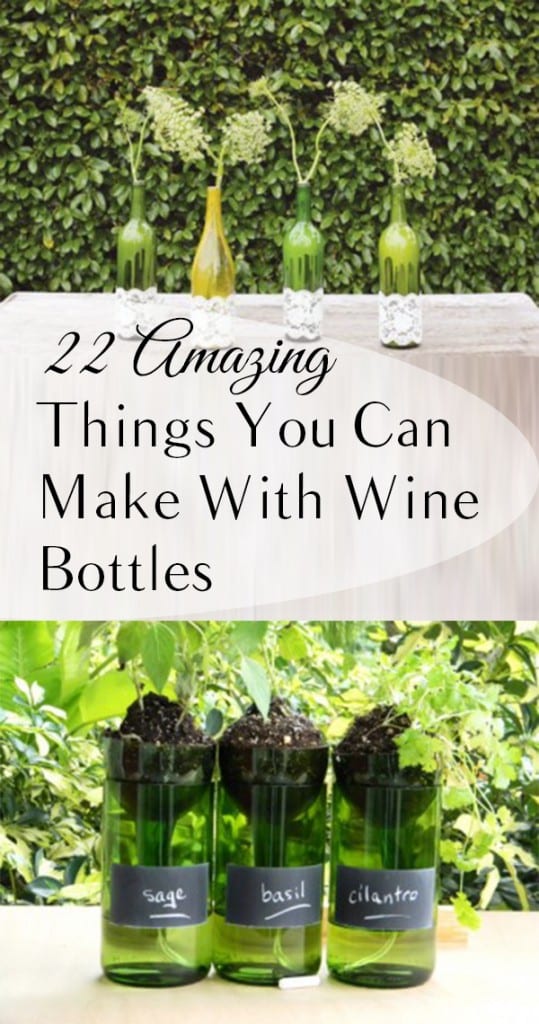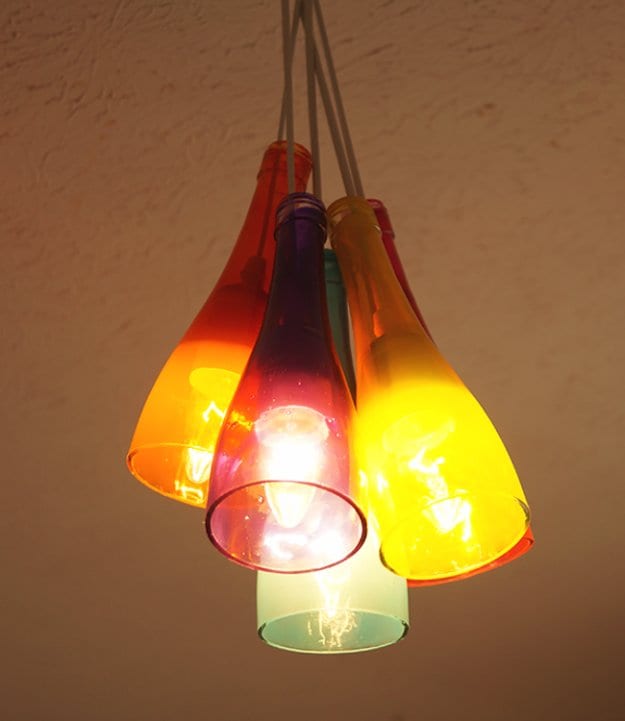 Light
You can make a gorgeous lightshade with wine bottles. If the bottle is a nice color, then it will look even better in your home! Simply wire the lights into the bottle and then hang them up wherever you want—you could put it in your house or in the backyard!
Serving platter
Try your hand at this beautiful serving platter. It's going to require some heavy-duty tools (a saw and maybe even a torch), but it's definitely worth it. And the best part is, each wine bottle makes two, so you can give one to a friend!
Garden edging
Line your yard or garden with a beautiful array of wine bottles. Choose bottles that have great color and shape so that it doesn't look like trash in your yard. Keep the bottles close together for the best look possible.
Chandelier
You'd actually be surprised at how gorgeous this chandelier looks. Just put in enough time and effort to get a great style and shape so it can look fabulous in any part of the house.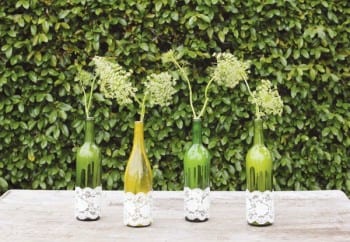 Lace vase
Aren't these adorable! It's only one of the many vase designs and styles you can make with a wine bottle, but this one is gorgeous. Use this for a classy yet simple look in your kitchen or living room.
Water Fountain
Yes, you can make a water fountain out of wine bottle! There seems to be no end of great project you can make with wine bottles if you just use your imagination!
Rope décor
Cover the wine bottle (or bottles) in a decorative rope design and then fill it up with sand or other beach-like items. This décor will give any part of your home or garden a great outdoors, beachy feel.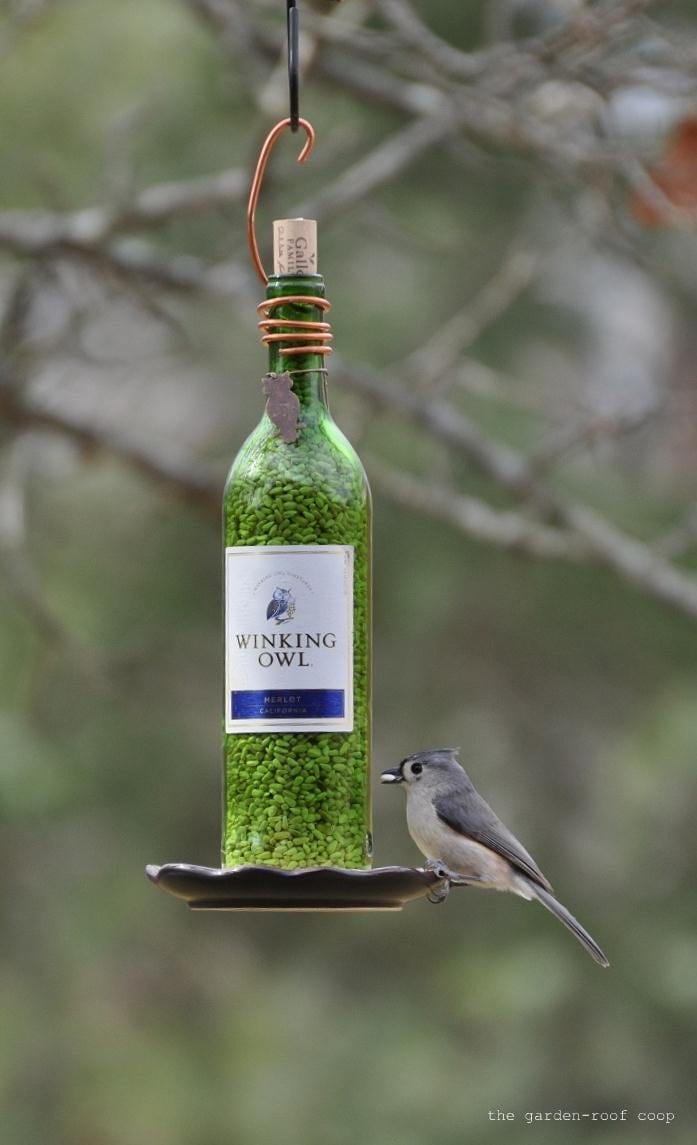 Bird feeder
Bring those singing birds to your yard by building your very own bird feeder. And you can make them out of wine bottles, which is even better! Find a tutorial online for a design you like and then go for it.
Succulent planter
Add some green to your home and yard by making succulent planters out of the bottom part of a wine bottle. You'll need something strong enough to cut through the material, but besides that, it should be pretty easy.
Tiki torch
I love the whole tiki torch idea, especially for lighting in your backyard at night. You can mount the torches to the wall, secure them on poles, or just scatter them about the patio furniture, whatever you think works best.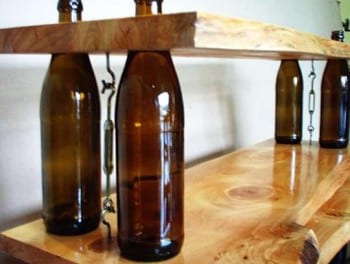 Shelf
Try making a shelf out of wine bottles! You could make the WHOLE thing out of bottles, but it's probably best to just use the wine bottles as the legs and stands of the shelving. Use normal wood or other material to make the actual shelving.
Wine bottle lamp
Get a nice touch of the woods with a beautiful wine bottle lamp. Choose a style that reflects a nice and calming color but that is bright enough to actually light up the room.
Chalkboard bottles
I think these things are so cool looking! Cover the wine bottle in chalk paint, let it dry, and then write something great on them! You could also fill the bottles with flowers or something, but it's not necessary.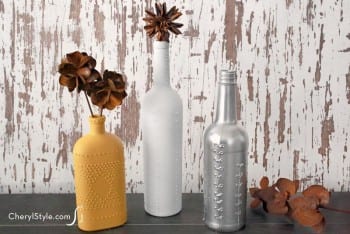 Vases
Speaking of flowers, wine bottles act great as any kind of vase. You can spruce them up with lace, color, washi tape, etc. or you can just keep them nice and normal. Choose a style that works great for your home.
String lights
Try pushing some string lights down the inside of a clear wine bottle. Then, whenever you turn the lights on, you'll get an instant piece of décor inside the wine bottle! This is especially great for outdoors.
Heart decoration
Try cutting two wine bottles near the top and then fuse them together. If you do this right, then you'll get a fun looking heart that everyone will love!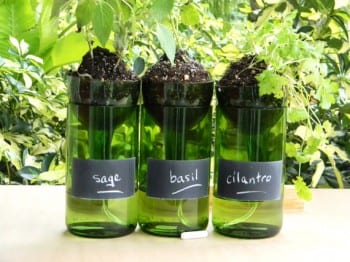 Self-watering planters
Turn that wine bottle into a self-watering planter without having to do much at all! The setup allows the water to get into the soil of the plant without you having to do anything!
Citronella candles
If mosquitos and other bugs are a problem in your backyard, then make a citronella candle out of your wine bottle. Scatter them about the backyard around places where you and your guests sit in order to keep the bugs away.
Twine bottles
See what I did there with the name? I thought that was pretty clever, J. Add a little bit of twine around the outside of the wine bottle and you've got a great piece of decoration.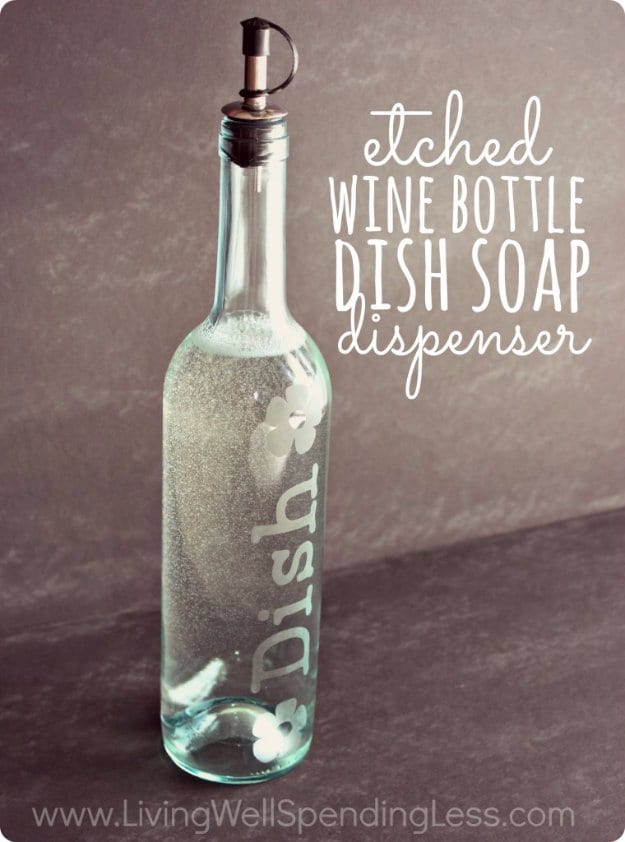 Soap dispenser
Let the life of your wine bottle continue on a bit longer by upcycling it into a soap dispenser. You just need to get the pump and proper attachment to have a great looking dispenser at a fraction of the price the same thing would cost in stores.
Present (pic on bottle)
Do you want a quick and easy present for a friend or loved one? Decorate a wine bottle and then put a picture of them on it. This is a classy decoration idea and will also show them how much you care since it's homemade.
Pendant light
These pendant lights are super chic and really change the atmosphere in whatever room you put them in. You just cut off the bottom part of the bottle, add some decoration to the top, and then hang it up!