Does your house need a little pick me up? Get some fresh ideas on how to beautify your home with these relatively simple DIY molding and trim projects.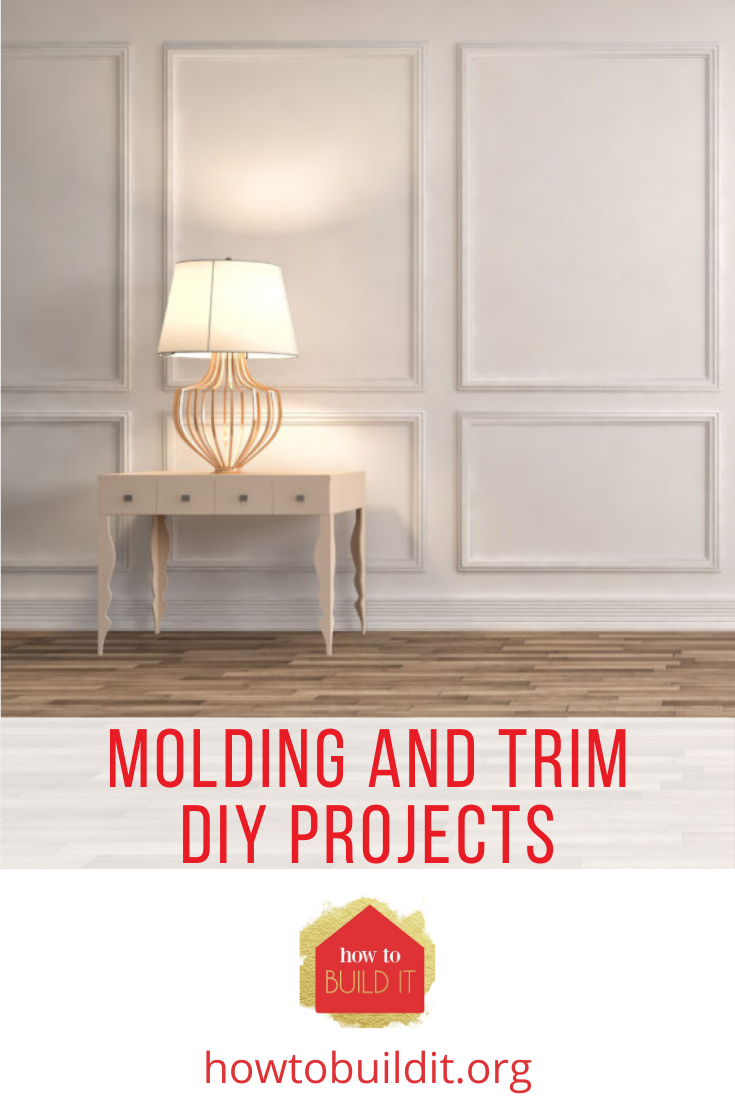 DIY Molding and Trim Projects
1. Classic Crown Molding
Installing crown molding is a fairly inexpensive and easy way to add elegance and charm to any room in your home.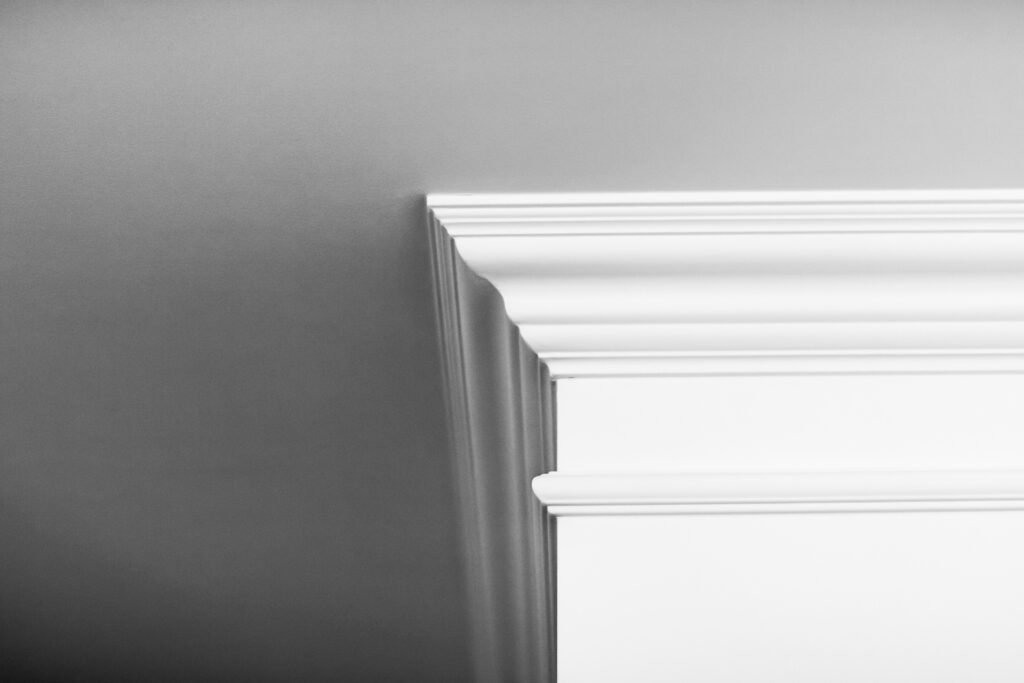 2. Spruce Up Your Cabinets
Create a more finished look to your cabinets by installing light rails on them. Great idea from Connie's Corner.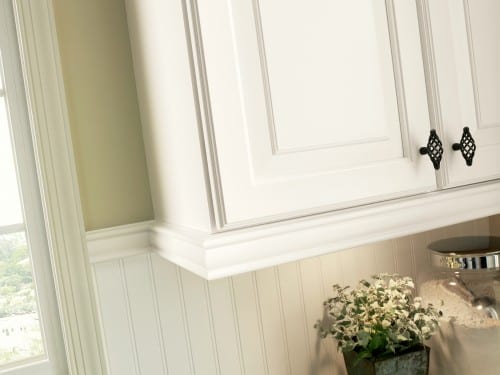 3. Paint Your Crown Molding
To update your room, use this tutorial to paint your crown molding.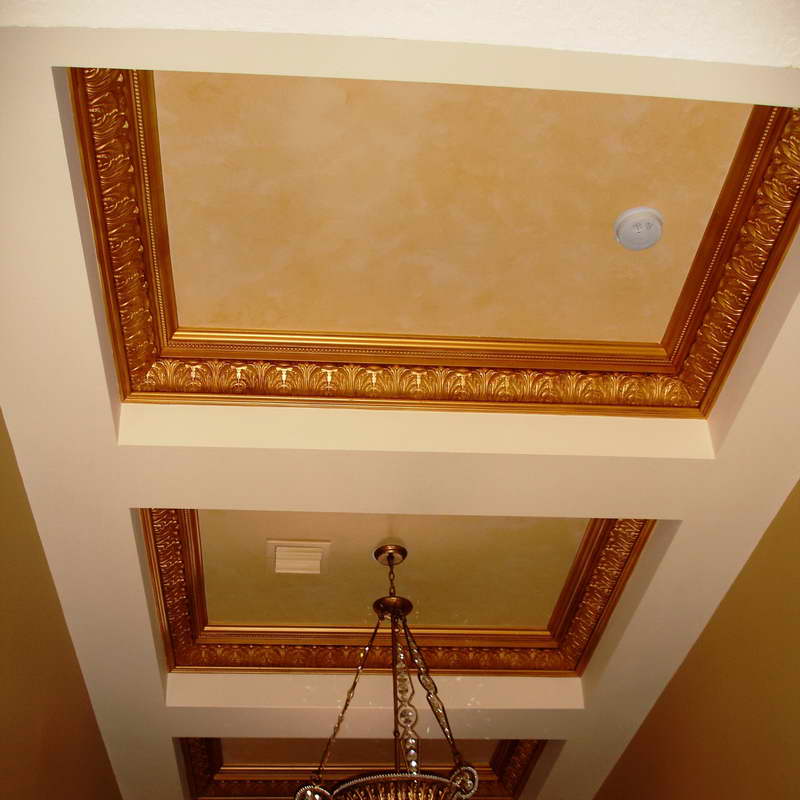 4. Install Bead Board
Install beadboard on the bottom 1/3 ish of the wall, install trim directly above the bead board, then paint above the trim. HGTV has a great tutorial on installing this into your own home. A very classy, crisp look!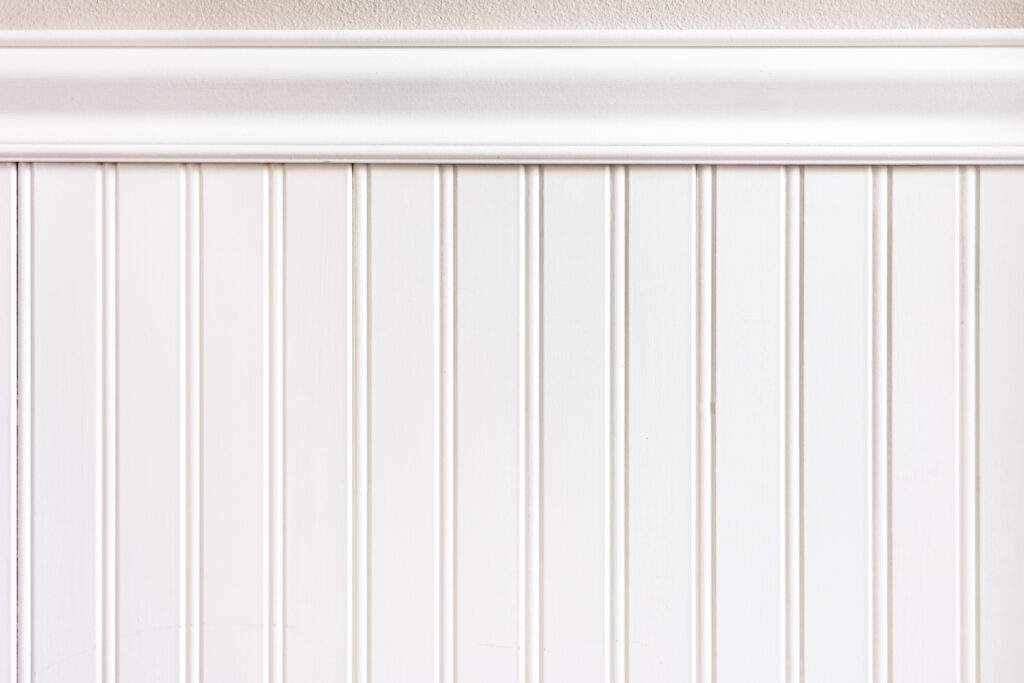 4. Tin Is In
Tin ceilings are very in right now. If you have one or are planning on installing one, know that you can install tin crown molding to go with the ceiling! Here is a great how to from American Tin Ceilings. Very chic and modern–I love tin!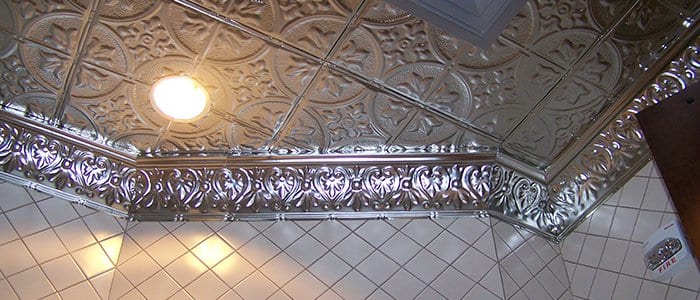 5. Install Baseboards
Don't forget about the floor! Installing taller baseboard will make for a more regal look in the room that won't go unnoticed.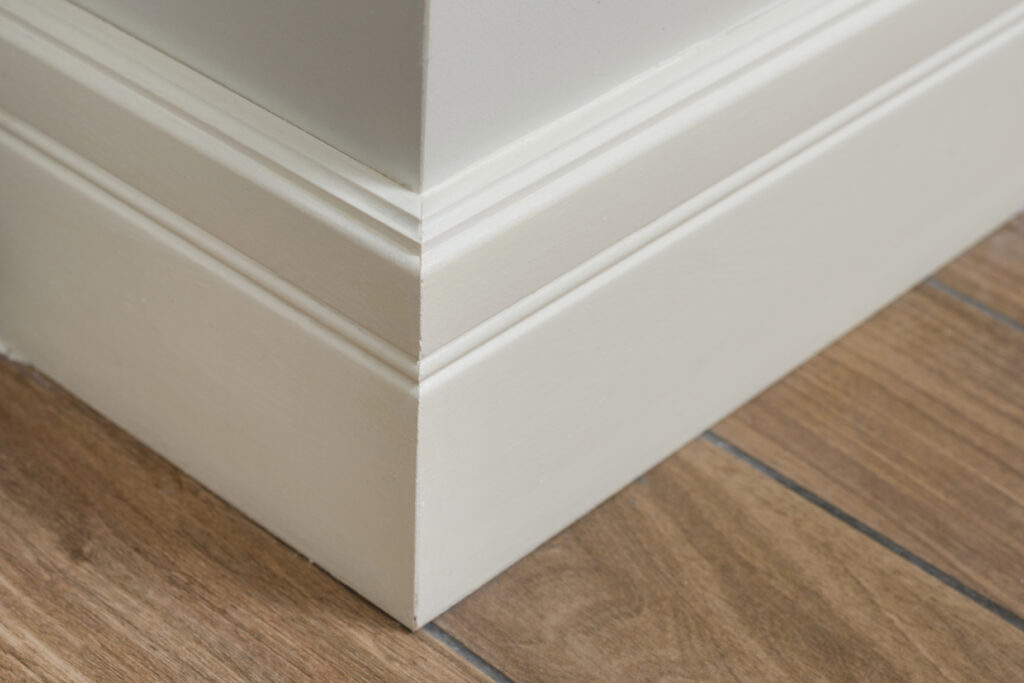 6. Don't Forget Your Mirror
Place trim around a mirror. Mirrors add depth to rooms that otherwise feel cramped, and adding trim around a mirror only improves the look! Such a fun idea from Full of Great Ideas.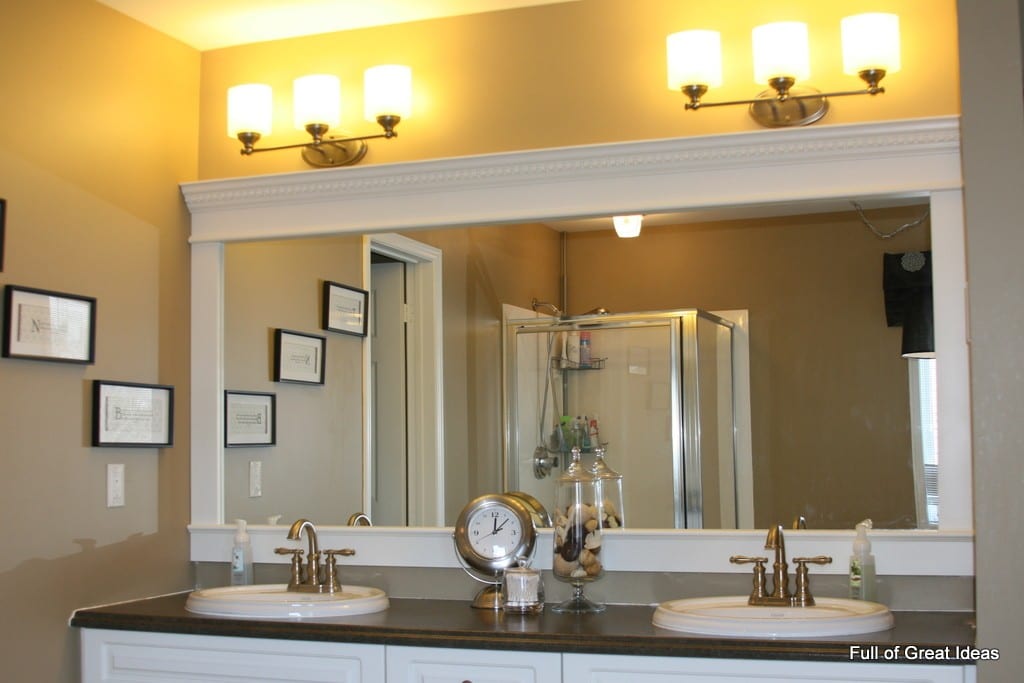 7. Wainscoting
Install wainscoting in much the same way you would bead board. A slightly different look with the wide panels, but still very appealing.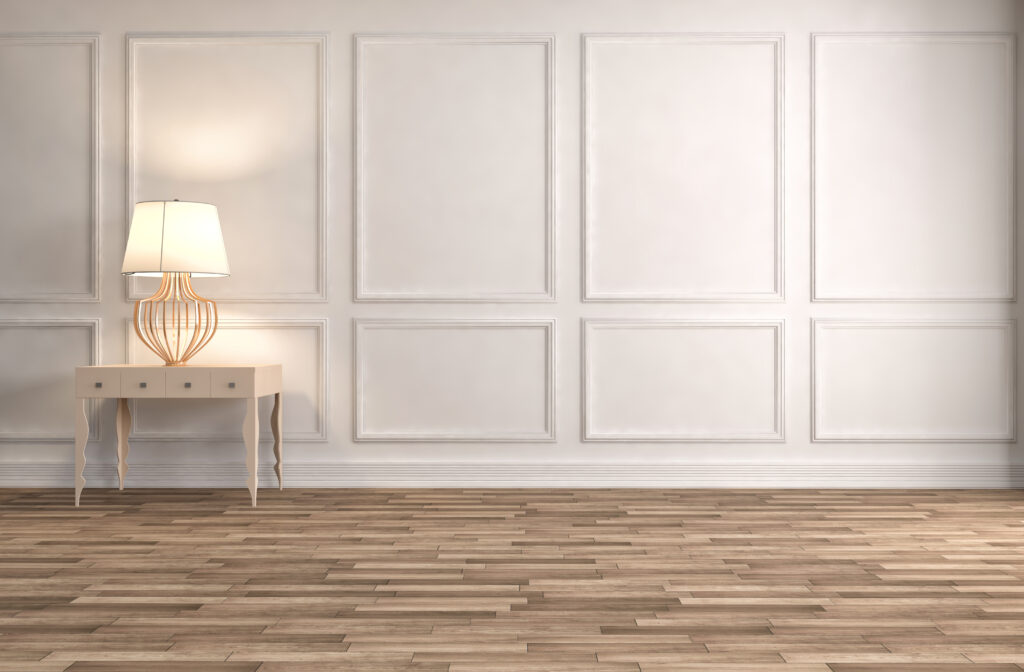 8. Trim Your Windows
The walls aren't the only areas of a home that can benefit from trim and molding. The look of windows, too, can be enhanced by trim.
9. Highlight Your Light Fixture
Install a ceiling medallion in the master bedroom or formal dining room. Beautiful chandeliers look even more stunning when hung from a medallion. Get the how-to from Today's Homeowner.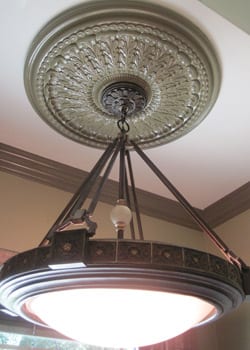 10. Update Your Entry Way
Installing trim around the big entry ways of your home will give the area a classier, more expensive look. This is sure to add value to your home.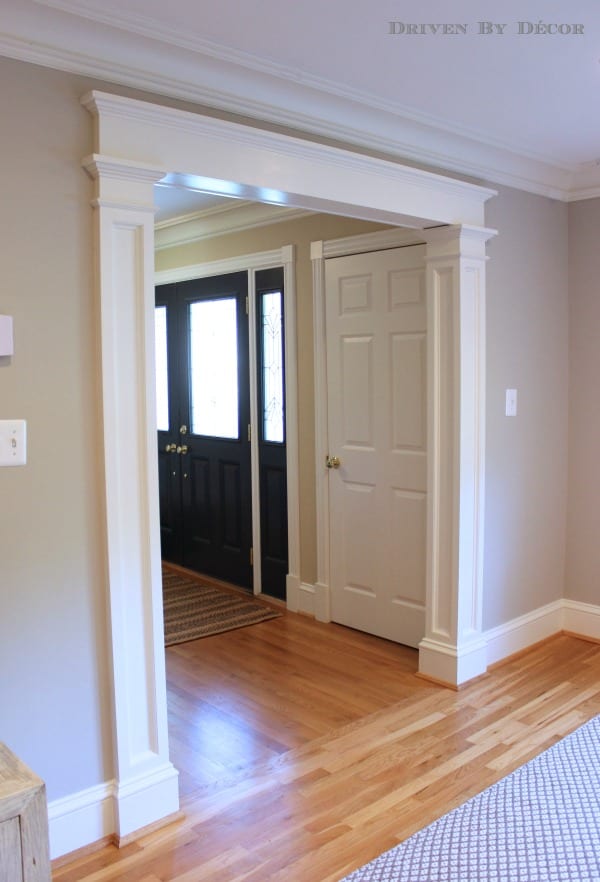 Image from Driven By Decor
11. Add Trim To Your Porch
Absolutely perfect for older homes (or even log cabin style homes!) this is such a cool way to add personality and flair to the outside of your house. Beautiful!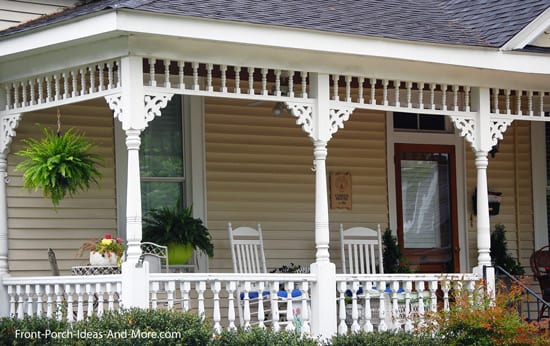 Image from Front Porch Ideas and More.
12. Hide Ugly Beams
Use decorative trim and molding to hide those unsightly beams and pillars in your home!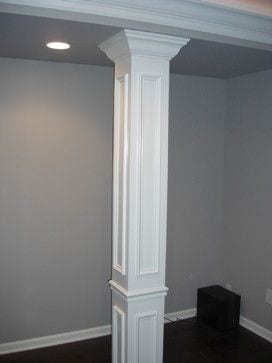 Image from Houzz.
I know that these DIY molding and trim projects inspired me to make some much needed updates to my home! Looks like my weekend will be full!