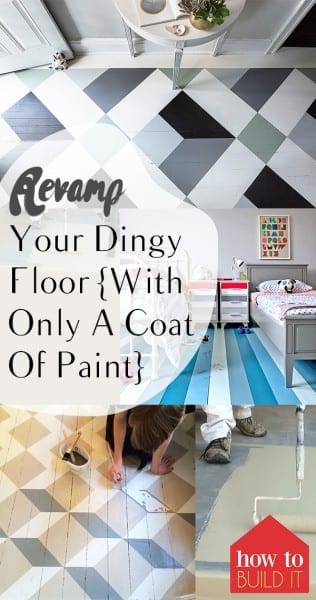 Got a dingy old floor you aren't sure what to do with? There is a cool way to revamp it, and you don't need to go to the expense of refinishing, covering it with tile, or laying carpet. Believe it or not, you can completely revamp a dingy floor with only a coat of paint. Get ready to see how easy it is! Home renovations can be done in a day with quick projects like painting your floor!
First, know that the technique is important. If done right, your floor will look amazing! If not done right….you'll be redoing it before too long. Here's how to paint your floor and have it last:
Step One
Lightly sand and then thoroughly clean the floor. A light sanding will rough up the floor just enough to help the paint adhere more readily. After sanding, sweep and mop and be sure all dust and debris are gone before moving on to the second step!
Step Two
Using a paint that specifies it is suitable for floor applications, use a wide paintbrush to apply paint all around the edges of the floor to be painted. Now roll on a base coat of paint in your choice of color. Note:it is best to start at the side of the room that is opposite the door–that way you can paint yourself out of the room without having to step on and ruin your fresh coat of paint. Use a zig-zag pattern, and don't apply too much pressure to the roller. It helps to be sure that you don't lean on the roller while rolling.
Step Three
Let the first coat dry completely–24 hours is a good rule of thumb. If you deem it necessary to apply a second coat, you may want to lightly sand the floor again and remove all dust before applying the second coat. Allow another 24 hours for any subsequent coats to dry thoroughly before proceeding.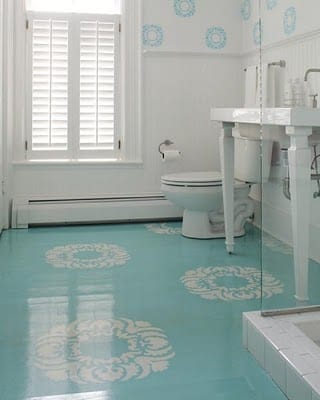 Step Four
Once the floor is painted and coverage is to your satisfaction, it is time to protect your investment of time (and money!)  with some polyurethane. Floor paints are generally quite durable, but if this is a high traffic area of your home, a coat of polyurethane is good insurance against scuffs, nicks and scratches. This Old House says that the higher the gloss on the polyurethane, the more durable it tends to be. If you choose to add polyurethane, it is recommended to follow the manufacturer's directions on the can for application.
Step Five
Now just sit back, relax, and enjoy your beautifully revamped floor!