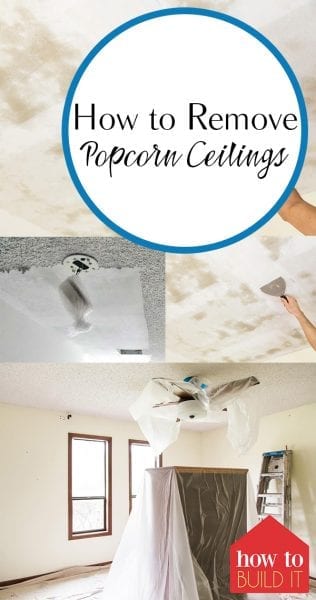 Knowing you searched for this topic breaks our hearts! If you're living in a home with popcorn ceilings, we feel for you. Like chokers, bell bottom jeans, and shag carpet – we're all wondering how popcorn ceilings even became a "thing" back in the 90's. But low and behold, you have them and you're wondering what it's going to take to get rid of them.
Rest easy, friend. Removing your popcorn ceilings is a seriously easy project requiring zero muscle and a moderate amount of clean up (if you prep correctly).
Tools For The Job
Duct tape
Clear tarps
Painters tape
10" scraper
Handheld pump sprayer
Silicone caulk
Bucket, sponge, and soap
Ladder
Paint roller, handle extender
Paint for the ceiling
Spackling
Sandpaper
Joint tape
Mask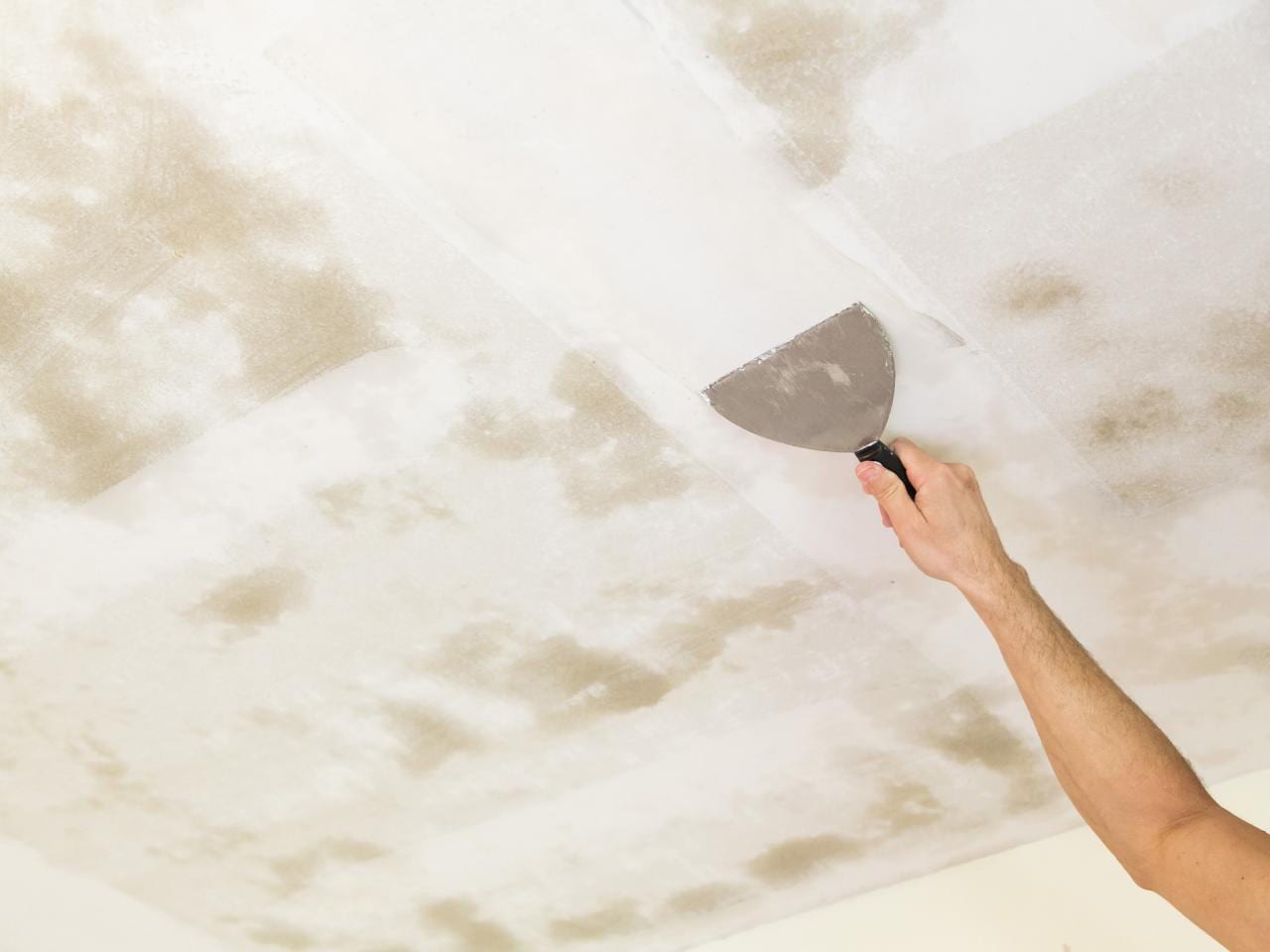 Step #1
The first thing you'll need to do is remove anything you can from the room. You're about to make a big ol' mess. Lamps, books, wall coverings, etc. will be best served if they're placed in another room. The furniture can stay. This brings us to step two…
Step #2
Remove ceiling fans/lighting. Be sure to cut off power to the room before playing with electrical components. You may need to bring in additional lighting for your project.
Step #3
Using your clear tarps, cover the entire floor plus one foot up the wall (minimum). Tape ALL SEAMS of the tarp together with duct tape and use painters tape to secure the tarp to the walls. This seems like overkill but by the end of this project, you'll be so glad you went nuts with the clear tarp.
Step #4
Removing popcorn ceiling takes a lot of water because it's very absorbent. Using your spray bottle, spray any ceiling area within reach. You'll know the popcorn ceiling is sufficiently wet when your scraper easily scrapes the texture off of the sheetrock. You'll want to wear a mask and eye protection while scraping this material off the ceiling.
Optional: You can file down the corners of your scraper to avoid gouging the sheetrock as you scrape off the texture.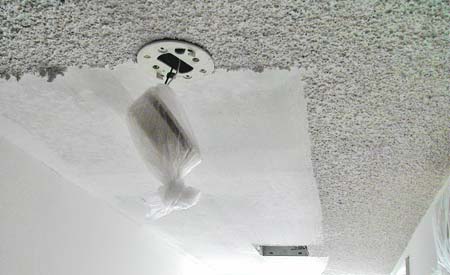 Step #5
Scrape the texture off of the ceiling. To do this, angle your scraper almost parallel with your ceilings. This will help you avoid gouging the sheetrock. If you find the texture difficult to remove, spray with more water and really soak the material. This will make scraping easier. Use a small putty knife and sandpaper to scrape the edges of the ceiling.
Step #6
Clean up the mess! Fold your tarp into itself, bundling the edges into the middle. This is the easiest way to clean up and avoid getting the ceiling texture all over your furniture.
Step #7
Repair any holes made in the ceiling using spackling. Once the spackle dries, sand it smooth.
Step #8
Lay new tarps so you can prime and paint the ceiling.
Step #9
Re-install ceiling fans and lighting.
It really is an easy project. One room will take a weekend so round up friends and family members to get the work done a little quicker!