I've always loved the look of quartz countertops, so when my best friend told me that she made the upgrade in her kitchen, I knew I had to check them out immediately! When I visited her home the following weekend, I was immediately blown away at how beautiful her new countertops were. Unfortunately, I let my excitement get the best of me and I accidentally spilled my glass of red wine all over her new countertops! I couldn't believe what a klutz I was! While my dear friend wasn't upset at my party-foul, we were presented with a new problem: how to clean quartz countertops! Fortunately, it didn't take us long to come up with the best formula to clean quartz countertops. Keep reading to see what it is!
Here's what you'll need:
-A wet washcloth
-Dish soap or another kind of quartz-safe cleaner (pick something free of harsh chemicals!)
-Fresh water
Step One: To clean your gorgeous quartz countertops, you'll need to use a soap that is mild and chemical free. If your soap is too harsh or full of dangerous chemicals, it could damage the sealant of your quartz over time. To begin, fill the basin of your sink with warm, soapy water. As any cleaner knows, warm water is way more effective at releasing stains than cold water is!
Step Two: Wet a washcloth with your soapy mixture and apply it directly to the area affected by stains or discoloration. Don't be afraid to apply more soap solution if you are having a hard time getting a stain or dried substance removed.
Step Three: After you have scrubbed away your solution, rinse your countertop with a bit of freshwater. If you don't remove soap from the surface of your quartz countertop, it could result in a gritty, dirty mess. Give your countertop a once over with a dry paper towel to ensure that any soap or crumbs are removed.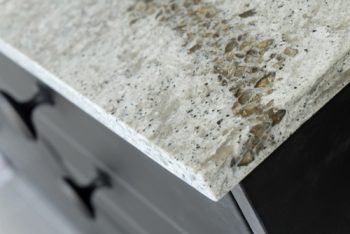 For trickier messes, use this method to clean quartz countertops:
To remove pesky, dried on gunk from the surface of your countertop do so with a plastic scraper. First, wet the scraper with warm water and then go to town removing those yucky messes.
For trickier stains, wet paper towels with hot water, wring out the excess water and let them sit on any problem areas. Alternatively, you can use a substance made of white vinegar and distilled water to cut through any countertop grime.