Tired of your old and outdated flooring? I've got a fast and easy solution for you: it's called paint! Seriously! Painting floors is easy.
Throughout my years as a DIYer I've learned that a fresh coat of paint (and a heavy-duty sealant) can fix just about anything. Whether you decide to go with a bright and bold shade or a fun and funky pattern, you can fix even the most awful flooring with these painting floor ideas.
The options are endless, so which of these painting floor ideas will you choose when tackling your outdated flooring?
Painting Floors: Ideas
Patterned 
Use a custom stencil to brighten up your ugly flooring! You can choose any design you would like but I would recommend picking ones with larger shapes, as stenciling in tiny detailing can be overwhelming when working on a project of this size.
To complete this painting floor idea, prep your flooring first (sand it and clean it!) and then cover your floor first with a soft colored coat of paint. This DIYer chose white as their base. Once your base coat is dry,  place your stencils on the floor and work so you paint yourself out of the room, moving your stencil as you go.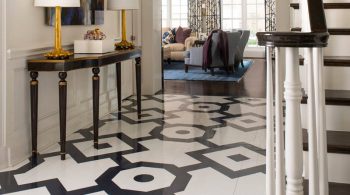 Brightly Colored
Looking to make a dramatic statement that no one will forget? Cover your flooring in a bright shade of paint! To complete, you'll follow the same process as outlined above, making sure to thoroughly sand your flooring and then cleaning up the debris before starting to paint.
This time, you won't be working with a stencil, but you will probably need to apply a coat of paint or two to achieve the deep color that you want. Always make sure to let these coats fully dry before moving on to the next!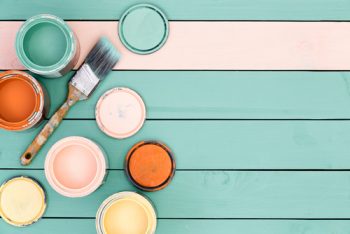 Speckled Floor
Speaking of flooring that seriously makes a statement, these speckled floors are absolutely wild! You can elect to cover your hardwood flooring with a base coat first, or you can take a page from the book of this DIYer and just splatter paint directly on your wood.
Once you've decided what color scheme to go with, it's time to decide on the size of your splatters. The splatter size will depend on the tool you select to make your splatters happen. You can choose anything from a tiny paintbrush or a four-inch flat brush for larger spots. To create the splattered effect, soak your brush in paint and tap it until the paint comes off.
Just like you used to do in elementary school art class! Cover your floor in some kind of paint sealant when complete.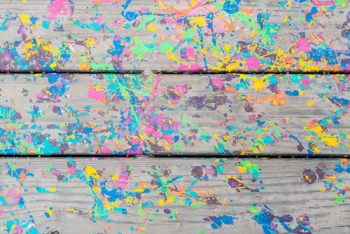 Striped
I love a good striped pattern just about anywhere. On a shirt, purse, pillow, or bedding set. If done right, I really think that stripes can really pull an entire room together.
Creating this will be a little more work than a few of the other painting floor ideas but I think that the work is worth it. Again, you'll want to prep your flooring first and then add as many base coats (if going for a similar color scheme, I would pick a white base) as desired.
When COMPLETELY dry, use painters tape (and a laser level, no one likes crooked stripes!) to tape out stripes on your floor.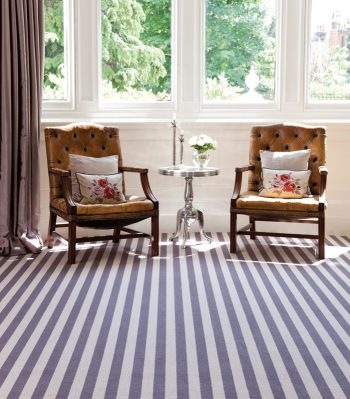 Epoxy Floor
My husband and I epoxied our garage floor years ago and have stayed in love with it ever since. It was truly one of the best projects we ever did! When used correctly, epoxy can be applied in almost any room of the home.
I just love what this blogger did to her kitchen floor. It's probably a breeze to clean a surface like that! If interested in tackling an epoxy project, take a look at this guide from yours truly!  Such a great painting floor idea!