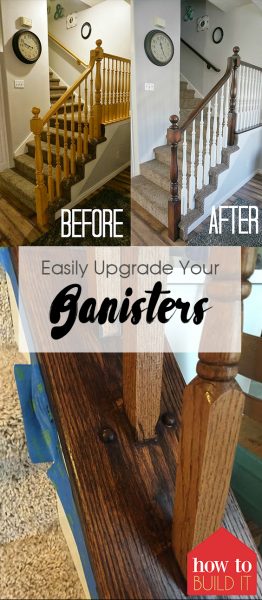 Have you been looking to upgrade banisters?  It can be quite expensive to rip the whole thing out and start over. But you can give an outdated stair banister quite the face lift with a gel stain and a little bit of elbow grease. Here's how you can upgrade banisters today!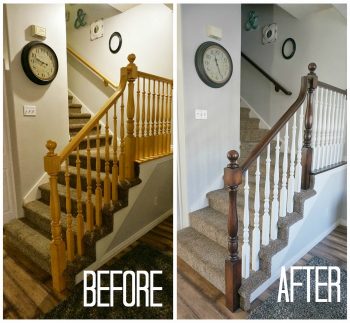 Gather Your Supplies
Lysol scrubbing wipes
Painters tape
Sanding block
White socks
Small foam brushes
Latex gloves
Let's Get Started!
First you'll need to clean off any gunk and dust on your banister. Warm, soapy water and a sponge will do the trick.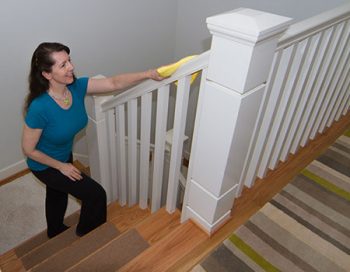 Grab Your Sander
Lightly sand the surface of the entire banister. Giving the banister this rough texture will help your stain to adhere to the wood better. When you've gone over every surface, clean off all the debris from sanding.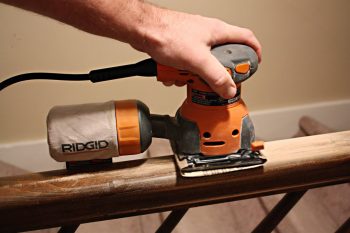 Prep For Painting
Mask off all the areas around the banister to protect them from your stain. If you get this stain on any carpet, it won't be coming out. Butchers block paper is a good tool when using latex paint, but a gel stain will soak right through it. Prep with plastic sheets and wide masking tape.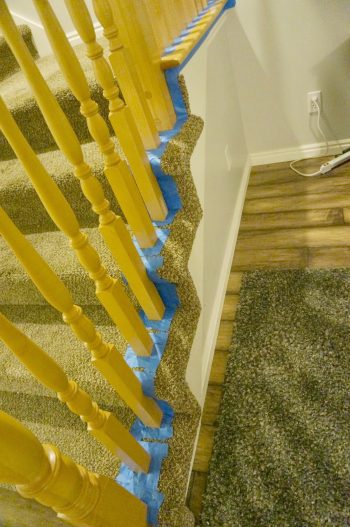 Start Staining
Once you've finished prepping, you can apply your first coat of stain. Protect your hands with latex gloves and apply the stain with white, cotton socks. Using a sock, or some kind of a rag, is much faster than painting it on with a brush. A small foam brush will help you get into tiny grooves. Wipe the stain onto the wood in the same direction of the wood grain.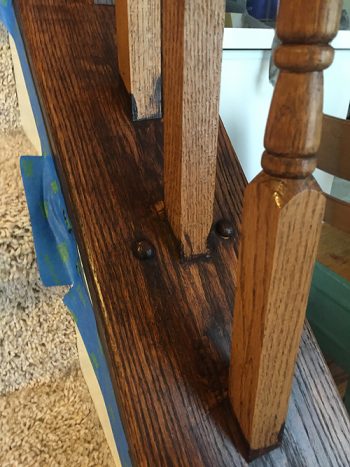 Be Patient
Each coat needs to be thin. A thick coat will not smooth out as it dries and will serve as a constant eye sore. Allow each coat to dry fully (sometimes 12 hours, sometimes 5 days depending on the humidity). Once each coat dries, you can apply another thin coat on top until you've achieved the color you want.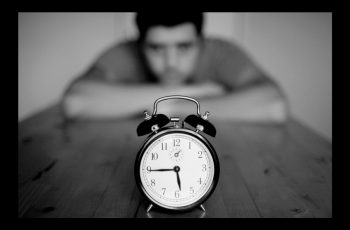 Top It Off
Once you are done applying stain, allow the stain to dry for up to 48 hours and then apply a top coat for protection. Then go ahead and peel off your masking tape – you're done!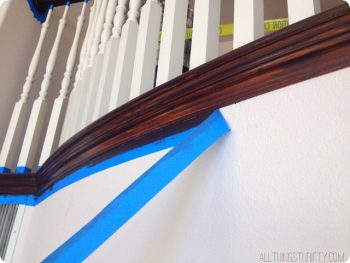 I got all of my resources for this post from the following websites:
http://www.twopointsforhonesty.com/2015/02/refinishing-oak-stair-railings.html
https://maidsbytrade.com/clean-staircase-railings/
https://www.bowerpowerblog.com/
http://www.twopointsforhonesty.com/2015/02/refinishing-oak-stair-railings.html
http://timelessandtreasured.blogspot.com/2016/01/diy-how-to-stain-and-paint-oak-stair.html
http://doryzidon.com/2017/01/async-js-waiting-for-things/
https://www.allthingsthrifty.com/how-to-stain-an-ugly-oak-banister-dark/