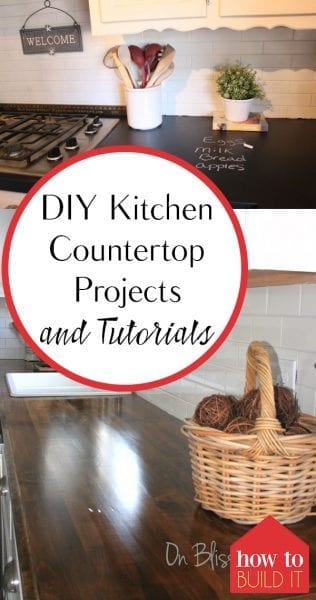 You don't have to spend a mint to have some fantastic looking countertops in your kitchen. If you're willing to DIY, then you're halfway there. We've rounded up some great DIY kitchen countertop projects and tutorials, so get ready to choose your favorite look.
Over at Remodelaholic, you can see a great tutorial for the cement countertop done by Cassie at Design Stocker. Cassie had ugly pink tile for her countertop, and since she was renting she didn't want to spend the money for expensive countertops. The solution? Build a frame around the existing counters and cover them with cement. It's such a great look, you'd never guess!
Over at Retro Renovation, see how you can save thousands and install a DIY stainless steel countertop in your kitchen. It looks amazing!
Don't be afraid of wood counters. Solid wood doors make great kitchen countertops! It's a beautiful look that is fairly easy and inexpensive to DIY.
Chalk paint is awesome for making over old furniture, but how about countertops? Turns out it is great for that too! See more at Freckled Laundry.
For a truly unique look, DIY kitchen countertops can be made from copper. I love it!
At Becky's Farmhouse see how to paint butcher block counters for a rustic farmhouse look.
You CAN install a beautiful soapstone countertop, and This Old House has the tutorial to show you how!
Laminate countertops are made over into faux granite countertops with a Giani Granite refinishing kit. Red Ren Home tried it and got pretty fantastic results!