One of the best ways to add lighting to your home, is to install can lights.  Installing can lights can be a very inexpensive and easy way to brighten a space, if it is done properly.  Here are four things to consider before you start cutting into your sheet rock.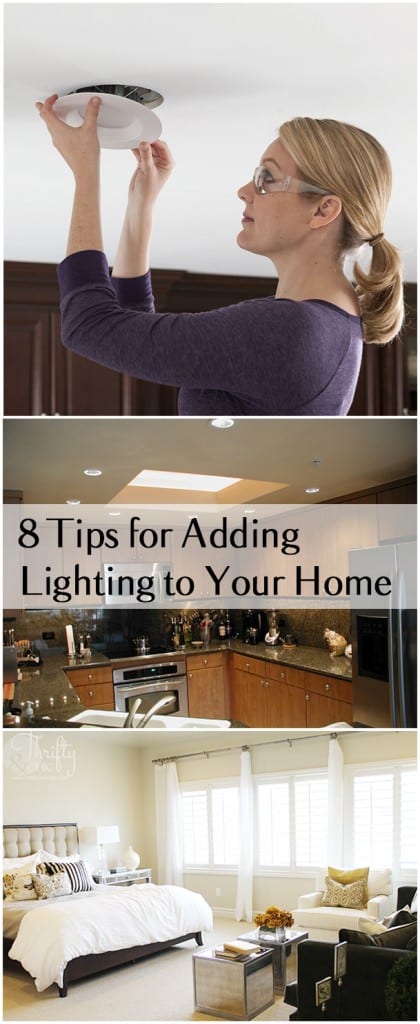 Consider your placement
The first time I installed can lights, I looked at the ceiling and figured it would look nice with 4 can lights evenly spaced.  So I went to the hardware store and bought four cans with inserts.  I got home and before I started drilling I realized that I had not considered the stud locations, I ended up having to change the placement I originally considered and also could only do two.  Another thing to consider is that if you are replacing a standard light fixture on a ceiling, the chances are the electrical box for the fixture is secured to a stud, this means if you want to do the can over an existing hole, you cannot use a pre-construction can light because it cannot sit against a stud, it needs about a half inch of space, so you will need to repair a portion of the sheet rock first. Picture from Dolce Electric.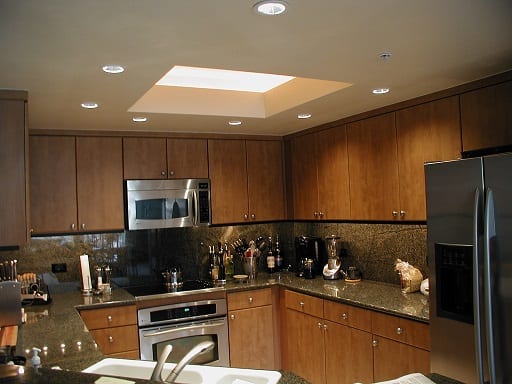 Consider your available power
You must make sure before you go and install stadium lighting in your renovated bathroom that there is enough room on the breaker for all of the new fixtures, otherwise you could be overloading the circuit. Picture from Breaker Box.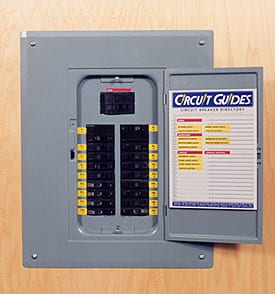 Know your cans
There are several different types of cans for different areas of a home, as well as different sizes(5" and 6"), and for different scenarios (finished and new construction).  In my upstairs I have great attic access and plenty of room to get around, so I installed a "New Construction" can and it was a breeze and a nice tight installation.  If you do not have access to the above ceiling you can use a remodel can as well, but make sure you know how you are going to run your electrical before you start cutting.  Also considered air-tightness and whether it can be covered in insulation or not. Picture from Green Building Advisor.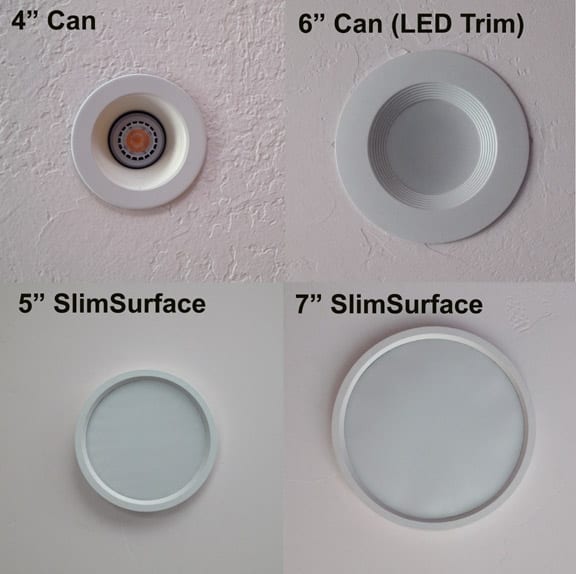 Consider Your inserts
There are many different types of inserts available.Your choice should be determined by the type of bulb you are using and the direction you want the light to go.  The deeper set inserts are nice for the cfl bulbs that are not as nice to look at, if you use a standard bulb with a shorter insert you can see the unfinished area at the top of the can.   The only issue with the deeper set inserts is that it has more of a flashlight effect and does not flood the below area with as much light. Picture from Lowe's.
Get the Hole Saw
This will add a little bit of money to your project, ($25-$50) but it is absolutely worth it once you start.  If you decide to just trace out the hole and use a sheet rock saw and cut the hole too large… You will be kicking yourself that you didn't just spend a little more money to get a hole saw and do it right the first time.  The cans require tight tolerances and don't leave a lot of room for error. Picture from Jay Kay Supply.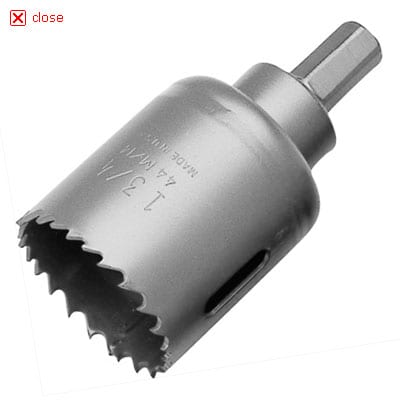 Cracked Log Lamps
Okay I know that the rest the ideas have been for ceiling lighting, but I wanted to share a few other greats ideas I found for adding light to your home, and this is one of them. They are a great decoration (instead of just a plain lamp) and they add some beautiful low lighting to the room. You could also use these outside in your yard! I found these great lamps on Recycled Interiors.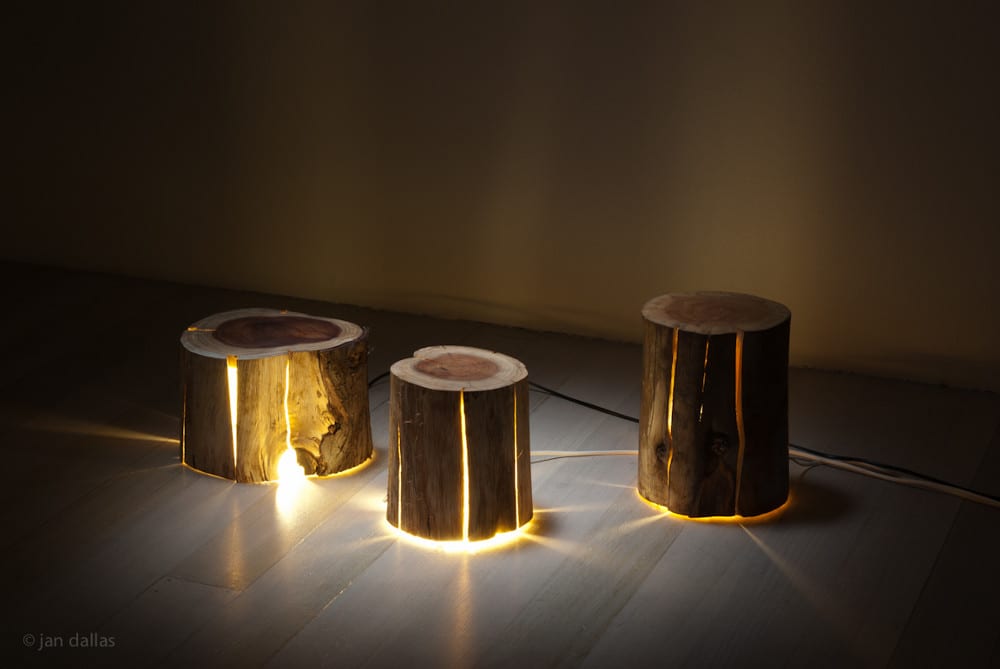 Rope Lighting
I really like this idea of rope lighting in the bathroom! No more nightlights taking up space in your outlets. Idea from Just Imagine.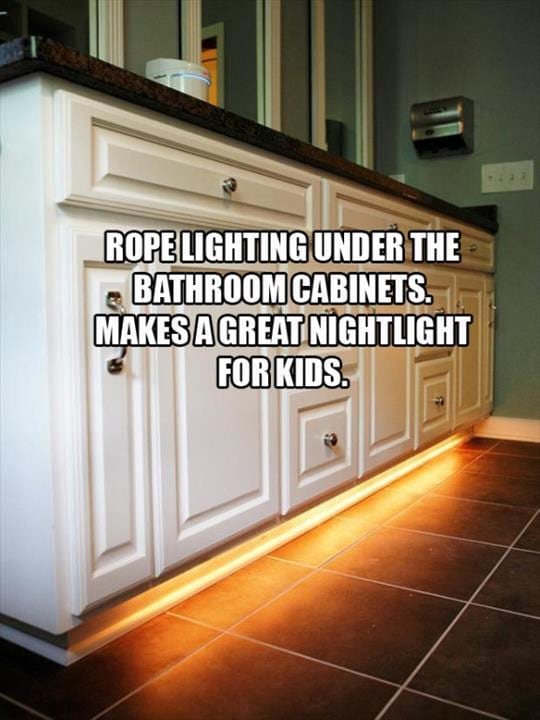 Add White to Your Home
I know that this tip doesn't necessarily have to do with lights, but adding some white furniture and paint to dark rooms will add so much light to your home as you can see in this picture I found on Thrifty and Chic.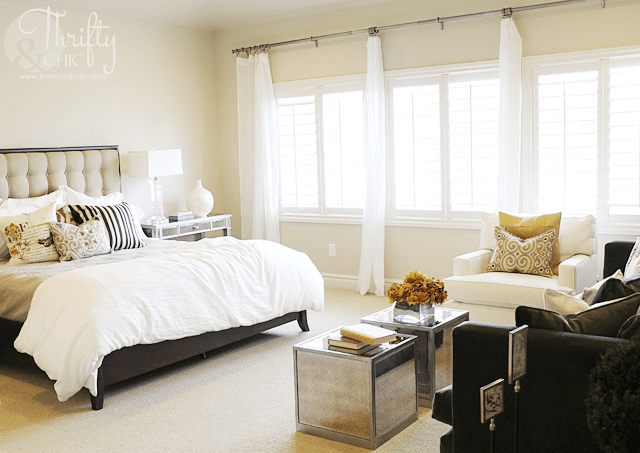 Good luck and enjoy those bright new spaces!