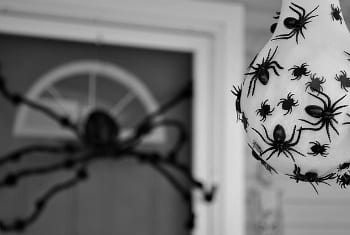 Make these incredibly disgusting hanging spider sacks that you can put up around your front porch. You can hang them near the door so that people HAVE to go near them to get inside.
Use corn husks in any sort of arrangement for a nice Halloween and fall touch. You can use the tall husks in vases, or just use them border the door. Whatever looks best.
Another great Halloween decoration are bales of hay. They can be used in combination with almost any other decoration, and they look great. Plus, they add a place to sit!
Put a scarecrow near your door for a fun Halloween decoration. It can be cute or scary, whatever you think is best for you, your family, and your guests.
Make a fantastic pumpkin garland that goes around your door or entryway. You take foam pillars and attach plastic pumpkins to it. You can even add some lights to the inside of some of the pumpkins for an added effect.