I have a 3 year-old boy who loves to "fix" with me.  So, one afternoon I made him this workbench with a couple of 2×4's.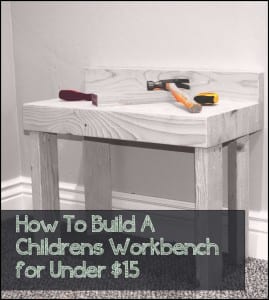 Determine the right Size:  Have your child hold a tool out to gauge how high you will want the bench, if they are really going to be playing on it you want it to be a comfortable height for them.  For my son, I made it about an inch taller than what I thought it should be to give him some room to grow into it.
For the width I just made it as wide as I could to maximize the 2×4 length.  A standard length is about 98.5" in length so I divided that by 4 with some extra to allow for scrap and made it 24" wide.