The best parts of summer are the outdoor parties, and the best part of outdoor parties is the chilled drinks. Nothing's more refreshing than drinking a bottle of soda in your backyard with all your friends. I've gathered together some of my favorite ideas for displaying drinks at parties–some are super fancy and some are very easy to pull off. Hopefully one of them inspires your next drink display!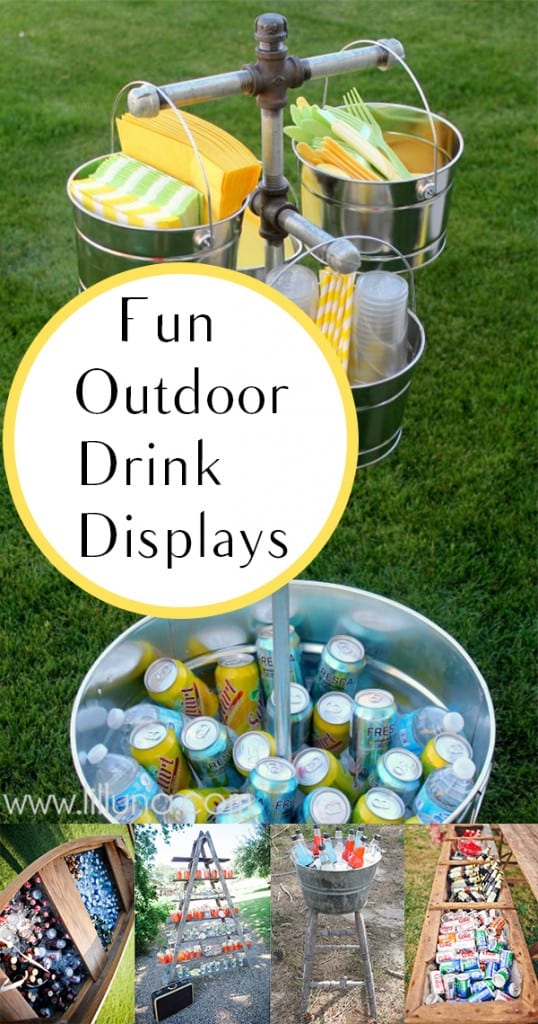 Exquisite Weddings Magazine posted this lovely wedding that featured a wheelbarrow as a drink display. The wheelbarrow is perfect for storing lots of ice to keep drinks cool, and it fits perfectly with a rustic theme.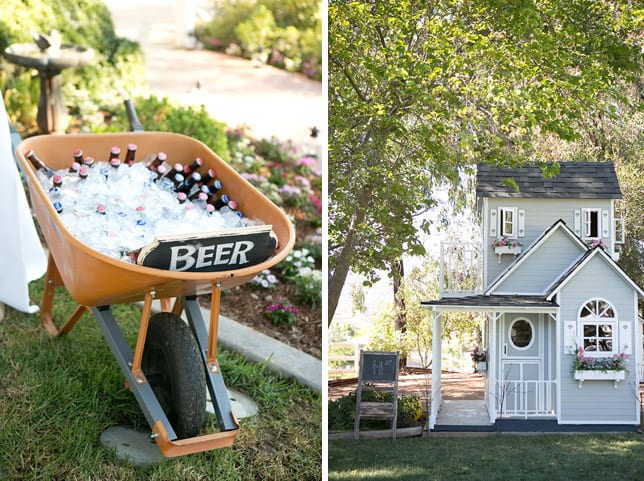 I love this idea to store drinks in a row boat! The nautical touch is cute, and it's just the perfect size if you need to provide lots of bottled beverages. This idea comes from a wedding posted on Southern Weddings.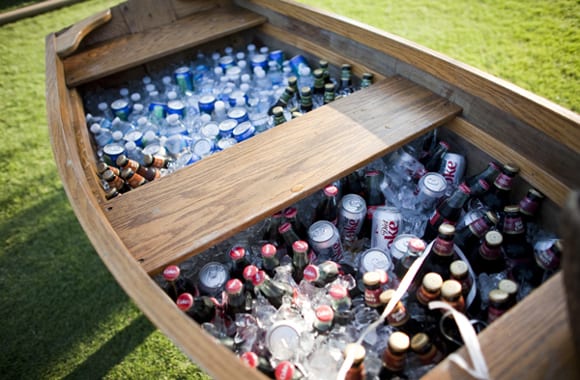 This lemonade bar featured on Lucy Dylan Weddings would be a lovely addition to a backyard fete or shower. Lemonade is the best beverage for summer, so nothing could be better than a variety of lemonade options! Plus they're so pretty!
Lil Luna made this handy dandy drink stand that's perfect for storing drink, cups, napkins, utensils, and anything else you need! With a few metal pipes ad some cute tin buckets, you can easily replicate this drink stand for your next backyard gathering.
The Tres Chic turned a garden bed into a rustic-chic drink stand. The dividers are a great way to keep drinks organized, and the length of the container makes it easy for lots of people to access at the same time. No more holding up the drink line!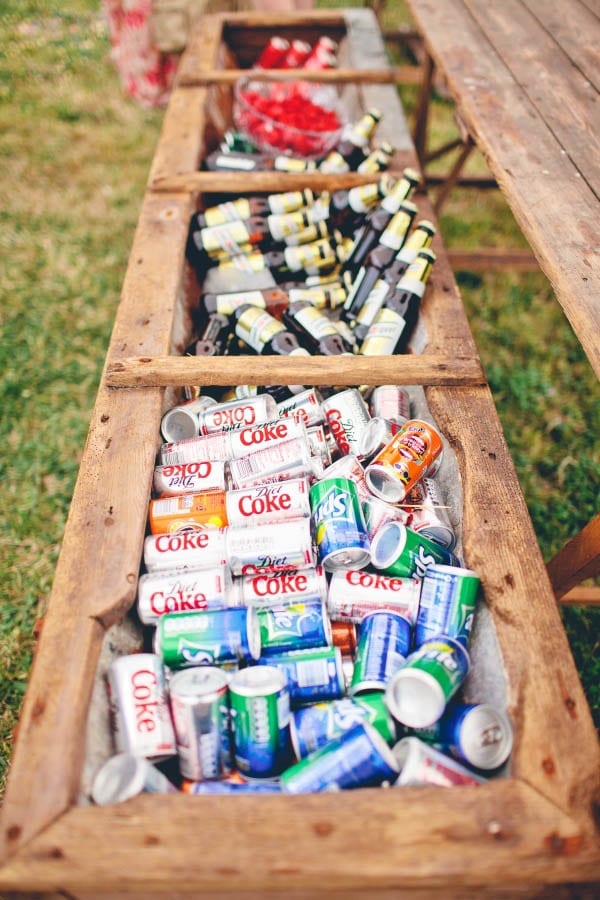 A Diamond in the Stuff posted instructions for building this drink stand out of materials you probably have around the house. All you need to do is secure a metal tub to the top of a broken chair or stool. You'll have a drink stand that's cute and the perfect height!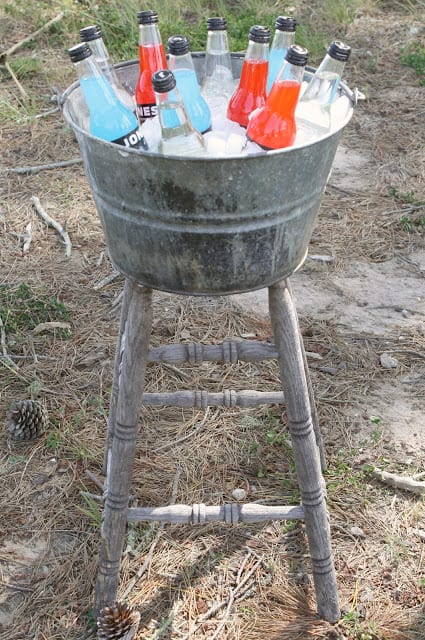 This wedding, featured on Capitol Romance, turned a piece of wood into lovely hanging drink display. This is so gorgeous for a backyard event–it takes advantage of the natural landscape and adds a fun & whimsical element.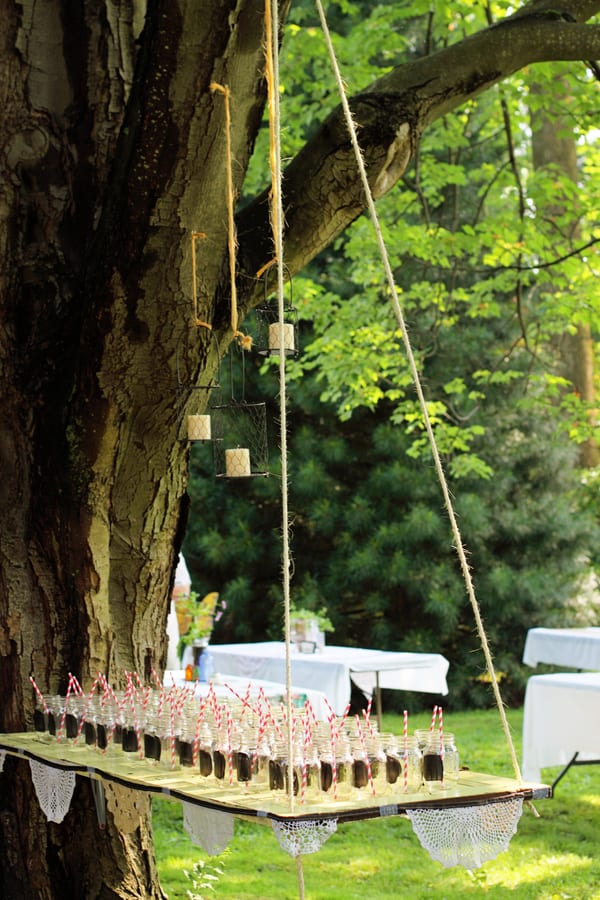 Ruffled Blog posted this cute idea for a building a drink stand using two barrels as the base. This is a really easy way to add a country-chic feel to your event. I especially love the basket of lemons and chalkboard–how cute!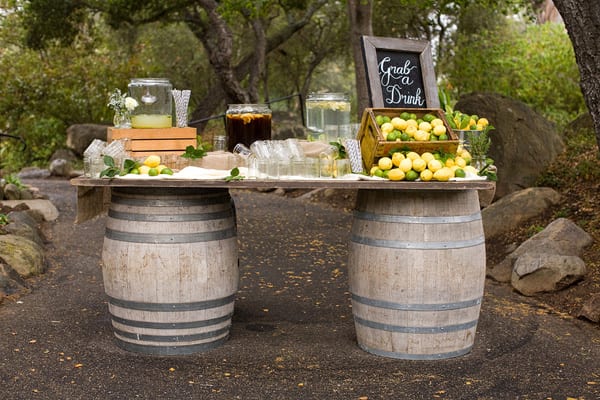 If you want to make a simple drink display, you could easily stack some vintage crates on top of each other. Then you have space to store the drinks and the cups! This is a great example from a wedding reception featured on Wedding Chicks.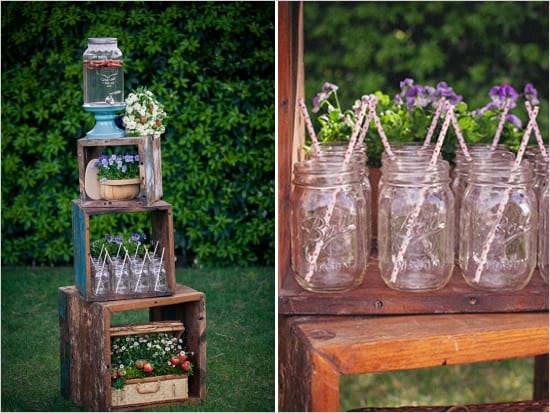 If you're serving coffee at your gathering, you simply must display your coffee mugs! A wedding featured on Green Wedding Shoes made coffee mugs the focal point–what a great way to add character and charm to your event!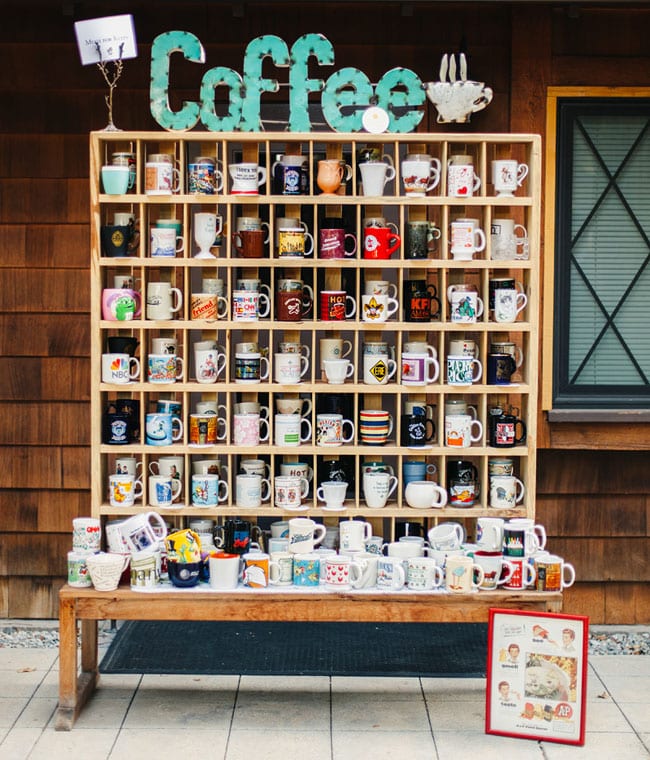 I love this banner behind the drink table from a wedding featured on Southern Weddings. Make sure you make your drink stand super visible at your event so that your guests can drink up! With streamers like this, no one would miss it!
Wedding Chicks posted this awesome drink bar that features lots of different drink mix-ins! Your guests can chose to add different kinds of fruits and syrups to their drink, making every beverage unique. Just don't forget the labels!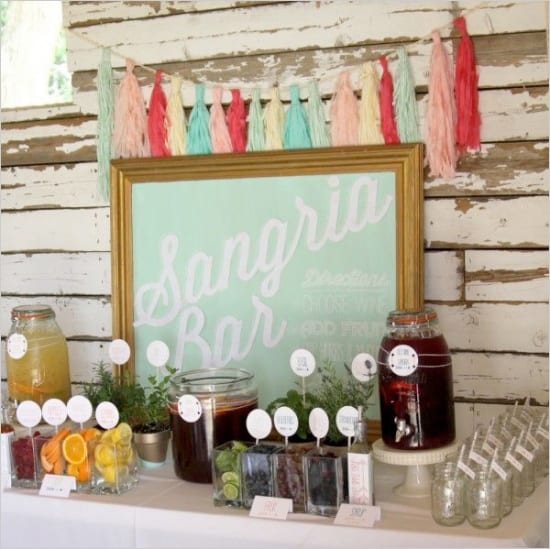 Intimate Weddings displayed drinks to resemble a cake! This drink stand would be so easy to make out of wood, and it adds such a fun touch! Displaying colorful glass goblets is so gorgeous, but clear glass ones would be beautiful as well!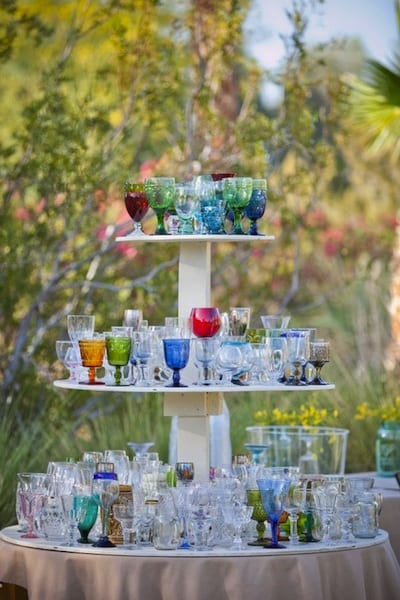 I love this idea for hot chocolate bar posted on Wedding Chicks. The mugs look so adorable hung on the rack! Your guests will have a blast and be grateful for the warm beverage as the night begins to cool down.
Party Space posted this awesome ladder drink stand! To recreate this all you need to do is place a few wood boards across the steps of the ladder. Then you simply add all the beverages you need. This is a cute display and so easy!